Anglian scoops four Water Industry Awards - Utility Week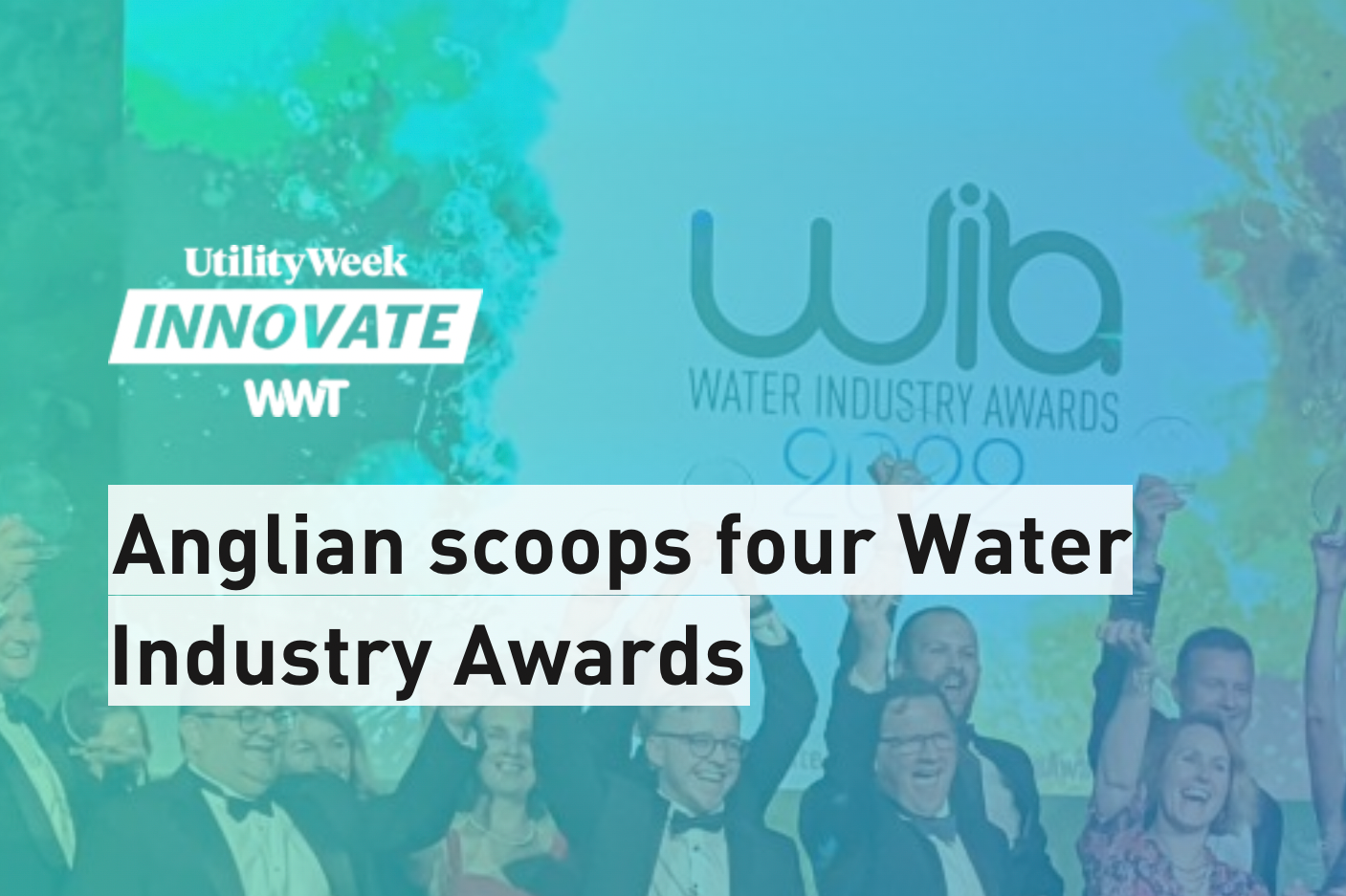 The winners of the Water Industry Awards 2022 have been revealed as the sector celebrated the achievements of water companies and their partners over the past year at The Vox in Birmingham.
Anglian Water were the big winners at the 16th installment of the Water Industry Awards after its projects and partnerships were recognised in four categories – including the Net Zero Carbon prize for its industry-first sustainability-linked bond with Barclays Bank, BNP Paribas, ING, JP Morgan and Lloyds Bank and the new Groundbreaker award for its Ruthamford network.
In addition to the Groundbreaker gong, the annual water industry showpiece saw the introduction of awards for Pollution Mitigation Initiative of the Year, Smart Water Networks and Natural Capital Initiative of the Year – won by Metasphere, WSP, and Yorkshire Water, Stantec and Barhale Doosan JV respectively.
Elsewhere, Everflow was named Water Retailer of the Year, Isle Utilities took home its second successive Consultancy of the Year prize, and Galliford Try was named Contractor of the Year.
What's more, Kathryn Dalgleish of RSE was named the industry's Rising Star of the Year – with Craig Hopkinson of Anglian Water Services highly commended.
"I've been reporting on the water industry for three years and while the challenges ahead cannot be understated, I am continually inspired by the innovation and passion that shines through," Utility Week's water correspondent Ruth Williams said.
The Winners
Customer Initiative of the Year – South Staffs Water in collaboration with Echo Managed Services and OnSite – Creation of Proactive Customer Operations Centre
Wastewater Innovation Project of the Year – Yorkshire Water, Stantec and Barhale Doosan JV – Clifton Wastewater Treatment Works – Integrated Constructed Wetland
Drinking Water Initiative of the year – Anglian Water – Anglian Water's Slug it Out programme
Consultancy of the Year – Isle Utilities
Skills & Workforce Initiative of the Year – Costain in Joint Venture ('JV') with VINCI Construction Grands Projects and Bachy Soletanche with the Supply Chain School and the Tideway project – Downloading a Digital Mindset (DDM)
Net Zero Carbon Initiative of the Year – Anglian Water with Barclays Bank, BNP Paribas, ING, JP Morgan and Lloyds Bank: Anglian Water's industry-first sustainability-linked bond
Water Efficiency Project of the Year – Affinity Water and Skewb – SOS: Save Our Streams
Pollution Mitigation Initiative of the Year – Metasphere – ART Sewer Wastewater Level Monitoring solution
Health and Safety Initiative of the Year – J. Murphy & Sons and Thames Water Utilities – Reduction of Person Entry during Northern Outfall Remediation
Asset Management Initiative of the Year – Anglian Water and Samotics – Samotics' asset health monitoring system SAM4 for Anglian Water
Digitalisation Project of the Year of the year – Wessex Water and UnifAI Technology – Real-Time Bacteria Monitoring and Alerts Using AI Powered Sensing
Diversity & Inclusion Initiative of the Year – Severn Trent Water – The design and rollout of the first PPE headscarf