Circular Economy & the Water Sector | Aquatech 2021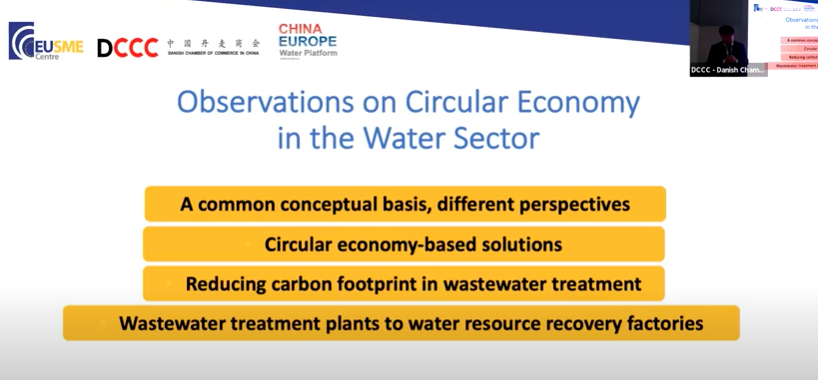 China is a nation that is prone to water shortages and in 2021 it experienced a particularly drought stricken year. The rapidly developing Chinese economy, steadily increasing rate of migration to cities and rising hygiene and health concerns amongst China's rising middle class are stoking demand even further. At the same time, industry and agriculture need a steady supply of water to fulfil the growing demands of the population.
In a country where the growing demand for water exceeds the supply, the Chinese water sector is facing great challenges. In China, "Circular economy" refers to the general term of the reduction, reuse and resource-based activities carried out in the process of production, circulation and consumption. Behind the national targets of achievement, is the legal enforcement, implementation of policies and incentives on different levels. To help European SMEs in the Water Industry better understand how the sector is aligned with the overall objectives, the latest development and to explore the potential business opportunities in China's Water Sector, the EU SME Centre, in collaboration with CEWP, is organising a seminar with field experts and businesses on this particular topic.
The EU SME Centre is happy to invite you to participate in a hybrid event co-organised with the China-Europe Water Platform, the Danish Chamber of Commerce in China and the China IP SME Helpdesk for this year's Aquatech China 2021.
This hybrid seminar, 'Circular Economy and the Water Sector' will be a side event held during the fair, both offline (Shanghai) and online from 15:40-17:00 (CN). It will be focusing on identifying the link of Circular Economy and the Water Sector in China and to further discuss the opportunities that the market offers and how to access the market. Exhibitors and visitors from European companies present at the fair are also invited to join the offline panel discussion at the seminar.
Agenda: 15:40-15:50: Overview: Main findings of EU SME Centre/CEWP Urban Water webinar series 2021 - Liam Jia, EU SME Centre15:50 - 16:15: Market overview, policy, updates, market demand, the missing link and opportunities - Jingjing Ma, Nordiq China16:15: 16:25: IPR Protection in Circular Economy - Matias Zubimendi, China IP SME Helpdesk16:25 - 16:40: Case sharing: Di Ning, Arvia16:40-17:00: Q&A and Panel Discussion15:40-15:50: Overview: Main findings of EU SME Centre/CEWP Urban Water webinar series 2021 - Liam Jia, EU SME Centre15:50 - 16:15: Market overview, policy, updates, market demand, the missing link and opportunities - Jingjing Ma, Nordiq China16:15: 16:25: IPR Protection in Circular Economy - Matias Zubimendi, China IP SME Helpdesk16:25 - 16:40: Case sharing: Di Ning, Arvia16:40-17:00: Q&A and Panel Discussion 15:40-15:50: Liam Jia, EU SME Centre - Overview: Main findings of EU SME Centre/CEWP Urban Water webinar series 2021 15:50 - 16:15 Jingjing Ma, Nordiq China - the China wastewater carbon neutrality path 2030/2060 (DK) 16:15 - 16:25 Matias Zubimendi, China IP SME Helpdesk, IPR Protection in Circular Economy 16:25 - 16:40 Di Ning, Arvia – Case Sharing (UK) 16:40 - 17:00 Q&A and Panel Discussion