City eyes system to detect leaks in water service area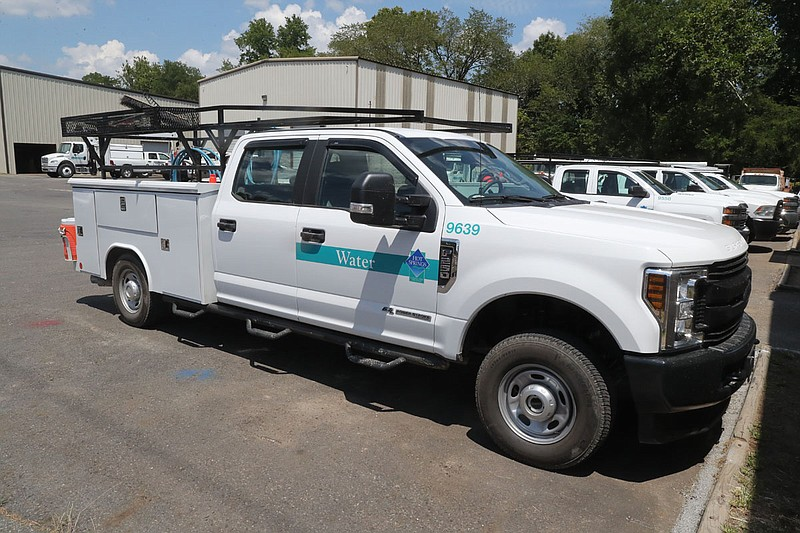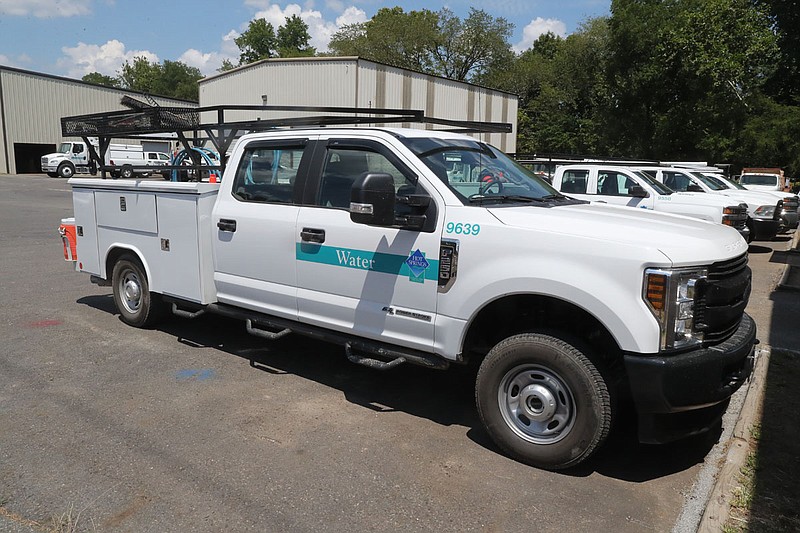 City utility trucks are parked July 20, 2020, at the wastewater department on Adams Street. - Photo by Richard Rasmussen of The Sentinel-Record
The city's advanced metering infrastructure remotely monitors water meters, helping it detect high usage rates indicative of leaks on the customer's side of the meter.
A resolution awarding a contract to Pure Technologies U.S. Inc. on the Hot Springs Board of Directors' consent agenda Tuesday night will help detect leaks on the city's side of the meter.
"They have the same technology as our automatic meter reading system," City Engineer Gary Carnahan told the board at its March 30 agenda meeting. "Their software blends in seamlessly with that technology. They will bring meters into select subdivisions and neighborhoods and install meters that will isolate that section and send a reading to our meter reading department that will compare with all the individual meters inside that subdivision.
"We can tell if there's more water going into that subdivision than is actually being charged out to those individual customers. We'll track it and find that leak and try to repair it."
The contract, costing the water fund $250,000 a year, can be renewed for four additional years upon mutual consent of both parties and budget approval. According to the contract, the reduction in nonrevenue water, or water the city treats and distributes that doesn't reach the more than 35,000 meters in its 145-square-mile service area, pumping and capital improvement costs will net more than $1.1 million in savings during the five-year term.
"We're hoping to put $250,000 in the budget each year for the next five years, with the idea of reducing our leakage by at least half of what we have now," Carnahan told the board.
Nonrevenue water as a percentage of water produced at the city's two treatment plants decreased from 27.2% to 24% from 2016 to 2019, according to the sanitary survey the Arkansas Department of Health released in December.
"Previously we hired companies that had sounding equipment to try and find leaks," Carnahan told the board. "This is installing meters in the pipe that sends a signal automatically to our meter reading system. If the flow in the subdivision suddenly changes or is running all night long, we'll be able to see that just like we could if someone had a leak in their house. It's a higher level of instrumentation that we haven't had before."
City Manager Bill Burrough said Pure Technologies' virtual demand metered area project will provide a higher level of leak detection than the acoustic-based technology the city had been using.
"About 10 years ago, we had a water loss of about 47% in our sanitary surveys," Burrough told the board. "We're hovering now around 24% or 25%. Now that we've sounded everything, we believe we've got those leaks out of the system.
"When they find a large leak, it may mask four others that are a little bit smaller. With this technology, and the AMI system we have on all the individual meters, we're able to correlate meters and be able to use technology and throw a dart at some of these areas."
Pure Technologies was the only company that responded to the city's request for proposals, the city said.