Drinking water from thin air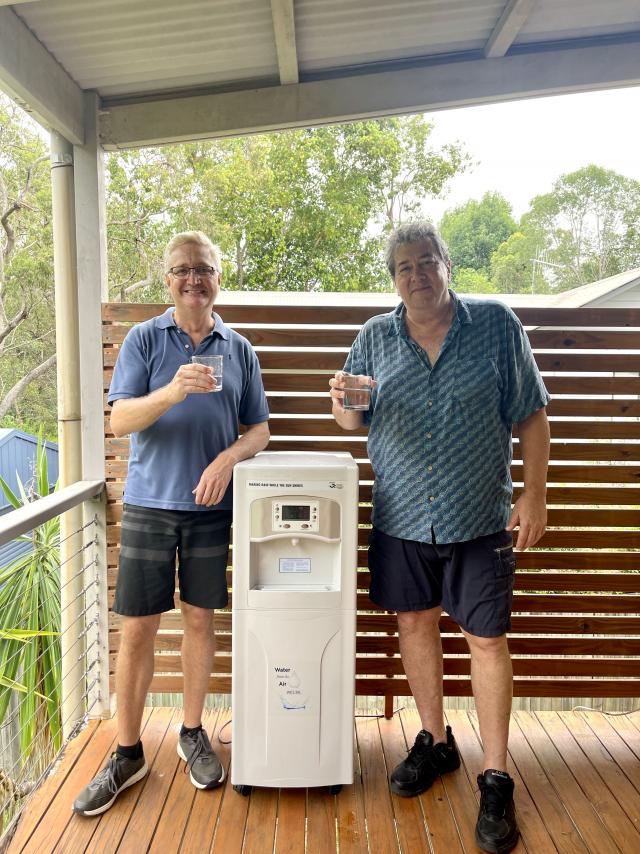 Harvesting water from the air is a practice that has been around for more than 2000 years, and various forms of atmospheric water generator (AWG) machines for more than a century, but in more recent times they have been vastly improved through modern technology.
"Think of an AWG as a dehumidifier coupled with a high-quality water filter system – instead of pouring the water out, you enjoy free pure sweet tasting drinking water," says co-founder of Noosa-based AirQua, Rex Halverson, former chair of the Noosa Biosphere Reserve Foundation.
"It's safer, sustainable, simple to use and saves money versus the cost of store-bought or water services."
Rex's partner in the venture is Jon Rowe of Savemi Digital Marketing in Noosaville, who has been integral in helping launch a number of new businesses and has extensive experience in marketing technology brands.
"It was Jon who came up with the name of the company, AirQua (think 'agua') to reinforce the water from the air concept," Rex said.
Jon and Rex met while serving on the Events4GreaterGood charity, (founded by another Noosa local, Oz Bayldon) focused on helping victims of domestic violence and homeless families.
"Both of us were keen to work on something together and when I learned about atmospheric water generators we determined this was a perfect solution, having compelling social, health, environmental and economic benefits," Rex said.
But it was the 2022 floods in Pakistan that motivated Jon to get involved.
"They were a wakeup call," Jon said.
"Many millions were displaced without access to clean drinking water – even though water was everywhere. Then I realised that we faced the same types of challenges with water safety and security here. Surely we could be doing more to provide a solution, and AWGs tick a lot of boxes that can make a real difference."
AirQua's mission is to provide a healthier, more sustainable and affordable source of drinking water, and at the heart of the enterprise is an exciting technology which provides free purified drinking water from the air around us, eliminating the need for plastic bottles and as convenient as turning on the tap, but better for you.