Free Water Engineering Tool Just For You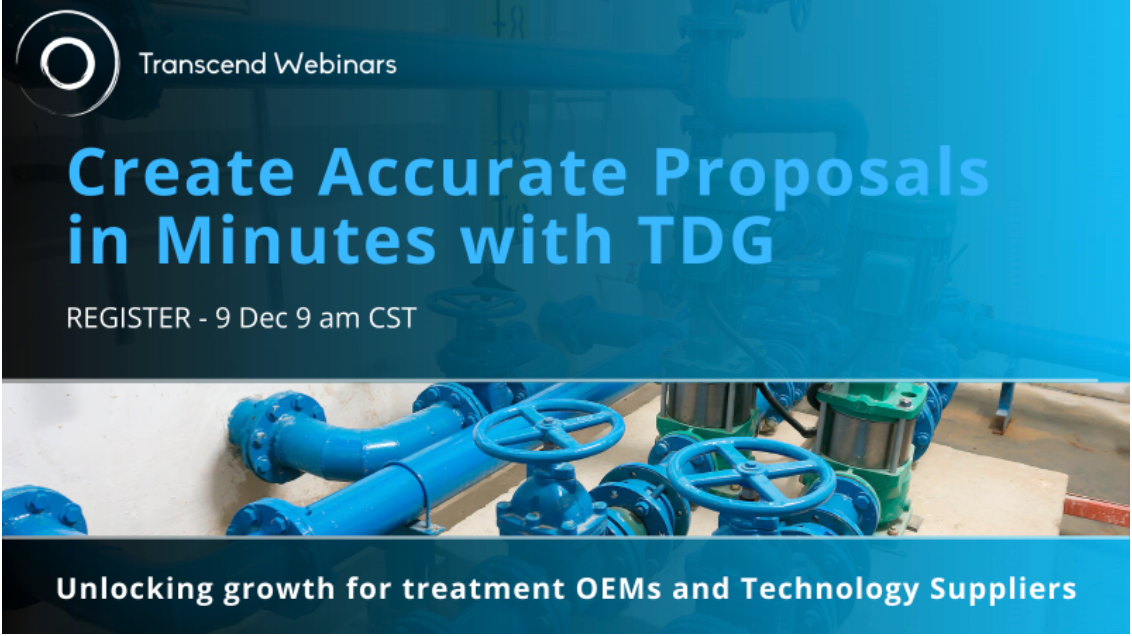 Let's Accelerate Your Budgetary Proposal Process
Generating budgetary proposals with speed and accuracy is critical to your competitiveness in the water market. Transcend Design Generator enables you to generate high-quality, accurate engineered proposals in minutes, alleviating engineering bottlenecks and shifting hours to detailed design and project execution work.
Sound too good to be true? Read on to see how we were able to assist some of the world's largest OEMs through common engineering bottlenecks.
MBR Proposals - More Bids, More Wins... Less Time
One of the largest MBR membrane manufacturers started to use TDG in early 2021 to streamline their budgetary creation process. Take a glance at their challenges and how TDG provided a solution.
Challenges
Too many 'no-go' decisions, desire to bid more often

Time-consuming proposal creation process

Bottleneck in engineering
Solution
Proposal creation efforts cut by 75%

AE team can now focus on more complex opportunities

Enabled sales team to generate proposals in minutes
"I was spending nearly 600 hours a year on standard budgetary proposals and Transcend Design Generator reduced my workload by 75%. It allows me to get back to our sales team and customers faster and spend more time on detailed design for our clients!"
On December 9th, join us for a free live webinar to explore how we can configure TDG to your product or technology.
Unable to make it? No problem! Register anyhow, and we'll email you a recording of the webinar.
Digital transformation is a time-consuming process that necessitates modest benefits through persistent change management. When integrating TDG into sales & engineering operations, our clients do it in stages. Learn how our staged strategy can be easily tailored to your team.
Elemental Excelerator, Transcend, and SUEZ's Water Technologies & Solutions Collaborate.
Click Here to read more.

Transcend's software accomplishes what traditional CPQ tools SHOULD do – alleviate bottlenecks in the proposal process for commercial teams - and also automates the preliminary engineering and decision making.
Want to talk to one of our wastewater experts? We are happy to help!
Schedule a call
.