Mayors step up for a drinkable Meuse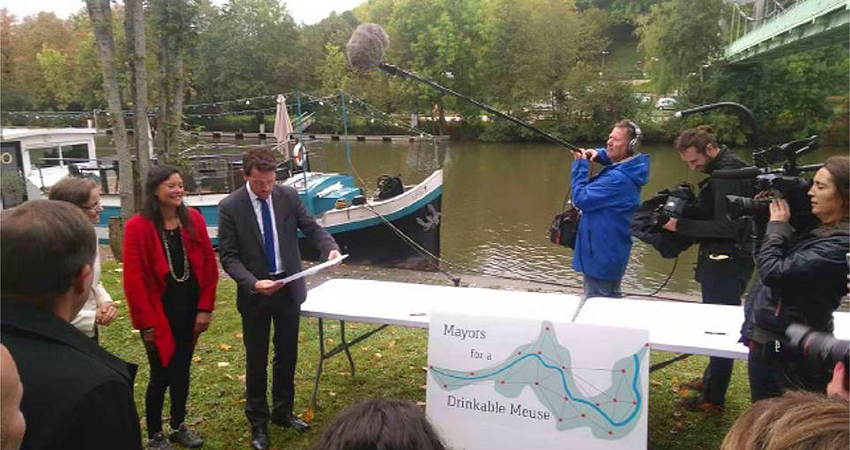 In some municapalities work has already started. Other mayors are still gaining insight and raising awareness. T he Mayors for a Drinkable Meuse network shared experiences and learned from each other in an online meeting on Friday November 20th . The network aims to improve the water quality of the Meuse , so the water will be drinkable in the future.
In the municipality of Charleville-Mézières work is already underway to improve the water quality, said mayor Boris Ravignon. The twin-cities agreed to improve wastewater treatment and started several ecological river restoration projects to improve water quality and restore biodiversity.
Influencers
Mayors are not always directly responsible for waste water treatment in their municipalities. But they can influence water quality by raising awareness and by setting high standards for waste water discharge of industrial companies. Last year the European Coalition of Drinking Water Suppliers called for transparency in discharges, strict entry requirements for chemicals and the implementation of the polluter pays principle in a European River Memorandum .
Foundation
The Mayors for a drinkable Meuse network was founded in 2019 by Li An Phoa, founder of Drinkable Rivers , and Boris Ravignon, mayor of Charleville-Mézières. The network unites French, Belgian and Dutch mayors of municipalities in the Meuse watershed. During the online meeting Li An Phoa welcomed 35 Mayors and 25 water professionals. She shared how she raises awareness and mobilizes people to act towards a world with drinkable rivers. Afterwards there were speeches by the mayors from Charleville-Mézières, Namur and Cuijk and an interview with Thom Verheul, director of A Long Walk for Drinkable Rivers, the documentary about Phoa's Meuse walk in 2018.
Prevention
Waste Water Treatment Plants (WWTP's) cannot remove all pollution, emphasized Wim Hillenaar, mayor of the Dutch municipality Cuijk. "We need to prevent pollution." According to Hillenaar, this requires raising awareness among the general public about the effects of all kinds of materials that end up in the Meuse. He admitted that the documentary A Long Walk for Drinkable Rivers was an eye opener. "I did not realise that only 2% of all water is freshwater and drinkable."
Improvement
During the meeting the mayor of Namur, Maxime Prévot, admitted that his city was a poor performer in the past, but he is looking forward to show his fellow Meuse mayors when they will gather in Namur in 2021 the situation has improved due to new waste water treatment installations in recent years.
SOURCE