Meet the young CEO who is successfully trying to combat India's water crisis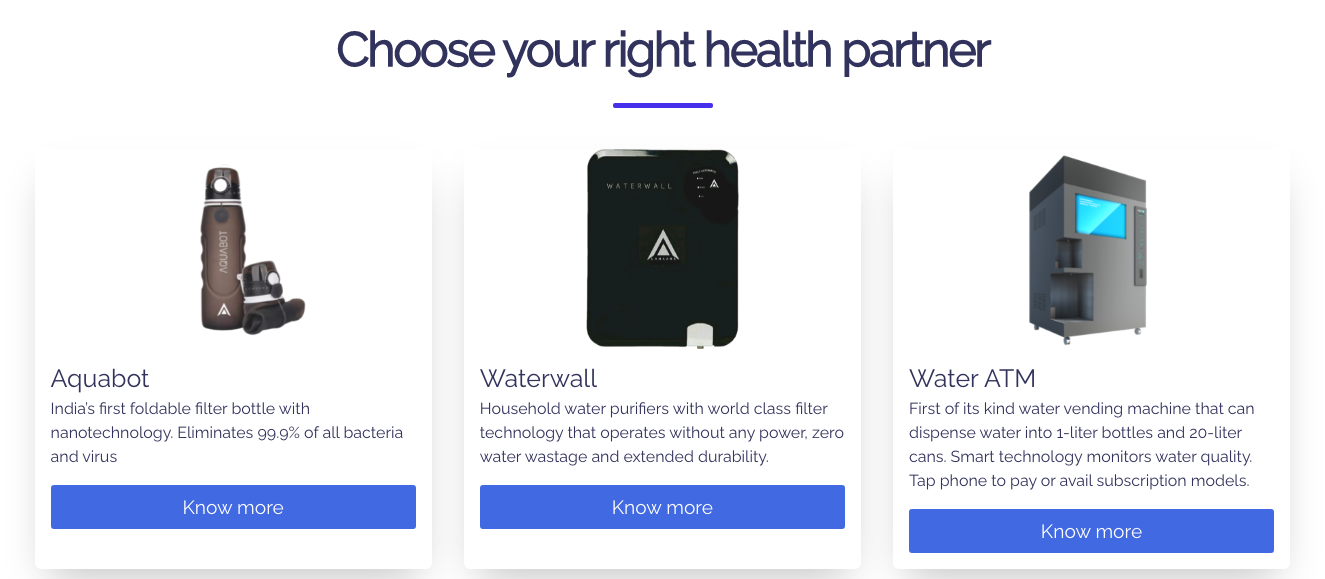 "Water is the driving force of all nature," the fifteenth-century Renaissance artist Leonardo da Vinci once professed. Centuries later, the world is in the midst of a water crisis that needs our serious attention. The stress that India faces when it comes to availability and access to water is already alarming. According to a 2018 NITI Aayog report, 600 million people, or nearly half of India's population, faces extreme water stress. Access to clean drinking water is often a challenge for these populations. But some have taken cognisance of this issue and are working towards providing an easy, reliable and economical solution.
At the forefront of this is Lamaara Technologies.
A young and rising company that primarily offers water purifiers, Lamaara Technologies has been contributing towards combating the water crisis in India and abroad. In 2018, when Kerala faced the devastating flood, that left many stranded, without access to drinking water, it was Lamaara Technologies' organic water purifier that had helped many quench their thirst. First boosted by the Kerala Start-up Mission, Lamaara technologies has been growing and expanding their product base from this economical and easy to use water filter. In the past three years, the company hasonly grown to offer more innovative and accessible solutions to combat the water crisis in India. We spoke to the co-founder and CEO of Lamaara Technologies, Anto Patrex to understand the company's journey and their work in the past few years. Here are some excerpts.
Lamaara Technologies has introduced some groundbreaking water filtration solutions that can be accessed with ease by millions. What is the inspiration behind these innovations?

According to various studies, most of the freshwater resources are going to end by 2030. In India, it is much sooner than that. We as a company are trying to address this problem and eliminate the water crisis that the world is about to face. Water is going to become one of the most valuable resources that is needed. But since freshwater resources are depleting, we will have to depend on desalination processes. The company's aim is to set up a desalination plant so that every country and every coastal area will have a micro desalination unit that will supply clean drinking water. We want to make drinking water accessible to one and all. And this goal drives all our innovations.
The journey of Lamaara Technologies from a boot camp under Kerala Startup Mission to a Private Limited company is inspiring. What was the biggest challenge that you faced?
Lamaara Technologies was started when I was an engineering student, with minimal access to resources and no funding. I stumbled on the imminent water crisis that we are bound to face while working on a project, and realised that we need to find ways to plan and combat this. I knew that working on solving this problem will not only benefit me but also help the world. But there are a lot of engineering projects that students work on year after year. And most of them never hit the market. I did not want that to happen with my idea.

One thing that really helped me in my early days was never missing out on any opportunity. I used to go and ask as many people as I could about how to start a company, how manufacturing works, what goes into setting up profitable operations, etc. That is how I came across Kerala Startup Mission. I think this was one of the most challenging times, finding our way around the working of a company, around making products, all, while we were still hustling in college.


Could you tell our readers about the kind of innovations that Lamaara Technologies has made in the past few years and the story behind it?
One of the first products that we created was a portable and collapsible water filtration bottle called the Aquabot. Even today, while travelling, people consume a lot of mineral water. From plastic pollution to lack of knowledge on actual purity of the water (when it comes to local brands) there are various issues at play. On an average train journey from Kerala to Mumbai, people are sure to consume 6-7 litres of water or 6-7 bottles of water. And in pre-covid times, an average of 1.2 crore people were travelling in trains every day. Imagine the water bottle wastage caused in a single day in our country.

These were the concerns that I had in my mind, and the solution was to create a bottle that could filter and purify the water directly. This bottle needed to be economical so that everyone could access it. We developed several types of filters. It was all trial and error, and we had to do it manually. We spent months testing over 1000 filters, making different types and researching.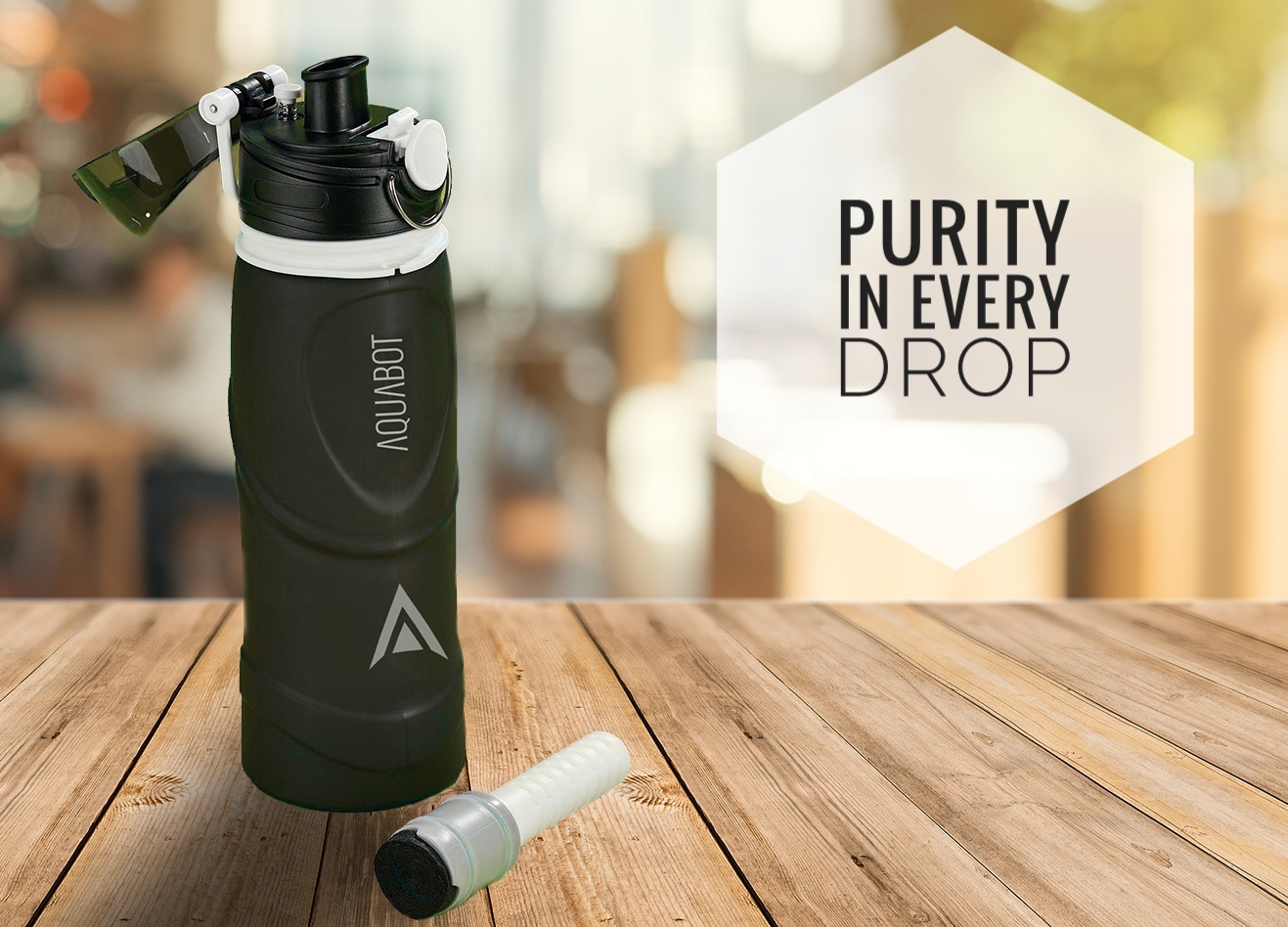 We patented a revolutionary filter technology in my third year of engineering. And we initially focused on manufacturing these bottles.

The Aquabot is made out of surgical grade silicone, that can fit in your pockets; it's that compact. A single cartilage of filter in the Aquabot can filter 1000 litres of water.

From a financial standpoint, if you were to only consume packaged water, 1000 litres of water will cost Rs 15000 to Rs 20000. Meanwhile, our bottle, which can filter tap water and make it safe and drinkable, is available for a mere Rs 999.

In recent times, we have also expanded our product pool and launched a household water purifier - Waterwall. This also uses our filter technology and runs without any power with zero wastage and extended durability. In addition, we are also working on installing unique Water ATMs which is essentially a water vending machine that can fill one litre and 20-litre cans. The quality of water in these ATMs is constantly monitored. This smart ATM will allow people to tap and pay or even avail of subscription options based on their needs.

How has Lamaara Technologies evolved since receiving its first Seed Capital?
We received our first seed capital from Kerala StartUp Mission, of Rs 2,00,000. Since then, Lamaara Technologies has grown tremendously. So much so, that today, we are valued at USD 1 million.

From an operational point of view as well, the growth has been encouraging. Our company started from a boot camp in our college. We were working from our dorm rooms. And then we shifted to Kerala Startup Mission's incubation centre. We got an office in Cochin and we were working from there. Right now, the company has expanded to Bangalore as well. So we have two offices, one in Bangalore and one in Kochi. And our production units are in Delhi and Mumbai, and we also have an international presence. Our key technology is manufactured in Japan and we have a global presence.

2020 has been a tough year for all brands. How did Lamaara Technology get through? And where do you see your company headed?
The COVID situation has completely changed the landscape. During the lockdown we had to shut down everything and actually leave Kochi and go back to our hometowns. It was an extremely challenging time. I did not think that we could sustain or get out of it. We had exhausted all our fundings, and all the operations were still closed due to the guidelines. However, as unlocking rules began, I decided to give my all to try and revive Lamaara. I took my entire savings and came to Bangalore and initiated the process of rebuilding the company. I think because we hit rock bottom during the lockdown, we came back much stronger. In fact, whatever we did in the past three years, we surpassed those achievements in the past one year. We launched multiple products and raised funding from various sources. AquaBot was a prototype before COVID, but now it has become a reality, and we received international recognition for this.

If you want to know more about Lamaara Technologies, click here.