OriginClear's Water On Demand Achieves First Funding, Prepares for Pilot Program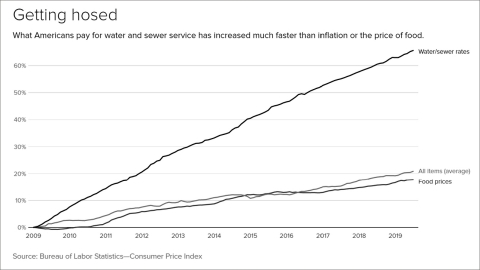 CLEARWATER, Fla.--(BUSINESS WIRE)--OriginClear Inc. (OTC Pink: OCLN), a leading corporation in the self-reliant water revolution that develops outsourced pay-per-gallon programs, has announced that it has received first investor funds into its Water On Demand #1 subsidiary. The Company plans to allocate these and future Water On Demand™ investments to purchase water equipment that customers pay for as a service. Ken Berenger, VP of Business Development, outlined the program recently in a Money Show presentation: https://youtu.be/3XPN12zIez8.
"On that day, we received the first six-figure investment in Water On Demand™, and we began talks for a commercial pilot to implement water treatment as a managed service."
The Company also began talks for a commercial pilot program using such a pay-as-you-go water treatment contract, known in the water industry as Design-Build-Own-Operate (DBOO). Such contracts are typically indexed to local water rates, with the potential of an inflation-friendly investment over the long term.
"After months of planning, I'm delighted to be implementing water as a managed service to replace capital expense," said Tom Marchesello, OriginClear Chief Operating Officer. "Unlike the plain Design & Build model, where the revenue just occurs once, the full DBOO model can bring decades of lifecycle revenue."
"October 29, 2021 is a red-letter day for us", said Riggs Eckelberry, OriginClear CEO. "On that day, we received the first six-figure investment in Water On Demand™, and we began talks for a commercial pilot to implement water treatment as a managed service."
Accredited and non-US investors should contact OriginClear at invest@originclear.com, or book a call at www.oc.gold/ken.
Water On Demand customers avoid the burden of capital expense, and outsourced maintenance helps users such as breweries and mobile home parks eliminate the expense and expertise of running a water system of their own. These privately metered programs are common in the water industry, but have been applied, until now, to much larger systems, such as desalination plants at the scale of entire islands.
With its prefabricated, modular systems, OriginClear believes it can serve local industry, a fast-growing user base as our national water infrastructure continues to deteriorate (a 2016 survey by the U.S. Environmental Protection Agency (EPA) showed that $271 billion is needed to maintain and improve the nation's wastewater infrastructure: https://archive.epa.gov/epa/newsreleases/epa-survey-shows-271-billion-needed-nations-wastewater-infrastructure.html.) Local action may help alleviate much of this gap.
The securities referred to in this announcement may be sold only to accredited investors, which for natural persons, are investors who meet certain minimum annual income or net worth thresholds. These securities are being offered in reliance on an exemption from the registration requirements of the Securities Act and are not required to comply with specific disclosure requirements that apply to registration under the Securities Act. The Securities and Exchange Commission has not passed on the merits of or given its approval to the securities, the terms of the offering, or the accuracy or completeness of any offering materials. The securities are subject to legal restrictions on transfer and resale and investors should not assume that they will be able to resell their securities. Investing in securities involves risk, and investors should be able to bear the loss of their investment.