Saving Streams With Good Science - the Stroud Water Research Center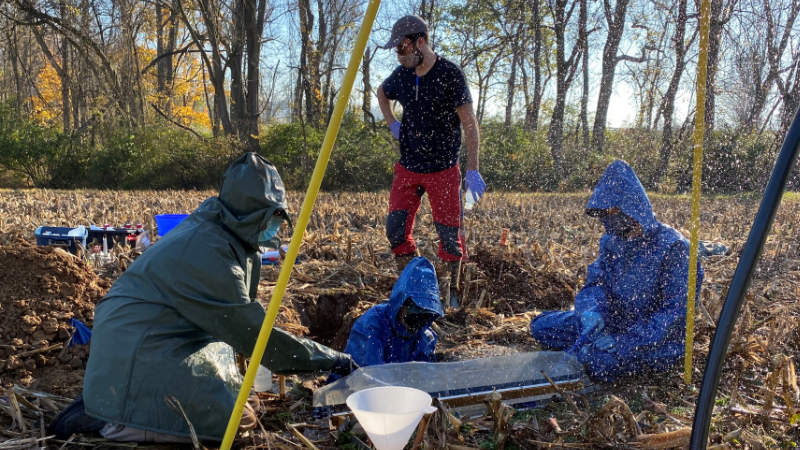 By James G. Blaine, Ph.D. (Reprinted from the 2020 Annual Report)
From left: Laura Zgleszewski, Jinjun Kan, Marc Peipoch (standing), and Jennifer Matkov collect simulated rainfall from soil in a cornfield in the White Clay Creek watershed while making it rain from above with a precisely tuned shower sprayer on a tripod.
2020 was a year when science was disparaged at the highest levels of government and then vindicated by the unprecedented development of several COVID-19 vaccines. It was a year when laboratories closed for quarantine, and streams and watersheds provided safe and productive workplaces. It was a year that exposed public misconceptions about scientific research and emphasized the need to rebuild trust in the scientific process. At Stroud™ Water Research Center, that starts with communicating our research to non-scientists, clarifying the need for a realistic timeline, and describing the patience and the persistence required to gather the long-term data necessary to ensure clean fresh water. To that end, we share snapshots of three long-term experiments, three scientists, and their roles in our ongoing research.
Long-Term Research in Environmental Biology: Trajectory for the Recovery of Stream Ecosystem Structure and Function During Reforestation
Funding: National Science Foundation.
Dates: 1998–present.
Team: Almost all Stroud Center scientists have worked on this 22-year project.
From left: Sherman Roberts, Jennifer Matkov, Laura Zgleszewski, and Mike Broomall survey the fish community in White Clay Creek in February 2020. Conducted seasonally, these surveys track the populations of over 20 fish species in White Clay Creek and allow scientists to evaluate how well reforestation along the stream has helped restore the fish community in this High Quality, Exceptional Value stream.
TESTING METHODS TO IMPROVE STREAM HEALTH BY GROWING A FOREST
John Jackson, Ph.D. , Senior Research Scientist, Entomology Group
Because the Stroud Center has built an enduring body of research that identifies watershed restoration as the most effective path to stream recovery, it's tempting to dismiss the persistence of large-scale channel engineering projects as a relic of the past. On the contrary, says entomologist John Jackson, "they're alive and well and looking to get bigger."
The problem is that they don't address the true cause of degradation. "The primary pollution sources are not in the stream channel," says Jackson. "They're in the watershed," where poor land management allows topsoil, pesticides, and other pollutants to run off the landscape and into the stream and impair its ecological health. "Our approach is to work with landowners to improve their management practices, and then let nature heal itself."
This is not a quick fix. It takes time to plant trees and let them grow, time to restore the soil's health, time to install agricultural practices that keep manure, stormwater, and sediment out of streams, time to do the long-term research. "Those things often take years," says Jackson. "But we're dealing with centuries of abuse." The result of improved land management is cleaner water and more productive land. "By keeping the water where it falls, you keep the sediment where it needs to be."
What We Learned
The ultimate outcome is both more effective and more economical. "Cutting down trees to re-engineer a stream's channel does not improve water quality," Jackson says. "It does not restore aquatic diversity. It does not improve stream function. It does not save money. We believe watershed restoration is a better investment than channel engineering, and we have measured the positive outcomes."
Evaluating How Conventional, Conservation, and Organic Farming Practices Enhance Soil Health and Improve Water Quality
Funding: William Penn Foundation.
Dates: 2018–present.
Team: Jinjun Kan, Melinda Daniels, Diana Oviedo-Vargas, Marc Peipoch, Dave Arscott, Matt Ehrhart, Bern Sweeney, and collaborators from Rodale Institute.
From left: At Stroud Preserve, Laura Zgleszewski, Jennifer Matkov, and Diana Oviedo-Vargas pose in front of a rainfall simulator protected from the wind with tarps to ensure the "rain" falls straight down to the field below.