Seattle Aquarium Prioritizes Animal Well-Being with Water Monitoring During Long-Distance Transport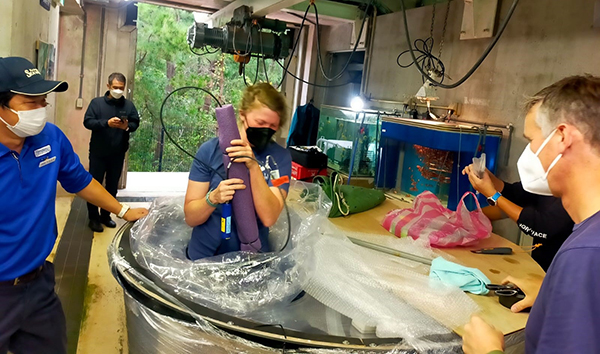 Overview
Marine animals coming to the Seattle Aquarium's new Ocean Pavilion will benefit from real-time water quality data monitoring during their long-distance journeys.
Challenge
Ocean health is in peril, and the Seattle Aquarium is taking action. The Aquarium has embarked on an ambitious, multiphase expansion to advance its mission of inspiring conservation of our marine environment.

The first phase includes the Ocean Pavilion, which will increase the size of the Aquarium by 50 percent and include 3,500 sustainably sourced animals native to the tropical Coral Triangle, a marine biodiversity hot spot in the Indo-Pacific.

Current Aquarium exhibits feature animals found in the Northwest U.S., so animal transport has typically been over relatively short distances. Now, with animals for Pavilion exhibits coming from much farther afield, the Aquarium will monitor water quality during transport, in adherence to its commitment to prioritize animal well-being.
Solution
As the Aquarium's new water quality manager, Hannah Mewhirter came to the job prepared to expand the facility's in-house water quality monitoring program to include transport monitoring. She had used In-Situ equipment when she worked at Monterey Bay Aquarium, in California, so she recommended the Aquarium purchase Aqua TROLL 600 and Aqua TROLL 500 multiparameter sondes with internal data logging.

"We could have purchased a less expensive sensor, but we want to measure five or six parameters, so we needed something more holistic. The Aqua TROLLs are capable of reliably tracking multiple parameters at once with some quality control that we have confidence in," says Mewhirter.

An opportunity to use the new equipment came quickly. The Aquarium had arranged to receive a whiptail stingray from an aquarium in Japan, and two Aquarium employees were planning to travel there to coordinate the transport and fly back with the animal.

During the trip the Aqua TROLL 600 would log data on dissolved oxygen, pH/ORP, conductivity and temperature. While staff wouldn't have access to the data during the flight, Mewhirter says that a record of tank conditions during transport would provide valuable information on changes in water quality over time and inform the process of acclimating the ray to its new home.

"We want to know the baseline," she says. "For example, soon we'll be transporting a juvenile Bowmouth Guitarfish, very rarely exhibited in the US, so we want to know everything we can about its water quality and do our best to match that upon arrival, not only for animal integrity, but also to help them thrive."
Results
Within 12 hours of receiving the Aqua TROLL 600...

READ MORE