SharkFest Features Hydrology Expert Tracy Fanara PhD and the Aqua TROLL 600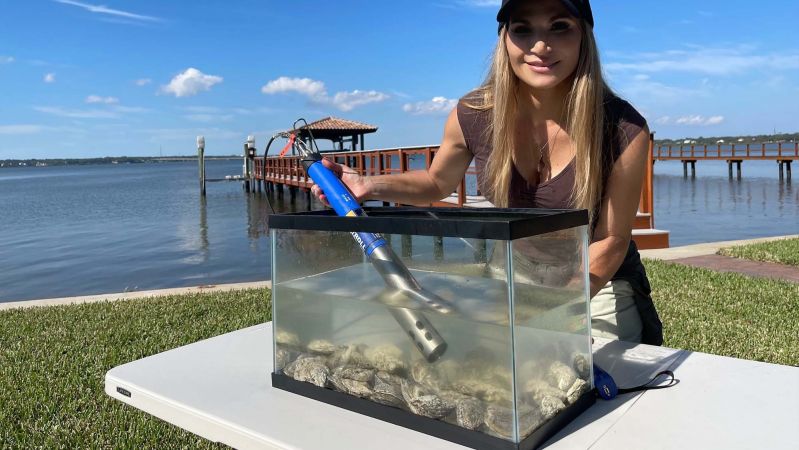 One sure way to get kids interested in environmental science is to feature the work of a passionate female hydrologist on National Geographic's popular series "When Sharks Attack" during the network's annual SharkFest.
Tracy Fanara, PhD, is an environmental engineer and ocean scientist who also happens to be a telegenic spokesperson for water science. She was recently asked to return to the SharkFest series for a second season to help explain why anomaly shark bites occur.
During her first appearance she explained how upwelling from Hurricane Irma caused nutrient levels in Florida's coastal waters to spike. Data suggest this drew in greater numbers of bait fish that in turn attracted juvenile sharks, which led to an increased number of shark bites.
The tale turbidity tells
This season, she came prepared to show how nutrient rich waters flowing into the Gulf Shores, Alabama, coast can spike productivity, and how efforts to implement oyster habitat may help balance the productive ecosystem that can draw in sharks.
For the experiment she placed an Aqua TROLL 600 with a turbidity sensor into a tank with live oysters. She explained that watershed runoff brings sediment-bound nutrients to coastal waters, increasing turbidity. Oysters and other filter-feeders effectively help to clean the water by reducing turbidity and those associated nutrients.
Her data from previous research show that a large portion of nutrients from runoff is particle bound, making turbidity one indication of nutrient removal from the water column. The on-camera experiment was intended to demonstrate how oysters help cycle nutrients by showing a drop in turbidity readings. Oyster reefs and shellfish farms thrive in nutrient-rich waters, and their effective nutrient cycling can help stem the influx of baitfish and the sharks that follow.
The mission
Fanara is thrilled to have the opportunity to share information about coastal hydrology on such a popular show. And she's the perfect person to do it. As Coastal Modeling Portfolio Manager for the National Ocean Service of NOAA and previously a Program Manager at Mote Marine Laboratory, she has expertise in oceanographic and hydrologic modeling, stormwater quality, harmful algal blooms, and technology development. She has developed three crowd sources and community science apps and a website (while at Mote) to alert the public to environmental hazards.
And as the founder of the science advocacy group Inspector Planet, she's accrued a boatload of on-air credits, spreading the word about water science and how it relates to weather, biological phenomena, and human and animal health.
"Any chance to enhance science literacy by drawing people in to learn without even realizing it is an opportunity to make the world a better place," says Fanara. "It's important to get kids into studying science because that's where future jobs will be. But it's just as important for people from all walks to have a love for the environment and to understand how the world works, so that they bring that knowledge into their actions and behaviors, no matter what career path they choose
This summer, in addition to her work as scientist and spokesperson, Fanara will lead the kids' camp, Mission Tampa Bay, which is funded by the U.S. Department of Defense. At Mission Tampa Bay kids will build and deploy drones and buoys to complete a project focused on water quality monitoring.
Ask her where she gets the energy for all of these projects, and Fanara says, "I love science and learning, and I get excited about how things work and what we have the potential to discover. Focusing on the wins, and new understanding and how everything's connected is what's exciting. I'm often learning it as I'm teaching it."
SharkFest '22 will air this July. You can learn more about Tracy Fanara and Inspector Planet on LinkedIn. And visit our site to learn more about our Aqua TROLL turbidity sensor.