Skagit Valley natives invent high-tech fix for farmers' irrigation problems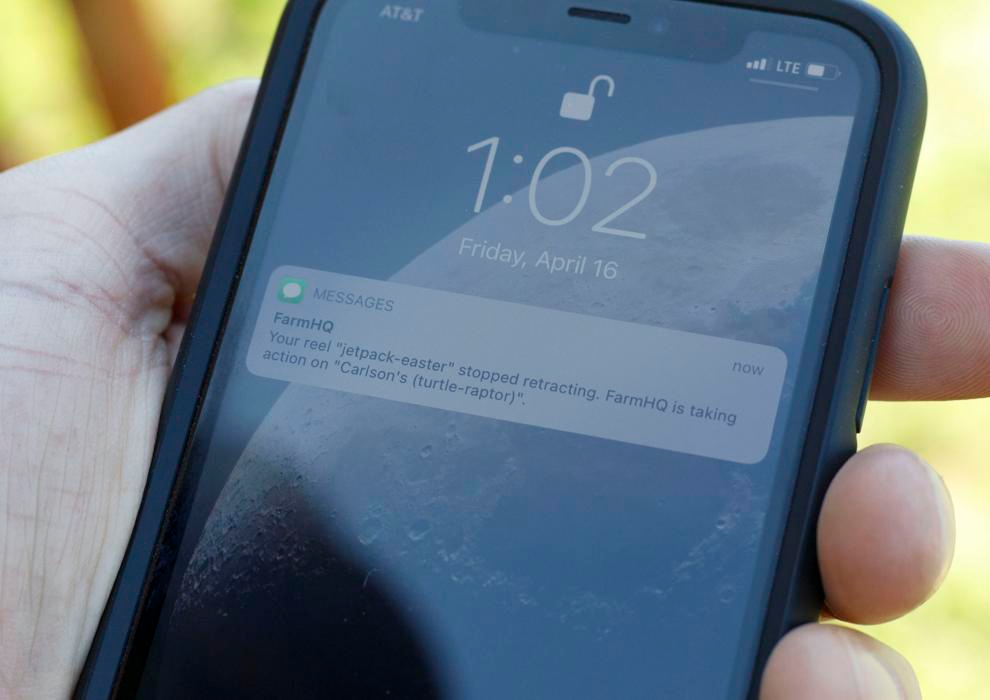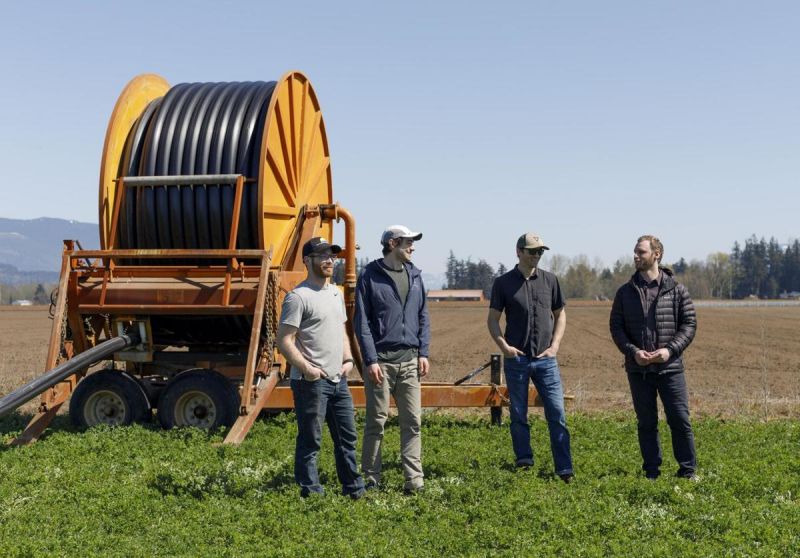 Wallace, David Wallace and Dan Oschrin of CODA Farm Technologies chat next to an irrigation reel April 16 in a field in Bow. The startup invented a device to fix a problem farmers have with their irrigation equipment.
CODA Farm Technologies' FarmHQ device mounts to farmers' irrigation reels. When an irrigation reel stops retracting, the device sends a signal to a second device on a water pump to shut it down, helping prevent crop damage and water waste.
BOW — After growing up on a potato farm in Bow, David and Connor Wallace went on to study sciences in college and then work at technology companies in Seattle and California's Silicon Valley.
"The entire time I was feeling drawn back to the farm and agriculture, and applying technical skills to problems in agriculture," David Wallace said.
In 2019, David Wallace quit his job as a data scientist for Amazon and started working full time on his family's farm, Wallace Farms. His dad told him about a problem with his irrigation equipment that damaged crops and wasted water and fuel.
David Wallace teamed up with younger brother Connor, who had spent six years working as a web and software developer in Silicon Valley, to find a solution.
The result was CODA Farm Technologies, a company the brothers started in their parents' garage in Bow.
They invented FarmHQ, a small cellular-connected device that attaches to farmers' existing irrigation equipment.
The technology enables communication between different pieces of equipment, helping farmers prevent crop loss and water waste. It also allows farmers to monitor their irrigation remotely from a smartphone or computer.
Since CODA Farm Technologies' founding in 2020, hardware engineer Gabe Martin and software engineer Dan Oschrin have joined the team. The company has sold nearly 100 FarmHQ devices to farms in the U.S. and Canada.
More control for farmers
Many Skagit farmers use traveling irrigation reels that pull sprinklers across fields to water crops. David Wallace said the reels occasionally malfunction and stop with no warning, while the pumps supplying the water keep running.
The result is that a sprinkler — which can pump 300 gallons a minute — will sit in a single spot and flood a section of a field.
"It can have a drastic impact on fields," David Wallace said. "It erodes the hills and starves potatoes for oxygen. (My dad) had a really simple request of us: figure out how to automatically shut down the pump when the reel stops."
David Wallace said the brothers searched for existing technology but found nothing.
"We decided to build our own," he said.
Working out of their parents' garage, the brothers built 10 prototypes and tested them on potato farming equipment. They had a working device by the end of summer 2019.
The FarmHQ technology includes three parts: cellular-connected boxes that attach to irrigation reels and pumps, magnetic sensors and a mobile phone app. The company also sells a solar and battery kit to power the device.
Farmers receive a mobile alert when an error occurs with their irrigation reels and their pump is automatically turned off.
When a reel malfunctions and stops retracting, the device sends a signal to the pump to shut down. Farmers receive a mobile alert that an error has occurred and that the pump was automatically turned off.
Without the technology, a farmer would have to drive out to a field to check if equipment was functioning properly.
Connor Wallace said during his time working in the Silicon Valley, he was impressed by technology, but found that some companies were trying to solve problems that nobody had.
"Coming back to the Skagit Valley, there are so many problems we can solve here to make people's lives better," he said. "Turning off a pump for a farmer so he doesn't have to go out at 6 a.m. (to check)."
Farms utilizing the technology include growers of potatoes, Brussels sprouts, broccoli, spinach and chard seed, berries, pasture hay and sod, including eight Skagit Valley farms.
"Word of mouth has been really big for us," Connor Wallace said. "It's been cool to see how excited farmers are about the product."
Vegetable seed grower Sean Galbreath of Burlington was one of the company's first customers. He said the FarmHQ device saved crops last season after the farm's irrigation reels experienced problems.
He said the device also helps the farm avoid wasting water and fuel.
"It pays for itself pretty quickly," Galbreath said.
During the 2020 growing season, FarmHQ devices saved 243,000 gallons of water per reel, CODA Farm Technologies states on its website. The devices saved 45 gallons of fuel for each diesel-powered pump, equivalent to about 1,000 pounds of carbon dioxide.
The technology allows farmers to access real-time information about their irrigation on a mobile dashboard.
Screenshot / CODA Farm Technologies
The company's mobile phone app allows farmers to access real-time updates about their equipment.
Galbreath said in the past, he had to drive out or send an employee to a field to check on equipment. With a small crew and farm fields scattered throughout the Skagit Valley, that gets tricky.
"(Now) we can look on our phone and go 'everything is OK with our irrigation,'" he said.
SOURCE AND FULL ARTICLE by Jacqueline Allison / Skagit Valley Herald