The City Upstream and Down: How Integrated Water Management Can Help Cities Thrive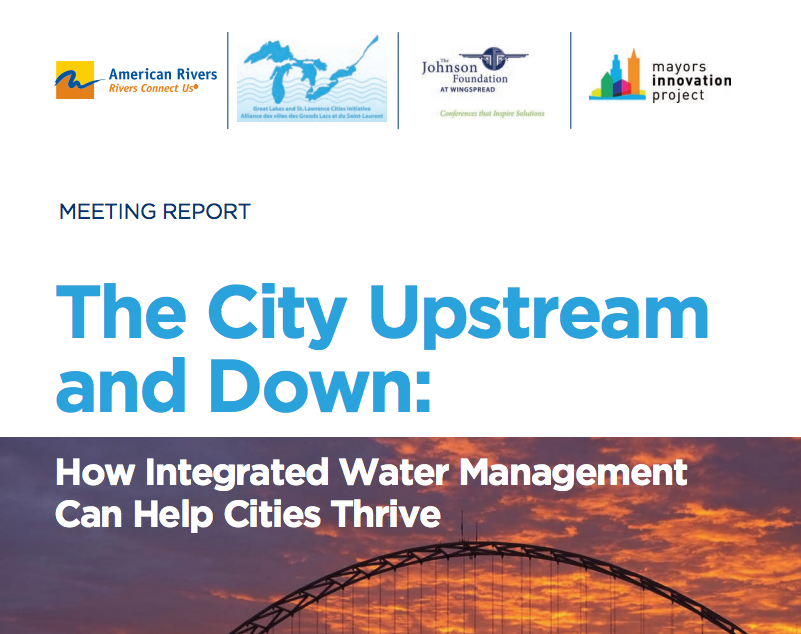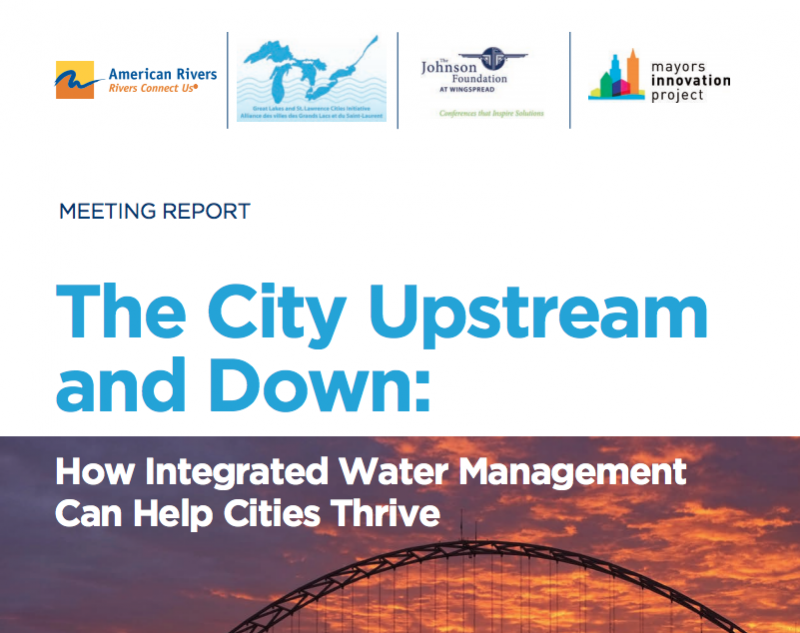 Water systems in the United States are among the safest in the world and yet, the fragmented way in which most cities have managed water historically is not viable for handling the serious water challenges confronting urban areas across the nation today and into the future. With climate change driving dramatic changes in the water cycle and rendering traditional approaches to water resources planning obsolete, the time has come for cities to adopt more holistic and resilient water management strategies.
Based on the outcomes of an October, 2015 meeting of mayors, municipal leaders and urban water managers, this report encourages the pursuit of integrated water management as a pathway to addressing urban water challenges within and beyond city limits. The report explains the concept of integrated water management; illustrates the potential benefits of pursuing its implementation; and provides practical guidance about steps elected officials, water utility managers, and other municipal leaders can take to get started. In the report, Òintegrated water managementÓ refers to an approach to water management that centers on breaking down ÒsilosÓ to create holistic, coordinated water systems that maximize economic, social, and environmental benefits in an equitable and sustainable manner. In this context, integrated water management is an approach to managing water resources that optimizes cross-departmental and multi-jurisdictional coordination and management of water infrastructure. Integrated water management is practiced through inclusive and jointly planned management of all water systems—wastewater plants, water supply systems, stormwater collection, and source water—in order to create a more secure, flexible, and resilient water future.
The report suggests that by taking specific actions at the utility, city, and watershed scale to better integrate how different agencies and organizations manage water, communities can:
¥ Increase their resilience to climate change.
¥ Enhance the quality of life for residents.
¥ Optimize local economic growth.
¥ Improve watershed health.
¥ Increase the efficiency and effectiveness of local government.
Greg Gjerdigen—Creative Commons THE CITY UPSTREAM & DOWN | HOW INTEGRATED WATER MANAGEMENT CAN HELP CITIES THRIVE 5 CITY UPSTREAM & DOWN INTRODUCTION Water is the lifeblood of our communities and environment, yet an array of emerging water challenges pose threats to the integrity and reliability of water resources across the country. Water infrastructure in the United States is aging and on the brink of failure in many places, and generally not suited to adapt to climate change impacts. Meanwhile, changes in urban demographics are putting additional pressure on already-stressed drinking water, wastewater, and stormwater management systems.
Moreover, source waters and their watersheds are very often shared beyond political and water management boundaries, and sustaining these finite water resources presents governance and coordination challenges. These challenges are magnified as communities face a future with too much water, too little water, or water at the wrong time. This report encourages elected officials, water utility managers, and other municipal leaders to pursue integrated water management as a pathway to addressing water challenges within their jurisdictions, service areas, and watersheds, while generating a suite of economic, environmental, and social benefits for their communities.
The content of the report is based on the outcomes of a three-day convening of mayors, municipal leaders and urban water managers held at The Johnson Foundation at Wingspread in Racine, Wisconsin in October, 2015. The report is designed to explain the concept of integrated water management; illustrate why cities should consider pursuing its implementation and how cities can lead the way toward solving water challenges across their shared watersheds. The report also provides practical guidance about how city leaders can initiate this important work where they reside.