THE SOCOTEC GROUP REACHES ONE BILLION EUROS IN REVENUE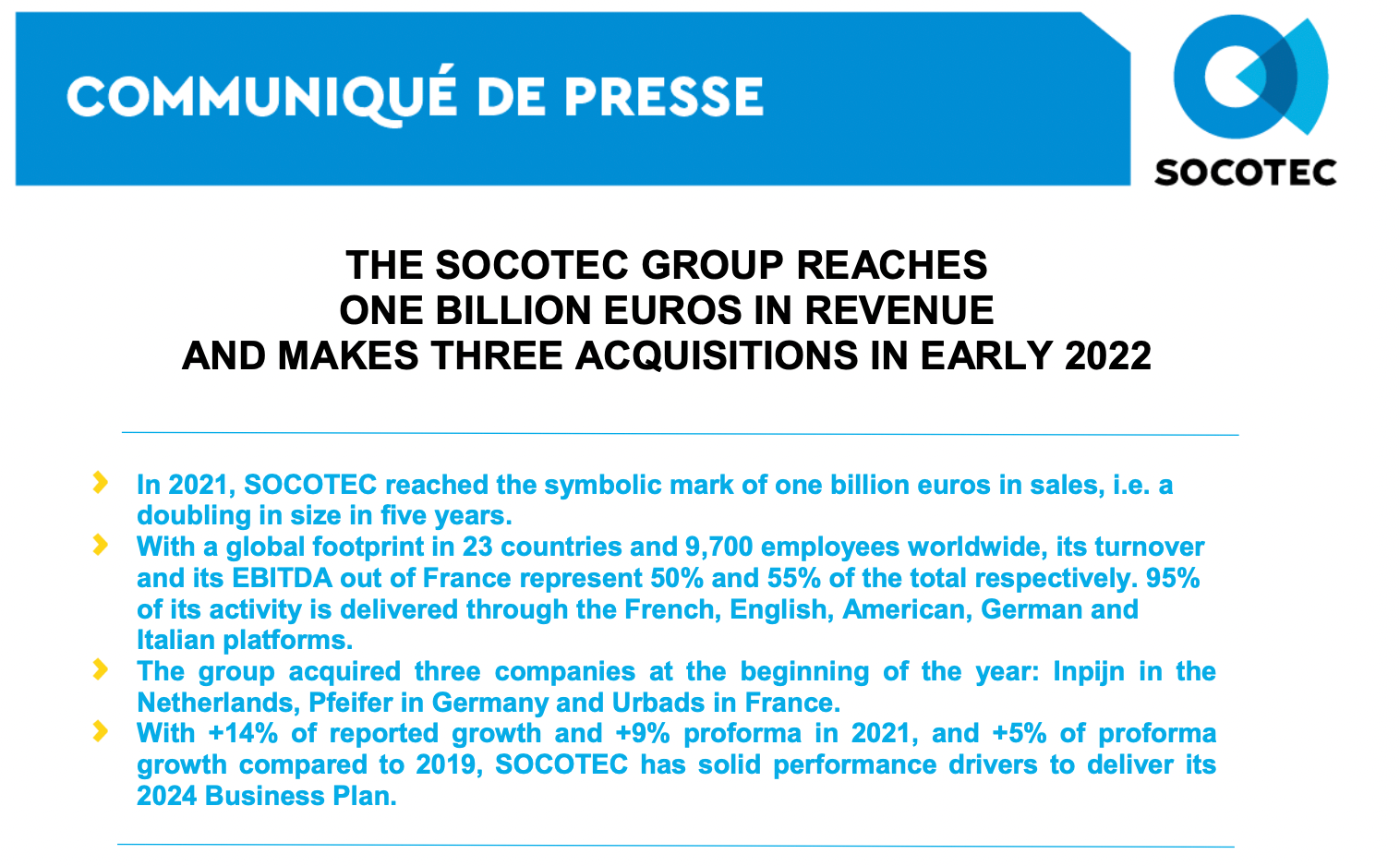 THE SOCOTEC GROUP REACHES ONE BILLION EUROS IN REVENUE AND MAKES THREE ACQUISITIONS IN EARLY 2022

In 2021, SOCOTEC reached the symbolic mark of one billion euros in sales, i.e. a
doubling in size in five years.
With a global footprint in 23 countries and 9,700 employees worldwide, its turnover
and its EBITDA out of France represent 50% and 55% of the total respectively. 95%
of its activity is delivered through the French, English, American, German and
Italian platforms.

The group acquired three companies at the beginning of the year: Inpijn in the
Netherlands, Pfeifer in Germany and Urbads in France.
With +14% of reported growth and +9% proforma in 2021, and +5% of proforma
growth compared to 2019, SOCOTEC has solid performance drivers to deliver its
2024 Business Plan.

The SOCOTEC Group, a major player in Testing, Inspection and Certification in the construction, real
estate, infrastructure and environment sectors, supports its clients in their compliance, risk
management and technical consulting needs throughout the entire life cycle of their assets.
The three acquisitions represent significant progress for the group, which is strengthening its market
position:
- The Netherlands completed a second acquisition, Inpijn Blokpoel, less than six months after the first.
With a €12 million revenue and 19% of Ebitda, Inpijn operates in the infrastructure sector and
complements the service offering of Hanselman Groep, which operates in the building sector. As a
renowned company in its field, Inpijn specialises in geotechnical, geophysical and environmental
services in the infrastructure and construction sectors, having concentrated its exposure among water
organisations.