VorTech Water Solutions scoops two prizes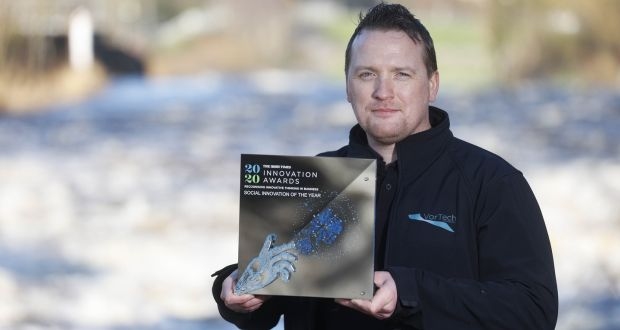 Irish Times Innovation Awards: Company tops Sustainability category also
A new addition to the innovation awards in 2020 was an award that recognises the social aspect of the finalists' innovations. This was made in response to the growing need for social innovations to tackle critical issues, such as homelessness, healthcare and the environment.
The inaugural winner of the Social Innovation Award is VorTech Water Solutions which also took the top prize in the sustainability category for its solution to energy wastage in the water treatment industry.
Water treatment plants operate around the clock and account for up to 3 per cent of the national electricity bill in developed countries. However, a significant amount of the energy being used by these plants is wasted due to the inefficient technologies and processes persisting within the industry.
What was needed was a step change innovation that would deliver an alternative hi-tech, low-energy means of treating wastewater and reducing carbon emissions. Following four years of research, this is exactly what the NUI Galway spinout company has developed.
NUI Galway's VorTech Water Solutions has developed a novel cyclonic method of mixing air and water to halve the electricity spent on recycling trillions of litres of wastewater every day. John Geoghegan was one of 12 promoters from investor-ready start-up companies pitching their new technology solutions to investors at Enterprise Ireland's Big Ideas 2019. The annual showcase of start-up innovation emerging from higher education institutes took place at The PrintWorks, Dublin Castle