Warm Springs leaders back high tech in struggle for safe drinking water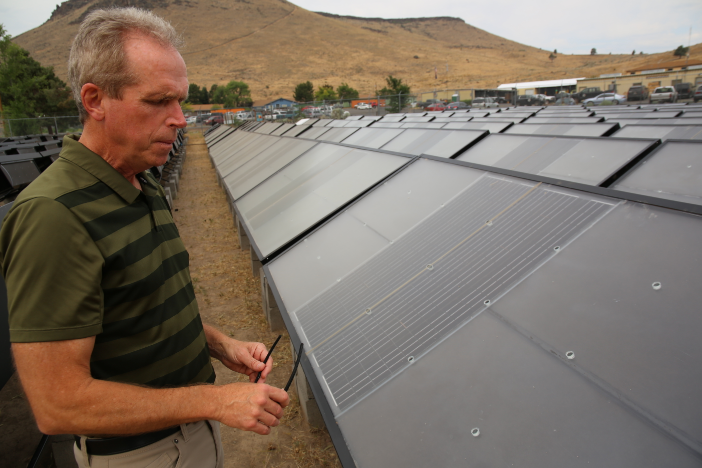 Warm Springs Economic Development Corporation CEO Jim Souers, pictured June 21, 2021, says the hyrdo panels should last 10-15 years, and applauds the technology as largely self-sustaining: "I've got panels, I've got a spring bar in a building. I open the door. This is less than one [full time employee] to maintain." Emily Cureton / OPB
On the Warm Springs reservation in Central Oregon, a community water system serving more than 3,000 people needs an overhaul. Repairs could take years. Now, tribal leaders want an emerging technology to leapfrog broken pipes.
The ground is bone dry at the project site in an industrial park on the reservation. But, when a field of what appear to be solar panels bake in the desert sun, an unusual source of drinking water whirs to life.
"That's where the magic happens," said Jim Souers, CEO of the Warm Springs Economic Development Corporation. "Each of these panels on average will create about 1.6 gallons a day of water."
Proponents of the hydropanel technology call it deceptively simple. Solar powered fans push ambient air into a highly absorbent material, trapping water vapor. Heat from the sun condenses that moisture — think of steam collecting on a shower wall — and the distilled water pools in a chamber. Minerals are added to try and match to the flavor of a local spring.
"We have it set up as our version of a spring," Souers said.
He pointed to three faucets installed in a metal building next to the field of panels. The facility opens once a week for Warm Springs residents to come fill up containers, free of charge. Other arrays have been installed at homes, eliminating the need for travel, Souers said.
A pair of anonymous donors brought the project to the Confederated Tribes of Warm Springs government, and paid for its first phase. Recently, the Tribal Council agreed to spend COVID relief money on an expansion. Souers has hopes of someday bottling and selling hyrdopanel water for profit. But for now, it's a stop gap.
Faucets are fed by water collected from the air on the Warm Springs reservation on June 21, 2021.
Emily Cureton / OPB
"This is one piece of the solution," Souers said. "It can be used in a substantial way as part of solving a problem, and we have to address the bigger problem."
The bigger problem is Warm Springs' need for a new water system that's going to cost tens of millions of dollars. A bill to free up more federal funding for tribal water infrastructure passed the U.S. Senate this year, but has yet to gain traction in the House. The reservation's residents are represented by a first-term Republican from Eastern Oregon, Rep. Cliff Bentz.
In situations where governments have failed to maintain infrastructure, hyrdopanels provide a local, self-sustaining workaround, said an executive for the company that makes them.
"Indigenous populations disproportionately bear the brunt of the failures of the water system. That's the case in Oregon, that's the case in the broader United States, and that's the case globally," said Robert Bartrop, chief revenue officer for SOURCE, the Arizona-based company specializing in air to water technology.
Bartrop called SOURCE's products an alternative to Roman-era designs for centralized infrastructure, where pipes move water from rivers, lakes or aquifers.
"We look for a third source, which is the atmosphere," he explained. "Instead of finding water and moving it to people, we can find water where people are."
Water bottled from hydro panels on the Warm Springs reservation on June 21, 2021.
Emily Cureton / OPB
According to the company's marketing, hydropanels don't harm the environment, or dry out the air in any meaningful way. Bartrop said they work well in concert with non-potable water sources like wells and rainwater catchment, because the vast majority of household water does not need to meet drinking water standards. The goal, he said, is to disrupt broken systems plaguing largely rural communities around the world. This year, the company is installing panels on homes in the Navajo Nation in Arizona, New Mexico and Colorado.
"We see a technology like ours as really using innovation to level the playing field in [rural] areas, and allow those people to drink the same quality of water that people get in big cities," Bartrop said.
SOURCE, which was formerly called Zero Mass Water, recently attracted $50 million in investment, but its technology remains divisive in the water sector, according to the trade journal Aquatech. Some critics say the hydropanels don't produce enough volume to justify the cost of around $2,000-$3,000 apiece. Bartrop said you can't put a price on survival needs.