West Dundee Uses a Flexible "SCADA Lite" for Remote Wastewater Flume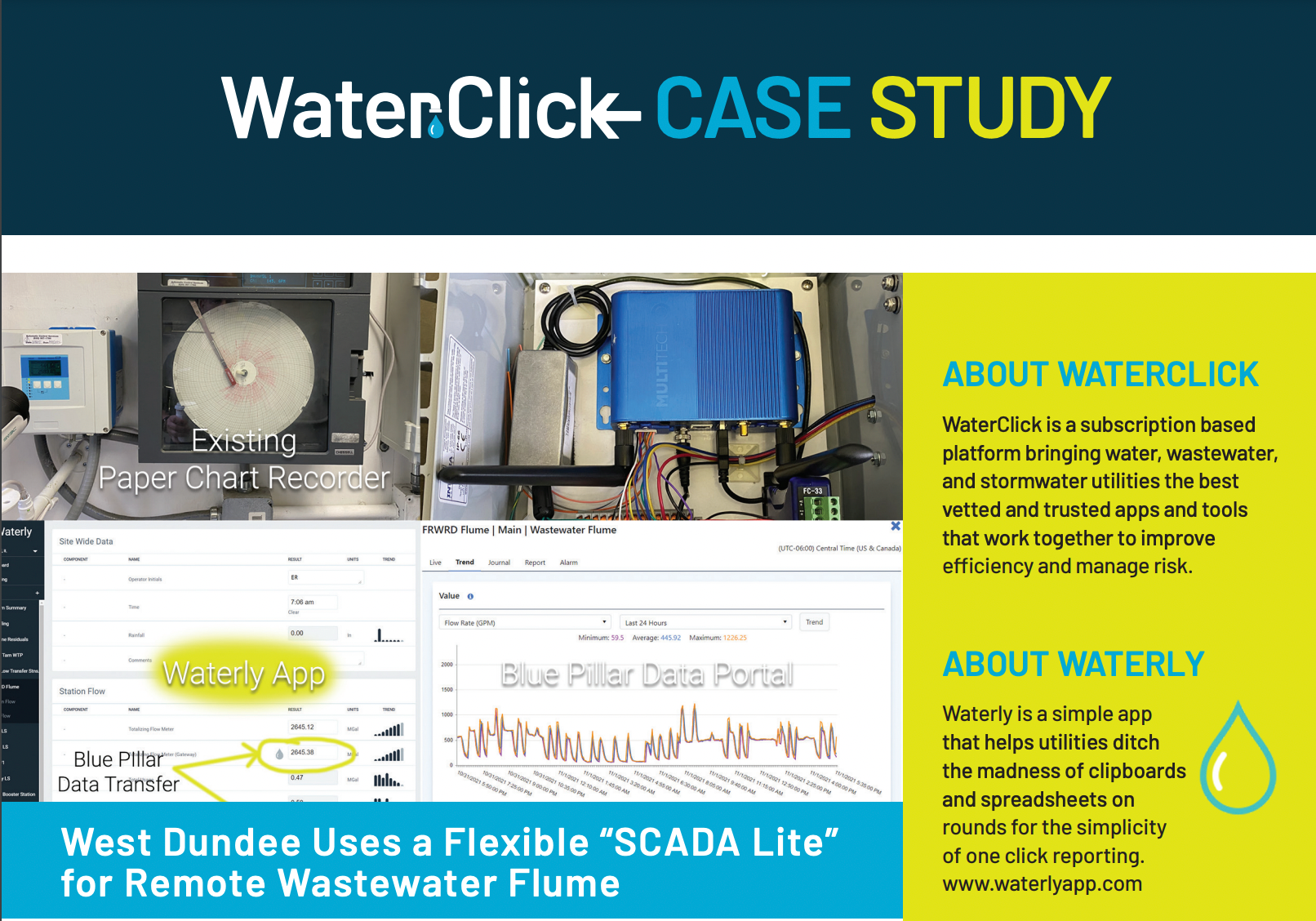 Until recently, West Dundee, IL had a problem with access and timeliness of flow data
from a remote wastewater metering flume. Because data had been retrieved manually
from a shed in a cornfield using the paper chart recorder shown above, the utility
lacked the kind of real-time data that could show trends and important wastewater
flow variations.
By simply and inexpensively digitizing the existing meter and gaining
instant access, West Dundee saves truck rolls and labor, responds quicker to flow
events, and has the tools to explain changes in the data downstream.
WaterClick is a subscription based platform bringing water, wastewater,and stormwater utilities the best
vetted and trusted apps and tools that work together to improve efficiency and manage risk.
Waterly is a simple app that helps utilities ditch the madness of clipboards and spreadsheets on rounds for the simplicity of one click reporting.
www.waterlyapp.com
Mobile: 847-204-8767
chris@waterclick.tech
Jeff Pontius, BluePillar
Director, Municipal Technologies
Mobile: 916-474-0746
jeff.pontius@bluepillar.com
The Village of West Dundee serves over 7,300 residents and counts 2,600 sewage
connections under its management. All village wastewater flow is sent to the Fox
River Water Reclamation District (FRWRD) and is currently metered through a
remote metering flume that locally displays flow rate and totalized flow at the remote
metering station.