Lindsay Hunt, Director and Principal Consultant at Jarvis Hunt Consultancy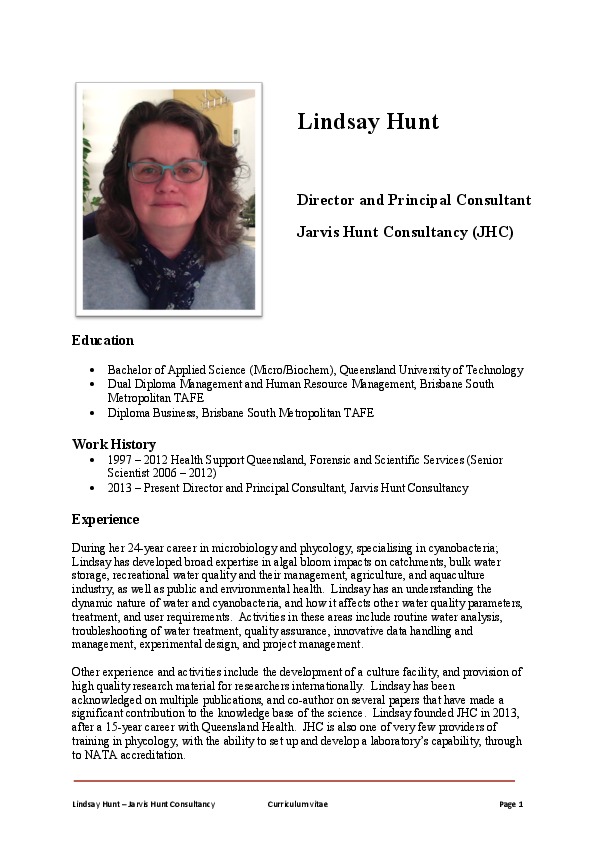 Microbiologist/biochemist with cyanobacteria and microalgal specialty. Technical and operational skills in analysis, training, culturing, research, and consultancy. Quality assurance and auditing, procedural systems, and workflow design. Research and development - environmental monitoring algorithms.
I spent 15 years with Qld Dept Health, Health Support Service, Forensic and Scientific Services (Phycology) - Senior Scientist. Performing routine analysis in source and recreational water, assisting and advising clients and Queensland Chief Health Officer with blooms of public health significance.
Founded Jarvis Hunt Pty Ltd (JHC) in 2013. Providing consultancy and training in phycology. Assisted clients to develop routine phycology services from inception to accreditation, and functioned as an internal expert and Senior Scientist until handover. Perform contract sampling, analysis, and consultancy to a wide variety of industries.
Covid saw a pivot away from contract services. Currently, JHC's main activity is consultancy projects for water utilities (analysis of water quality data), and research and development of algorithms, producing digital environmental monitoring tools in collaboration with D2K Information Pty Ltd.
I am an adjunct Senior Research Fellow, at Griffith University, School of Environment and Science, and hope to be commencing a PhD, looking at applied technologies for cyanobacteria in the near future.