Mr. Brady is a Sustainability & Resilience Engineer / Program Manager with extensive experience in cross functional roles, with an emphasis on c...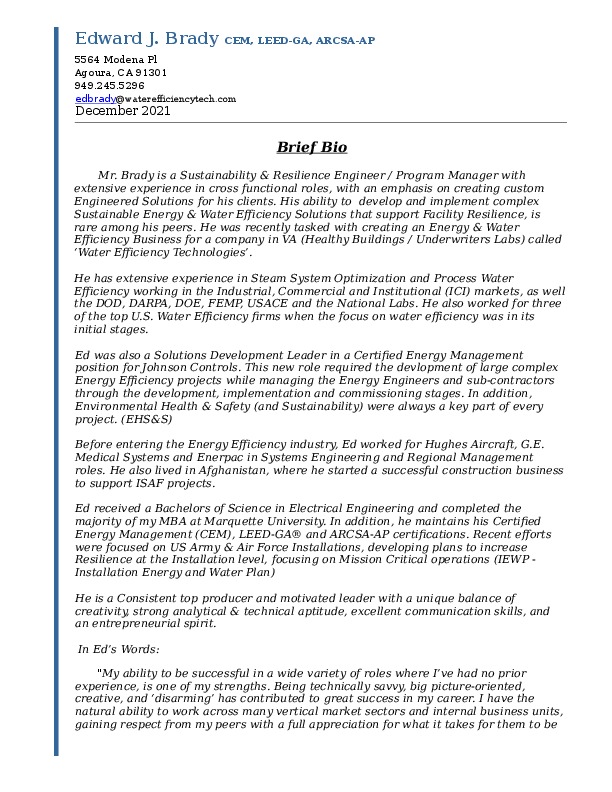 Mr. Brady is a Sustainability & Resilience Engineer / Program Manager with extensive experience in cross functional roles, with an emphasis on creating custom Engineered Solutions for his clients. His ability to develop and implement complex Sustainable Energy & Water Efficiency Solutions that support Facility Resilience, is rare among his peers. He was recently tasked with creating an Energy & Water Efficiency Business for a company in VA (Healthy Buildings / Underwriters Labs) called 'Water Efficiency Technologies'.

He has extensive experience in Steam System Optimization and Process Water Efficiency working in the Industrial, Commercial and Institutional (ICI) markets, as well the DOD, DARPA, DOE, FEMP, USACE and the National Labs. He also worked for three of the top U.S. Water Efficiency firms when the focus on water efficiency was in its initial stages.

Ed was also a Solutions Development Leader in a Certified Energy Management position for Johnson Controls. This new role required the devlopment of large complex Energy Efficiency projects while managing the Energy Engineers and sub-contractors through the development, implementation and commissioning stages. In addition, Environmental Health & Safety (and Sustainability) were always a key part of every project. (EHS&S)

Before entering the Energy Efficiency industry, Ed worked for Hughes Aircraft, G.E. Medical Systems and Enerpac in Systems Engineering and Regional Management roles. He also lived in Afghanistan, where he started a successful construction business to support ISAF projects.

Ed received a Bachelors of Science in Electrical Engineering and completed the majority of my MBA at Marquette University. In addition, he maintains his Certified Energy Management (CEM), LEED-GA® and ARCSA-AP certifications. Recent efforts were focused on US Army & Air Force Installations, developing plans to increase Resilience at the Installation level, focusing on Mission Critical operations (IEWP - Installation Energy and Water Plan)

He is a Consistent top producer and motivated leader with a unique balance of creativity, strong analytical & technical aptitude, excellent communication skills, and an entrepreneurial spirit.

In Ed's Words:

"My ability to be successful in a wide variety of roles where I've had no prior experience, is one of my strengths. Being technically savvy, big picture-oriented, creative, and 'disarming' has contributed to great success in my career. I have the natural ability to work across many vertical market sectors and internal business units, gaining respect from my peers with a full appreciation for what it takes for them to be successful in their roles. I am a 'creative engineer' and a natural leader, able to look at challenges from both qualitative and quantitative perspectives"