Device to Diagnose Contamination with Just a Phone Camera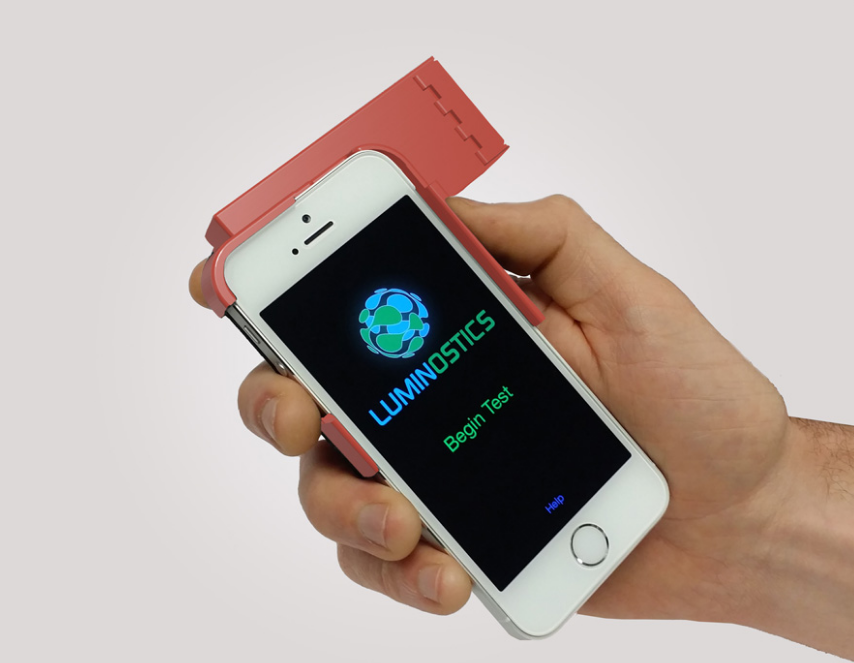 Researchers at UH's Cullen College of Engineering are developing a smartphone adapter that detects bacteria, viruses and proteins in a variety of liquid samples.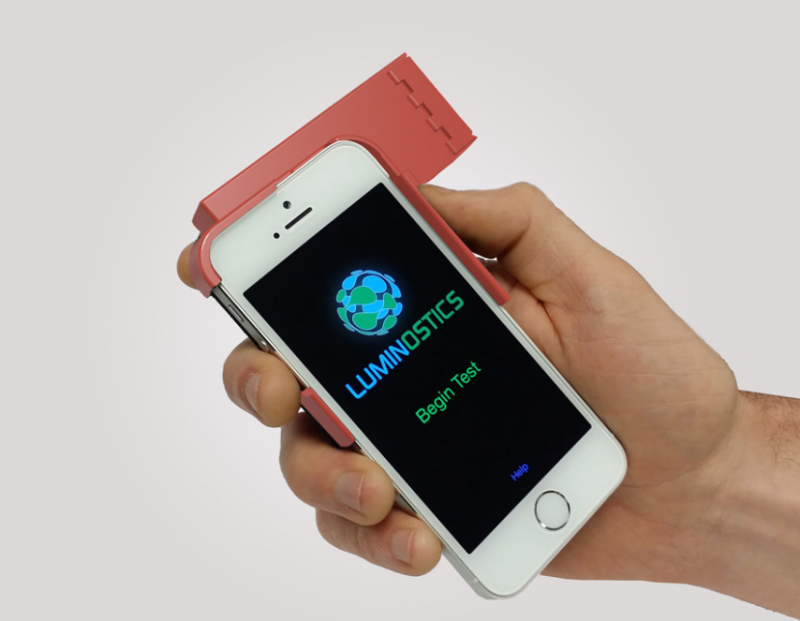 With this technology, a person could diagnose or monitor themselves anywhere at anytime in 15 minutes or less.
Luminostics, the researchers' startup, developed a disposable test cartridge that contains glow-in-the-dark particles called nanophosphors.
The cartridge is inserted into a smartphone attachment resembling a phone case and functions through an app.
The phone's camera captures images of the luminescence emitted by the nanophosphors. The app then analyzes the images and displays positive, negative or quantitative results for the user.
"It is a very broad technology,"said chemical and biomolecular engineering professor Richard Wilson. "It can be used for water purity, environmental contaminants, allergens and more, but the specific first product of interest is a home test for chlamydia."
The idea was born from the glow-in-the-dark stars hanging from Wilson's daughter's bedroom. The professor took one down and brought it to chemical engineering doctoral student Andrew Paterson and Bala Raja, a recent UH chemical engineering doctoral alumnus.
He suggested creating something using light-emitting nanoparticles.
"They set up in a tiny corner of my lab and started working," Wilson said.
Luminostics was founded in 2014 when the group received a $50,000 grant from the National Science Foundation's I-Core program. The startup was then accepted into Y Combinator, an incubator with an applicant acceptance rate of one in 600.
With the capital received from the incubator, Luminostics approached local investors, applied and got accepted to Y Combinator, who helped fund Dropbox, Reddit and Airbnb.
Y Combinator moved Luminostics into an incubator at Stanford in 2016 and they are now in the process of moving into a larger laboratory in Silicon Valley.
"Luminostics is on a good path," Wilson said, "These things are always slow, but as far as tiny startups go, they are doing very well."
Wilson believes that the company will one day be funded by a female venture capitalist group because of the health risks that women face from chlamydia. Each year there are around 3 million cases of the disease in the U.S. alone.
Chlamydia can cause permanent damage to the fallopian tubes, lead to infertility and put women at risk of ectopic pregnancy, Wilson said. He also said Chlamydia is a very treatable disease, but many of cases go undiagnosed.
"I think that this product could make testing more accessible to populations that may not otherwise have access to testing," said Esmeralda Sotelo, a health promotions specialist at S.M.A.R.T. Cougars.
Wilson says that their short-term vision is to create a device for clinics in poor or low resource areas that cannot always provide diagnostics. Their long-term goal is to be able to sell their product as an over-the-counter self diagnostic test.
"This will have a lot of benefits," said pharmacy junior Cristian Vargas.
Vargas, who has been a S.M.A.R.T. Cougars' patient, believes that Luminostics is the future of diagnostic testing.
"It will make testing a lot more convenient," Vargas said. "When this product becomes available I'm sure it will save people time and money."
Wilson says that another reason that people fail to get tested for chlamydia is because of the stigma attached to it. By compartmentalizing that, Luminostics could increase testing. Sotelo agrees.
"I think that this might encourage people to test without the shame that is attached to STD testing," Sotelo said.
Luminostics will enter clinical trials next year and launch in 2018.
Source: The Daily Cougar