10.6M USD Seed Round for Building a System That Turns Tap Water into Mineralized Water at Home
Mitte® Raises 10.6M USD Seed Round for Building a System That Turns Plain Tap Water into Mineralized Water at Home
Financing Round Led by Danone Manifesto Ventures and VisVires New Protein Capital
August 29, 2018 09:00 AM Eastern Daylight Time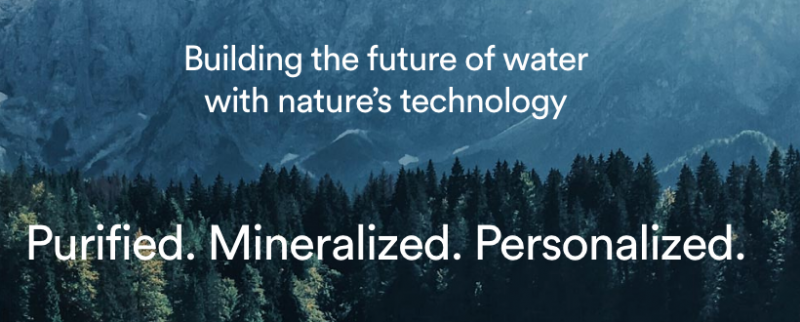 BERLIN--(BUSINESS WIRE)--Mitte, the first of its kind smart home water system, today announced that it has secured USD 10.6 million in financing. The financing round was led by Danone Manifesto Ventures, the New York-based venture arm of Danone, VisVires New Protein Capital, and Kärcher New Venture.
Moritz Waldstein, founder and CEO of Mitte states, "Mitte is on a mission to improve lives with healthy water produced in an environmentally friendly system. We aim to offer consumers clean and healthy water. For Mitte, healthy water means two things; free of contaminants and full of minerals that are known to be essential for humans. We are thrilled to be supported by forward-looking partners like Danone Manifesto Ventures and VisVires New Protein Capital that understand our mission. We believe this partnership will position us to execute on our expansion plan as we benefit from our partners' significant food and beverage expertise. We are confident that Mitte's positive impact will affect every aspect of the way people consume water, the environment and make an impact on the hydration industry as a whole."
Plain tap water quality is a growing concern around the world. Mitte, a Berlin-based startup, was founded in June of 2016 with the goal of providing solutions to plain tap water quality and promoting sustainability by offering an alternative to bottled water through its smart home water system that purifies and enhances water through a process inspired by the natural water cycle. Mitte works by purifying water with a proprietary distillation-based method, and enhancing the water with essential minerals.
Mitte's mineral cartridges are designed to replicate the mineralization process of natural and pure water flows, while allowing consumers the option to choose a tailored hydration experience. Mitte allows users to personalize their daily drinking water with different mineral cartridges containing varying levels of natural minerals.
"Mitte is a compelling business that is differentiated from other at-home water purification products with its ability to create personalized purified waters enriched with minerals, as well as with its smart technology and IoT connectivity," said Laurent Marcel, Managing Director of Danone Manifesto Ventures.
"We believe that Mitte has significant potential and represents a strong strategic fit for Danone Manifesto Ventures, advancing our goal of promoting health through hydration. We look forward to supporting Mitte's ambition to provide consumers with the opportunity to choose their preferred mineralization levels and taste profile," commented Jean-Francois Hurel, Head of Investment of Danone Manifesto Ventures.
"Mitte has developed a unique product with the potential for significant growth and positive societal impact," said Matthieu Vermersch, Founder and Partner of VisVires New Protein Capital. "Mitte not only offers a transformational solution with the provision of high-quality healthy water but also a highly sustainable alternative to the burgeoning issue of plastic pollution, a phenomenon faced globally but notably in Asia where concerns over safe drinking water have been traditionally addressed via the purchase and consumption of bottled water."
The financing round will support Mitte's expansion plan including in the U.S., where it ran a successful crowdfunding campaign in 2017 that was overfunded by 360%. Mitte remains committed to its partnership with its communities and to building smarter and sustainable solutions to healthy drinking water.
About Mitte ( www.mitte.co )
Mitte is on a mission to improve lives with healthy water. With early backing by Atlantic Food Labs, Mitte is revolutionizing the way we drink water at home with the first of its kind smart water system that enhances water through a process inspired by the natural water cycle. The system brings not just safe, but healthy water to everyone, the way nature intended it to be.
Mitte's sustainable design supports its commitment to improving lives. Mitte knows a better you also means a better world, that's why we are dedicated to improving environmental impact by reducing plastic bottle waste.
About Danone Manifesto Ventures ( www.danoneventures.com )
Danone Manifesto Ventures is the venture arm of Danone, bringing the Danone Manifesto to life by partnering with a tribe of disruptive entrepreneurs and innovative food and beverages companies that share its vision of a healthy and sustainable future. Through this unit, Danone makes investments and provides financial and operational support to its portfolio companies through access to its experienced teams around the world, while preserving the autonomy required to grow their entrepreneurial project. Since its inception mid-2016, Danone Manifesto Ventures has made several investments including Michel et Augustin in France, as well as Farmer's Fridge and Harmless Harvest in the United States, among others.
About VisVires New Protein ( http://visviresnewprotein.com )
Based in Singapore, VisVires New Protein (VVNP) is the first Venture Fund in Asia that focuses exclusively on finding disruptive solutions for our global food and feed systems. VVNP employs a disciplined investment approach built on identifying existing global problems within the value-chain through active engagements with a strong network of academia and industry experts. Unrestricted by geographical boundaries, VVNP strives to uncover game-changing solutions and technologies that can be applied globally, especially to Asia. Since its inception, VVNP has made several investments including, among others, Ynsect from France and Nuritas from Ireland.
About Kärcher New Venture ( www.kaercher.com/newventure )
Kärcher New Venture is the Corporate Venture Capital Unit of Alfred Kärcher SE & Co. KG, the world's leading provider of cleaning technology for commercial and private customers with a focus on digital technology. The mission of Kärcher New Venture is to connect ideas, people, business and capital with the intention to create the cleaning solutions for the future. In 2017, the Kärcher group achieved, with its operations in 67 countries, the highest turnover of its history (EUR 2.5 billion).