107 Day 5 Of Industrial Water Week (Careers) - Scaling UP! H2O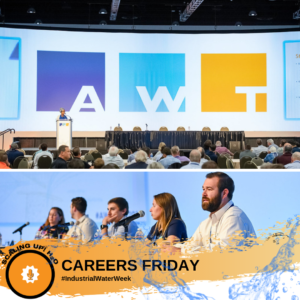 Industrial Water Week, Day 5: Careers
It's hard to believe, we are on our last day of celebrating Industrial Water Week. If you haven't done anything to celebrate, it's not too late. We have heard from people who are having special parties to celebrate. Here, we went out for tacos. Because when you think of water treatment, you think of tacos, right? Well, it was fun. So, however, you choose to celebrate, we hope that this podcast has been part of your celebratory activities.
On this Careers Friday, we are back at the AWT Convention talking to more Scaling UP! Nation! Members: I know you have heard me say this before, I love my job. I can't imagine doing anything else. So, what better way to wrap up the week than to reflect on being an Industrial Water Treater.
Key Points From This Episode:
The Most Amazing Job [0:00:38]
Getting Into CWT [0:04:26]
The Highest Professional Designation [0:05:47]
Winning The

Ray Baum

Award [0:07:54]
The Prestigious Founder's Award Winner [0:11:09]

Learn About Insurance [0:20:21]

Polymer Technology Tip [0:23:54]

Wrap Up of AWT Convention

And

Expo [0:24:33]

And A Lot More!
Tweetables:
"The thing that makes people most happy is not money, love or stuff but achieving your goals. That is what encouraged me to get my CWT designation." – Amy Pollock @traceblackmore #scalinguph2o #scalingup #scalinguppodcast #scalingupnation #IndustrialWaterWeek #CareersFriday #AWT #CWT #ScalingUPto100andbeyond
"Being a water treater doesn't just mean you treat water. There's so much that we all do. And that is something to celebrate." – Michelle Farmerie @traceblackmore #scalinguph2o #scalingup #scalinguppodcast #scalingupnation #IndustrialWaterWeek #CareersFriday #AWT #CWT #ScalingUPto100andbeyond
"Every water treater needs to understand the degree of magnitude and the potential risk that is presented to them. Everything from small accounts to the very largest account that you have. It's a people business with many personalities involved. Know your risk!" – Mike Highum @traceblackmore #scalinguph2o #scalingup #scalinguppodcast #scalingupnation #IndustrialWaterWeek #CareersFriday #AWT #CWT #ScalingUPto100andbeyond
"My number one tip for water treaters: Use the right product for the right application." – Mike Standish @traceblackmore #scalinguph2o #scalingup #scalinguppodcast #scalingupnation #IndustrialWaterWeek #CareersFriday #AWT #CWT #ScalingUPto100andbeyond
Links Mentioned on this episode:
Ep12: The One with Michelle Farmerie
Michael Highum on LinkedIn (McGowan Insurance Group)
Ep 14: The One with Mike Standish
Tyler Cooper, CWT on LinkedIn (Premier Water & Energy)
Casey Walton on LinkedIn (Walton Technologies)