31 priority areas in 10 states to receive $13 million in Funding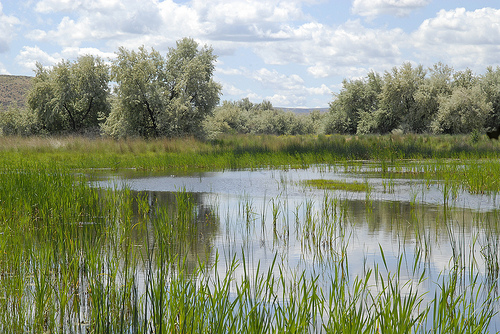 The US Department of Agriculture
WaterSMART Initiative
Managing water resources in the American West can be challenging. Drought, aging infrastructure, and environmental requirements can strain existing resources. Through NRCS's WaterSMART Initiative (WSI), we collaborate with the Bureau of Reclamation (BOR) to coordinate investments in priority areas for improving our cumulative impact in water conservation and drought resilience.
WaterSMART Initiative Priority Areas in FY21
Arizona - Apache, Yavapai, and Maricopa Counties
Grover Hills Irrigation District Area: $500,000
Upper Verde Watershed and Prescott Active Management Area: $1,000,000
Roosevelt Irrigation Water Supply District Area: $750,000
California - Kern, Kings, and Tulare Counties
Pixley Irrigation District Area: $240,000
Tulare Irrigation District Area: $200,000
Delano-Earlimart Irrigation District Area: $240,000
Ivanhoe Irrigation District Area: $200,000
Kaweah Delta Water Conservation District Area: $800,000
North Kern Water Storage District Area: $75,000
Buena Vista Water Storage District Area: $120,000
Rosedale-Rio Bravo Water Storage District Area: $75,000
Colorado - La Plata County
Florida Ditch Company Area: $250,000
Kansas - Republic, Jewel, Phillips, Republic, and Smith Counties
Kansas Bostwick Irrigation District Area: $150,000
Kirwin & Webster Irrigation District Area: $100,000
Nebraska - Chase, Dundy, Frontier, Hayes, Hitchcock, Lincoln, Perkins, and Red Willow Counties
Middle Republican Natural Resources District Area $523,215
Upper Republican Natural Resources District Area $250,000
New Mexico - Dona Ana, Eddy, Guadalupe, Quay, San Juan, Sierra, and Socorro Counties
Carlsbad Irrigation District Area $500,000
Navajo Ag Products Industry Area $500,000
Arch Hurley Conservancy District $1,000,000
Guadalupe Soil and Water Conservation District $350,000
Elephant Butte Irrigation District $1,000,000
Animas Watershed $100,000
Middle Rio Grande Conservancy District $500,000
Nevada - Lyon County
Walter River Irrigation District: $600,000
Texas - Cameron and Hidalgo Counties
Hidalgo, Cameron county Irrigation Districts: $500,000
Utah - Cache, Morgan, Summit Counties
West Cache Canal Company, Hansen and Ezola: $600,000
West Cache Canal Company, South Fields: $450,000
West Porterville: $20,000
West Cache Canal, Newton: $750,000
Peoa South Bench Irrigation Company: $75,000
Wyoming - Washakie County
Hanover Irrigation District: $500,000
NRCS and BOR have been coordinating EQIP and WaterSMART investments since a pilot by California NRCS in 2011.
What's New?
NRCS has selected 31 priority areas in 10 states to receive $13 million in EQIP funding through the WSI in FY 21. Learn more about each area and the priorities for funding.
How Does the WaterSMART Initiative Work?
The BOR makes their WaterSMART programs available across the Western US to help states, tribes, and local entities plan for and implement projects that increase water supply by providing funds to modernize existing infrastructure and otherwise build drought resilience.
NRCS uses EQIP WSI funds to complement Reclamation WaterSMART funded projects by helping eligible farmers and ranchers make improvements that align with the paired Reclamation WaterSMART project.
Eligible farmers and ranchers found in a selected priority area will be automatically ranked in the EQIP WSI targeted fund pool when they apply for EQIP funding.
How does WSI benefit producers?
Through this initiative NRCS provides eligible EQIP applicants with the additional resources and tools needed to manage soil moisture, improve irrigation water use efficiency in crop and pasture lands, and protect irrigation water sources from depletion.
In addition, EQIP funding also helps farmers and ranchers improve soil health; reduce soil erosion, sediment, nutrient, and pathogen loss in fields; protect crop health and productivity; and make using equipment, facilities, and agricultural operations more efficient.
How does WSI benefit the public?
By coordinating NRCS's EQIP and Reclamation's WaterSMART investments, this federal collaboration works to ensure that water users conserve this vital resource for use during droughts or use by others in the community needing it for clean drinking water or energy, industry, management of wetlands, streams, rivers, and lakes, and other uses. This collaboration is a priority of the National Drought Resilience Partnership.
To Learn More About EQIP
For more information about EQIP, how to apply and program eligibility, interested applicants should contact a NRCS field office in the county in which you own land or where you have an agricultural operation.
Dan Dostie Conservation Initiatives Coordinator, WaterSMART Initiative
(202) 720 6558 daniel.dostie@usda.gov
Visit the USDA Service Center Locator to find the NRCS representative for your county.