A report on the water quality in UK rivers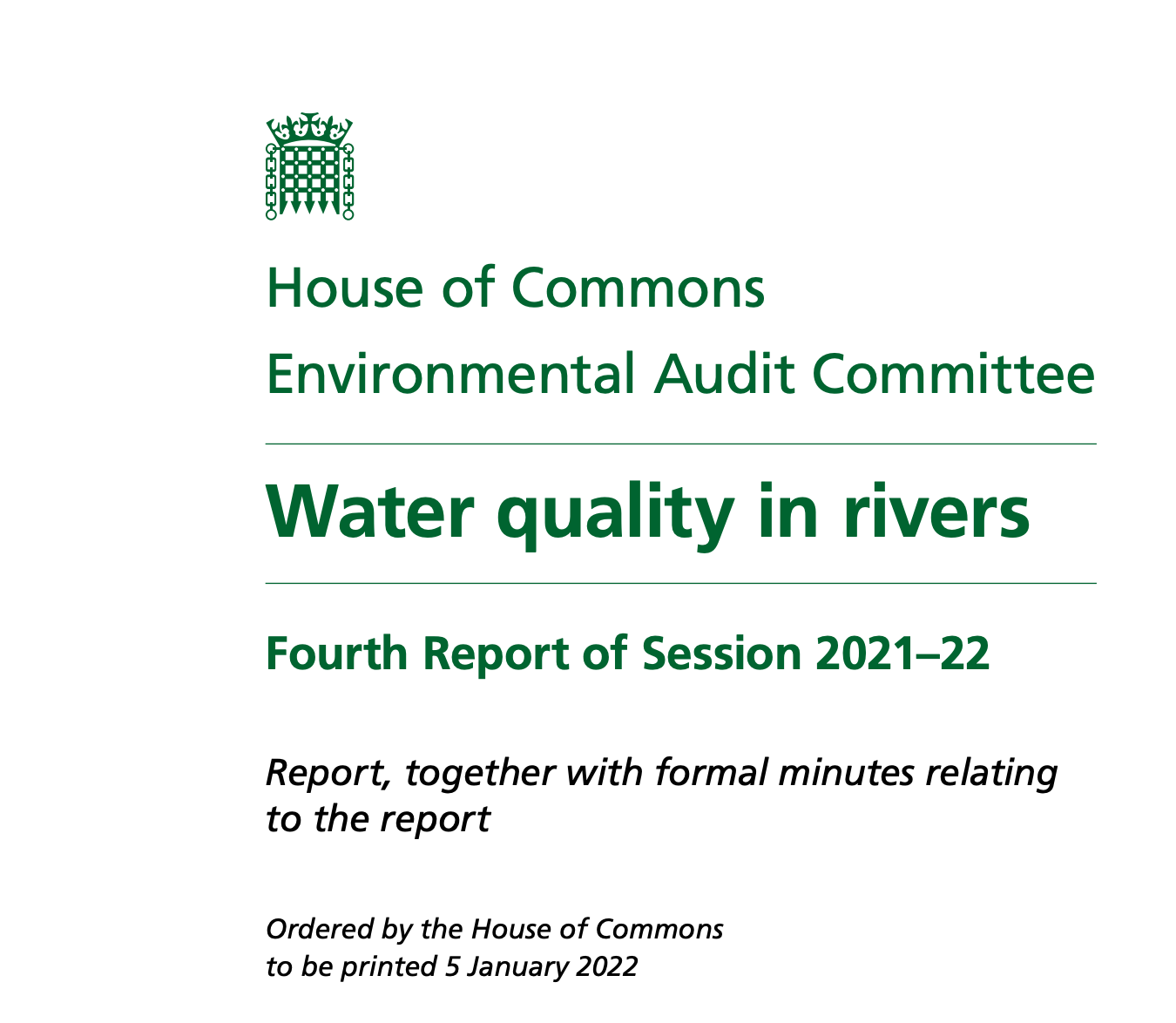 A report on the water quality in UK rivers has been published by the Environmental Audit Committee (EAC) SEE FULL REPORT ATTACHED
JANUARY 13, 2022
expert reaction to Environmental Audit Committee report on Water Quality in Rivers.
Dr Veronica Edmonds-Brown, senior lecturer in aquatic ecology from the University of Hertfordshire, said:
"Water companies and communities are dealing with a lack of infrastructure. Even though more housing is being built, these developments are connected to existing systems which are mostly of Victorian origin and over capacity. New developments increase local surface run off by 8 – 18% and this must go somewhere. If more housing is to be built, more money needs to be spent on infrastructure. Not doing so will lead to more flooding events, like we saw in London last summer.
"The bodies responsible for our drainage systems, drainage boards, local authorities and water companies all have different priorities, and action taken against pollution is often not joined up. Misconnections, where wastewater drains into the surface water drains instead of the sewage pipes, were not mentioned in the report and it is a big problem, particularly for urban rivers. Plumbing sewage and black wastewater into surface water drains is much more common than is acknowledged and difficult to rectify. Bacteria is often used to find misconnection hotspots, but these are not picked up unless they are looked for. Unlike beaches, bacteria testing in rivers is only done if there is concern, not as routine.
"There are several solutions to improve the water quality of our rivers. A national capital project is needed to improve drainage and sewage infrastructure in new developments. All new builds should also be checked for misconnections, and all homeowners should be legally responsible for assessing misconnections before selling the property. There should also be an over-arching body that deals with drainage and can work alongside different authorities. And finally, bacteria testing should be routine for rivers like bathing beaches."
Dr Eulyn Pagaling, environmental microbiologist at the James Hutton Institute in Scotland, said:
"We agree with the conclusions from the Environmental Audit Committee on the water quality of English rivers and agree with the recommendations for improving the state of these aquatic environments. Amongst the issues highlighted was the prevalence of emerging contaminants, including persistent chemical pollutants, microplastics and antimicrobial resistance.
"Antimicrobial resistance is one of the greatest challenges we face today, and we could potentially enter a post-antibiotic era where minor infections can have serious health consequences. Microplastics and chemical pollutants exacerbate this risk by enhancing the prevalence of resistant microbes. Rivers act as conduits of these biological and chemical pollutants, and therefore can have far reaching impacts on the environment and public health. Through regular monitoring, a targeted strategy for reducing these pollutants in the environment can be created.
"We welcome the report highlighting the need for government, regulators and the water industry to come together to restore these aquatic environments that have been neglected for far too long."
Prof Kate Heppell (Chilterns Chalk Streams Project/Queen Mary University of London) & Dr Leon Barron (MRC Centre for Environment and Health at Imperial College London) said:
"'Citizen Science' can play a critical role in developing our knowledge and response to chemical pollution. For example, as part of Thames Water's Smarter Water Catchments initiative academics, industry, local government, conservation bodies, like the Chilterns Chalk Streams Project, and residents are combining their skills to develop new approaches to monitor chemicals of emerging concern in the River Chess. If scaled up, such collaborations could contribute to a sustainable UK-wide survey of emerging pollutants recommended by the Environmental Audit Committee report which we consider both timely and necessary."
Prof Rick Stafford, British Ecological Society Policy Committee Chair and Bournemouth University, said:
"Given the previous major improvement in water quality and ecological health of UK rivers in the 1990s and 2000s, it is sad to see these improvements being undone. Sewage and agricultural waste not only cause disease, but disrupt the nutrient dynamics of rivers, causing excess algae and harming biodiversity. Poor water quality can also greatly impact many charismatic river species, including salmon and otters, which have only recently recovered in many UK rivers."
Prof Iwan Jones, Head of the River Communities Group at Queen Mary University of London, said:
"We welcome the report from the Environmental Audit Committee, and their concerns about the condition of UK rivers. Whilst we strongly support more robust monitoring of the condition of our rivers, the responsibility for addressing the issues raise lies across the whole of society, from individuals to industry and government. We all need to consider the waste we make, how we deal with it, and the impact is it having."
Prof David Slater, Director of risk management and sustainability consultancy Cambrensis, said:
"A very thorough, helpful, accurate and long overdue report, which needs urgently to be addressed. It is not a surprise, as the issue has been a concern and getting worse for at least 100 years.
"At the turn of the 20th century, waterworks were built and operated privately. But from the 1970's onwards, water was formally recognised as a public health necessity and public sector Regional Water Authorities (River basin Management Boards) were established and run by Local Authorities. But underfunded and under invested in by successive governments, there was no improvement, rather a steady decline in water quality.
"When in the 80s the EU introduced stricter legislation for water and prosecuted the UK for noncompliance, the estimated costs of compliance were considered unaffordable, then of the order of £25-30 billion. The quick fix was to privatise the problem and leave the solution to the River Basin Management bodies, which became the 10 largely private equity owned companies we see today.
"All the extra river management duties – pollution regulation, flood defence, drainage, conservation, etc. – were transferred to a new body, the National Rivers Authority. So, rather than a traditional independent regulator, the water quality enforcement was diluted and left with the people used to marking their own homework. This "light touch" tentative approach was a source of frustration to the professional regulators that were subsumed into the NRA when the current successor body, the Environment Agency, was formed in the 90's. Admittedly there are major challenges and problems with upgrading the infrastructure, such as the combined sewage outfalls (CSO's), which seem to be regarded as an insoluble problem and are responsible for the bulk of the largely unenforced, illegal discharges into rivers and the sea.
"In contrast Tap water quality was assigned to a traditional small, effective professional inspectorate which has been quietly efficient (in costs and performance).
"So, what we are seeing now is the result of (tolerated) underfunding of the infrastructure by the companies and increasingly underfunded and underpowered (weak by design?) regulation. No surprise then – we have a major problem with our water quality. What took us so long to recognise it officially?"
ADDITIONAL ARTICLE LINK about this study Jan 17