ACCIONA officially opens the Saint John drinking water treatment plant in Canada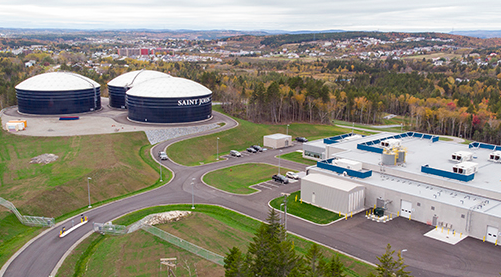 The drinking water treatment plant and water distribution system for the City of Saint John in eastern Canada is the largest in the province and the oldest in the country and has been modernized by ACCIONA and inaugurated this week.

The works form part of the " Safe, Clean Drinking Water Project" (SCDWP) that Saint John is carrying out to ensure access to quality drinking water for households and companies in the area.
The drinking water treatment plant has a capacity of 75 million litres per day and a 33 million litre water storage deposit. This plant incorporates a new dosing system through an algorithm that will be used for the correct dosing of chlorine to eradicate viruses and water parasites for human consumption".
During the official opening ceremony, the mayor of the City of Saint John, Don Darling, said, "Supplying safe drinking water to our residents would not have been possible without the vision and significant financial contributions of our provincial and federal government partners. It is a project of the century for the City of Saint John, one of the largest of its type in Canada, and the largest municipal project in the history of the province of New Brunswick".
Pablo Casillas , ACCIONA's project manager, said "We are extremely proud of our work here in Saint John. The project team worked extremely well together to improve the community. This new water infrastructure will ensure that Saint John's residents have top quality drinking water for generations to come".
In 2017, the project was selected as the Silver Award winner in Canada's National Awards for Innovation and Excellence in P3 while in 2018 it received the Project of the Year 2018 award from the Atlantic Canada Water and Wastewater Association.
ACCIONA will operate the plant for the next 30 years.