Advancing Smart Tech for Sewer Infrastructure: An Interview with Corey Williams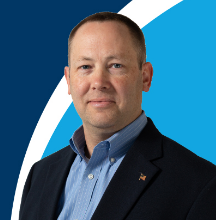 Water industry veteran Corey Williams is determined to move the smart technology sector forward with innovation that has positive financial and environmental impacts for utilities and their customers. As SmartCover's new CEO, he's building a strategy to take the XPV Water Partners portfolio company – and its leading, cost-saving sewer monitoring technology – to the next level.
California-based SmartCover pioneered the first remote monitoring software system designed to give utilities real-time and actionable insights about their wastewater collection systems. Since opening its doors, the company has grown to serve more than 500 utilities across North America. In this interview, Williams discusses his new role, SmartCover's market potential, and how he plans to leverage XPV's FLOW Accelerator System to achieve his team's growth strategy.
Q. You have a great deal of experience in the water sector. Can you tell us a bit about your professional background, and what you view as some of your greatest accomplishments?
Corey Williams: I like to say that my career has been a series of happy accidents. I've been fortunate to have some great mentors looking out for me, and, more than once, I've been in the right place at the right time. It started when I was a civil engineering student working summers at Black & Veatch. I planned to work in design, but when I graduated, my summer manager convinced me to stay with software. This turn of events paved the way for my whole career.
I spent more than a decade at Black & Veatch and led the IT consulting practice. Subsequently, I co-founded Inflection Point Solutions, a consultancy and software solutions firm focused on the water and wastewater industry, where I was involved in several acquisitions. In the early 2010s, I learned about Optimatics and got to know the team while exploring how our companies might work together. In 2012, I joined the company as President and CEO. As we transitioned the company from a consulting service to an SaaS, we secured investments from new partners to grow the business. Eventually, SUEZ Group bought Optimatics, where I continued in my leadership role for several years before joining SmartCover.
While I'm proud of my career and professional accomplishments, I'm happiest when the people who have worked with me do great things. Many have gone on to lead other software companies while others have grown to take on challenging senior management roles in organizations that I have led. I'm proud to have had a positive impact on others.
Q. What interested you about the SmartCover role?
Williams : During my time at Optimatics, I got to know David Henderson and Sam Saintonge at XPV Water Partners. We share a passion for technologies that can really help to make a positive impact in the water industry. That's what initially attracted me to SmartCover. We enable utilities to reduce operational costs while virtually eliminating costly environmental spills. Ultimately, we're helping them protect the public and the environment – and we're saving them money and time.
Furthermore, and most importantly, I really like the people. Over the course of a year, I got to know the founders quite well. They've built an incredible company and team, and I'm looking forward to building on what SmartCover is today.
Q. SmartCover's founders have taken the company from a concept to a business that serves more than 500 utilities. Where do you see the business headed next?
Williams : What the SmartCover team has done to this point is very impressive. They have fantastic technology – 17 patents and counting – and a raving customer base with well-documented success stories. For me, the real key is that the whole team is engaged, loyal, and focused on our customers. Nobody at SmartCover ever says, "That's not my job." If you attract talented people to an organization and they feel this way about their work, you're going to do well.
We have a huge opportunity to help utilities better manage climate extremes and their impact on sewer collection systems. Many utilities can't afford to keep building larger infrastructure and passing on that cost through increased rates. With our technology, we directly help communities make confident capital expenditure decisions by knowing which pipes to rehab or replace.
The SmartCover platform is helping utilities to proactively monitor their infrastructure, respond to threats, redistribute resources, and, ultimately, avert emergencies. This visibility helps them significantly reduce their cleaning frequency while minimizing the costs related to spills. As an example, in January and February of this year, our technology prevented more than 182 spills in one large U.S. city alone. That converts to huge savings; we want to help utilities everywhere reach that potential.
Q. What makes SmartCover's solutions different from others available in the market?
Williams: There are a few points of differentiation. The inventors of the technology have utility backgrounds and worked with their colleagues to understand the operational needs of the software and sensors which are installed in the field. For example, SmartCover sensors are installed without any confined space entry requirements which speeds up the installation process and keeps workers safe. The sensors also operate on a satellite network, which ensures continuous communication in the event of power outages or communications infrastructure damage.
Once the sensors are installed, the software becomes the main interface for utilities to have visibility and the ability to assess the condition of the collection system at any point in time. The software platform is capable of monitoring for a wide variety of collection system challenges, including preventing sewer spills and blockages, pinpointing I&I and alerting operations to security breaches, just to name a few. The exciting part is that we are continuing to add new capabilities which will further enhance visibility into the collection network.
The team's customer focus also sets them miles apart from the competition. Before joining the company, I heard from a variety of folks about SmartCover's first-rate customer service. When I arrived here, I was astounded – what they're doing is truly superb. There is a strong emphasis on being proactive. When we notice a potential issue forming in a client's collection system, we don't hesitate to alert our customers.
Q. As part of the hiring process, you went through XPV Water Partners' recruitment system. How did this approach help prepare you for this new role?
Williams : The process felt like a series of good conversations that allowed us to cover the essential areas of the business. Unlike the traditional in-depth executive interview, nobody pressured me to provide an answer quickly – they gave me time to think and strategize. The folks at SmartCover were frank and open about the company's strategy, and we had time to discuss different elements of the business. Ultimately, we all wanted to be sure there was a good fit and alignment.
Q. As you grow in your new role, do you plan to use any of the other platforms that XPV offers through the FLOW Growth Accelerator?
Williams : Yes! XPV has already made valuable introductions to industry experts within its ecosystem. We plan to use the FLOW platforms to further tap into this network, as well as leverage the experience of other portfolio companies. We have already benefited from working with Mobiltex, working with XPV's Operations Platform, and we've used the Talent Platform to support our latest hires: our VP of Sales and Business Development and VP of Strategic Accounts. In the near future, we plan to use the FLOW platforms to help ramp up our manufacturing efforts to meet demand. SmartCover has a tremendous potential. Leveraging the FLOW program assets and XPV's ecosystem will be critical as we continue to accelerate the growth of the business.