Algae-based phosphorus removal technology for wastewater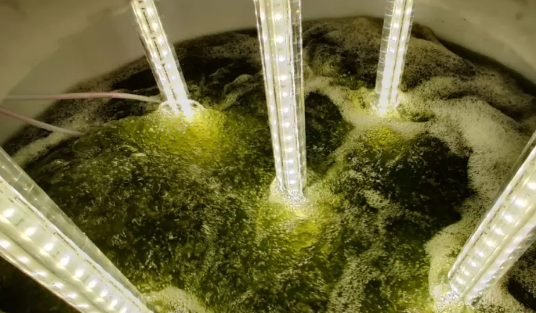 I-Phyc's unique system uses microalgae and cutting-edge technology to remove nutrients (phosphorus and ammonia) and other contaminants while locking away carbon and creating sustainable products from municipal wastewater.
I-Phyc's goal is to clean up the rivers and lakes of the world, using the natural power of algae.
Approximately 50% of the oxygen in every breath you take was created by algae – they are a HUGE store to lock away carbon and a producer of oxygen.
We utilise a wide number of species of common, naturally occurring algae, that are found in most watercourses. The I-Phyc process industrialises the use of these same algae, developing polycultures and by maintaining this diverse range of organisms working together, the treatment system has a built-in level of robustness and resilience.
A diverse range of algae gives greater flexibility to the technology and its ability to quickly remove multiple nutrients and contaminants in a single process.
Inside the tank.
A new algae-based method of removing phosphorus from wastewater has been shortlisted for Most Innovative New Technology of the Year at the Water & Wastewater Treatment Awards.
The technology, developed by Industrial Phycology (I-Phyc), harnesses the natural power of algae to remove phosphorus, without the use of caustic chemicals that are process-intensive, have numerous side effects and are ultimately not sustainable.
Using algae means phosphorus levels can be reduced far beyond what is possible with chemicals, without any side effects. What's more, the phosphorus can actually be harvested and reused, as can the algae itself.
The Bio-P process in situ.
Russell Bright, CEO of I-Phyc, says, "We're thrilled to be shortlisted for the WWT 2021 Industry Awards. It's very significant in the water industry and will hopefully accelerate the adoption of our brand new technology at water treatment plants across the country."
"Excess phosphorus in wastewater actually causes unwanted algal blooms in our water systems because algae feed on it. This led us to develop our Bio-P removal technology, putting that natural process to good use. It's completely 100% sustainable and actually does a better job than the current way of doing things, which is unequivocally environmentally unfriendly.
"Fingers crossed we win the award, but just to be shortlisted will do wonders in getting the word out there to making our water works more sustainable and safe for humans and the environment."

The winners of the WWT Awards will be announced at an industry ceremony on 27 May. To find out more about I-Phyc and Bio-P removal through the power of algae, visit www.i-phyc.com.