Aligned Energy Chills Data Centers With Cool Efficiency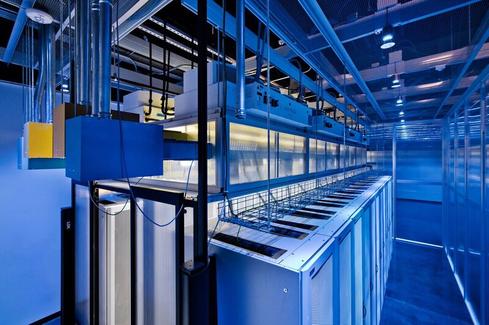 Aligned Energy's Cactus Cooler unit dispenses with fans and chillers and conducts data center heat outside through a thermal bus.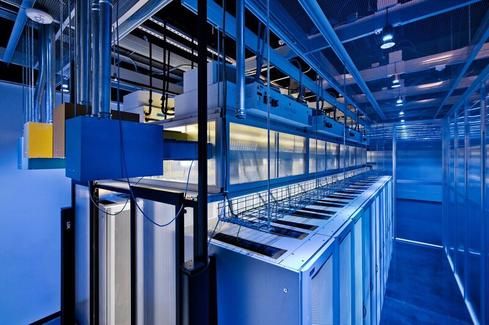 Jakob Carnemark, who has built data centers for eBay and IBM, foresees the day when his firm, Aligned Energy, places a box inside a heat-intensive manufacturing plant on the same electrical grid that his data centers are using.
The box contains a turbine that's powered by a boiling liquid. But, unlike most electricity generators, it's not relying on steam from water.
It's relying on a proprietary liquid with a lower boiling point -- something like alcohol.
It can put the waste heat of a steam power plant to use making more electricity.
The waste heat might be 190 degrees Fahrenheit, instead of the 212 degrees required to boil water, but it powers the turbine in the Aligned Energy box just fine. If there's enough energy-intensive industry on the same grid as his data center, Carnemark replaces all the power that his data center is consuming through waste heat.
The box is produced by an Aligned Energy partner Climeon, a Swedish firm that came up with what it terms its Heat Power technology, which capitalizes on waste heat.
The Aligned Energy data center in Plano, Texas, with thermal bus cooling units above server racks
"We're bringing a new tool into the market," said Carnemark in an interview with InformationWeek. "If I put a small box in a steel mill, grabbing their waste heat, nobody is going to complain about that."
While Aligned Energy has built two data centers, the company has yet to align its operation with waste-heat power generation in such a manner.
However, Carnemark said that is the goal, and he is working with the public utility suppliers in Plano, Texas, and in Phoenix, where a second data center is due to go online in early 2017, to find waste-heat generation partners on the grid.
The utilities themselves are potential partners through their generation plants.
Carnemark thinks the digital economy will one day be powered by data centers that are neutral in terms of environmental impact.
Carnemark said it's a goal of an Aligned data center not only to minimize its environmental footprint, but also to offer customers "a data center-as-a-utility," where customers pay only for the space, electricity, and cooling that they use.
"We create tunable infrastructure," he noted. The amount of data center used can expand or contract with the customer's needs.
Aligned has plans to build its next data centers in Virginia and California, with Illinois as a fifth target location for the future. Its Plano data center is a 30-megawatt facility. Phoenix will be a 50-megawatt facility occupying 550,000 square feet.
For comparison purposes, Facebook's two giant data centers in its Prineville, Ore., complex cover a combined 600,000 square feet. The Virginia and California data centers will be 60-megawatt facilities, Carnemark said.
Aligned's Inertech division was cited as number five in the Top 10 Most Innovative Energy Companies by the Fast Company, the online magazine focused on business innovation. Inertech originated the thermal bus conductive cooling units.
Telus, the Canadian telecom company, said that the units helped reduce its electricity consumption at a new Aligned-built British Columbia data center by 80% compared to a typical predecessor data center.
An Aligned data center customer may "pay for use," rather than sign a long-term contract for a set amount of space, power, and cooling.
Read full article at: Information Week