Amalgam Biotech & PMC Pune Joins hands to improve Sanitation standards of Public Toilets & Urinals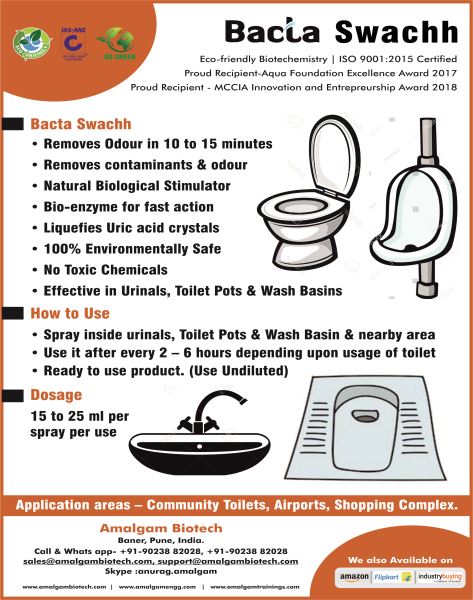 Amalgam Biotech & Pune Municipal Corporation Joins hands to improve Sanitation Standards in Public Toilets &
Pune, May 14, 2020 (Issuewire.com) - Amalgam Biotech, a Pune based global Biotechnology company collaborates with Pune Municipal Corporation for the betterment of sanitation & hygiene at Public Toilets, Bio Toilets & urinals in the densely populated areas of Pune under the Campaign name - #Toilet_Saaf_Toh_Corona_Khalaas
Due to Covid-19 pandemic, many slums & thickly populated areas in Pune are facing the problem of sanitation, lack of man-power, proper knowledge of sanitation, risk of hygiene etc. Residents have to deal with the problem of chocking of sewage line, foul smell, overloading of the septic tank and flow of pathogen laden untreated water from overflow sump to the public sewer. These issues have a negative potential of creating health & hygiene problems to the people living in that locality.
PMC under the leadership of Shri Dnyaneshwar Molak – Deputy Commissioner –SWM Dept has been working tirelessly to fight the Covid-19 pandemic & also ensure that no other health & hygiene concern arises in these tough times.
Shri I.S. Inamdar – Chief Health Inspector Solid Waste Management – PMC & Mr. Roshan Asare – Application Specialist – Amalgam Biotech discussed upon this Health & Hygiene issue and came up with a solution to improve the sanitation standard of the Community Toilets, Biotoilets, Urinal blocks in densely populated corona prone slum areas of the city.
Amalgam Biotech manufactures Bacteria/microorganism based Bioculture for sanitation & wastewater Industry. Bacta Cult BSP comes in 50 gm satchet of water-soluble paper & filled with billions of sewage sludge eating bacteria. The entire satchet is simply dropped inside the toilet pot & it instantly dissolves in the water thereby releasing billions of bacteria into the Toilet/Biotoilet/Septic tank. The bacteria then "eat away" the human waste making the toilet odour free. This usage also eliminates the use of sewage vacuum suction tanker & pipeline cleaning. The urinals were provided with Bacta Swachh –Spray based liquid bacteria culture which makes the urinal block free of bad odours.
Bacta Cult BSP & Bacta Swachh contain specially formulated natural good bacteria that degrade waste in an environment-friendly way without disturbing mother nature. Both products have Zero harmful Chemicals and 100% environment friendly.
Under the active onsite guidance of Shri Inamdar – PMC & Sanitation workers, the Technical team of Amalgam Biotech took up a 6 months long assignment in the areas of Shivajinagar, PMT main bus stand, Sancheti Hospital area & Patil estate area.
With this easy to use, high-performance product Amalgam Biotech intends to work closely with other municipal corporations in India to increase the overall sanitation standard of community Toilets. The company is already in talks with NGOs and corporates which are active in Health & sanitation space and share the vision of Our Honourable Prime minister in making Open Defecation Free India. With the "Make in India" & "Vocal for Local" campaigns, the company foresees a rapid acceptance of its indigenous swadeshi products.