Annual Report 2016-17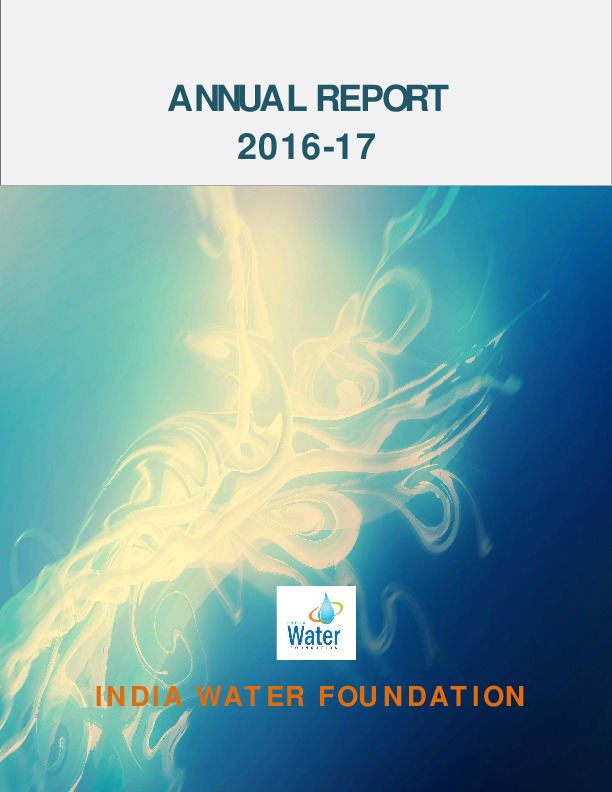 According recognition to water as a vital component of climate change negotiations as well as coming into force of the Paris Agreement on Climate Change in early November 2016 were momentous developments that greatly influenced us at India Water Foundation and in a similar way the activities conducted by India Water Foundation (IWF) during 2016-2017 were greatly affected and influenced, apart from these twin developments, by other momentous developments like the similar themes of the 2016 World Water Day as well as 2016 World Water Development Report, which emphasized on interconnectivity between water and jobs, release of World Bank's report in early May 2016 on Climate Change, Water and Economy, Conference on Climate Change or COP-22 at Marrakech (Morocco) on 7-19 November 2016 and convening of Budapest Water Summit on 28-30 November 2016. World Bank's report on Climate Change, Water and Economy, released in early may 2016, cautioned that water scarcity, exacerbated by climate change, could cost some regions up to 6 percent of their GDP, spur migration, and spark conflict. It was a matter of serious concern for us at India Water Foundation, especially in view of the fact that our own country is fast becoming a water-stressed country.
The UN Climate Change Conference was convened from 7-19 November 2016, in Marrakech, Morocco. Entry into force of the Paris Agreement provided certainty to parties' work on the rulebook and eliminating the possibility that a small "gang" of countries can demand concessions and weaken the treaty's operational rules in exchange for their ratifications. Today, governments, business leaders and investors routinely make climate-friendly decisions for the sake of their portfolios, if not the planet.
The Budapest Water Summit was convened in Budapest, Hungary, from 28-30 November 2016, also call for integrated water resources management (IRWM) and new global political water architecture to ensure consolidated and strong political governance for water within the SDGs and other international agendas. F 4 India Water Foundation Major activities undertaken by India Water Foundation during 2016-2017 veered round major themes of water and climate change, which inter alia, included: exchange and sharing of views on Salvaging River Ganga, managing water resources, climate change, meeting water shortages via desalination, continuation of conducting training programme for application of hydro-geomorphological mapping for groundwater prospection in 8 states of the country, in addition to 12 states already covered in the previous year, launching of a new project titled "Integrated approach for empowering local communities for ecology, water body conservation, sanitation and hygiene through awareness enhancing campaigns and Use of environment friendly technologies" in Meerut South Block, by NCSTC, Department of S&T, Ministry of Science and Technology, Government of India .
I feel immense pleasure in presenting this annual report to our patrons, well-wishers, colleagues and the general public. We, at India Water Foundation, wish to convey our gratitude to all those who stood with us in accomplishing our tasks despite all odds and hope to continue to enjoy their trust and affection.
Dr Arvind Kumar
President, Chair & Founder India Water Foundation