Artificial Intelligence (AI) Water Management Project Helps Sustain Malta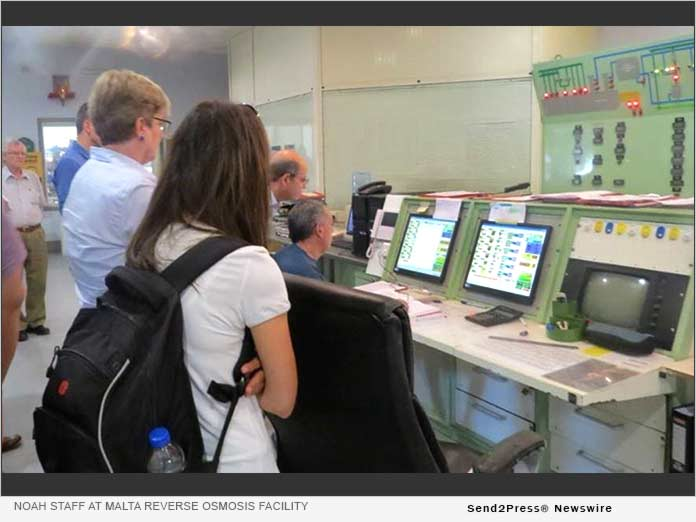 TUCSON, Ariz., May 28, 2020 (SEND2PRESS NEWSWIRE) — The University of Arizona Center for Innovation has announced that NOAH Malta, a subsidiary of NOAH Arizona LLC, a company based on technology invented at the University of Arizona and started at the University of Arizona Center for Innovation (UACI), has been awarded a groundbreaking contract by the European Union.
The contract entitled "DEVELOPMENT OF A PREDICTIVE WATER ABSTRACTION AND PRODUCTION MODELLING FRAMEWORK," engages NOAH Malta to study the feasibility of implementing NOAH's patented water management decision support system on the island nation of Malta. NOAH is working in partnership with Malta's Energy and Water Agency (EWA) and the Water Services Corporation (WSC), the water utility in Malta.
Malta, the most densely populated European nation, is an archipelago consisting of one main island and several smaller ones located in the Mediterranean Sea between Sicily and Africa. It ranks among the most water scarce nations in the world. Today, with a booming economy and thriving as a popular tourist destination, Malta is experiencing a "perfect storm" that is becoming all too typical across the globe: too little natural freshwater for its growing demand, made worse by more frequent droughts from climate change.
NOAH's patented water management system combines real-time data streams with AI and optimization models. The system helps identify optimal water management strategies that minimize costs while maximizing water sustainability and quality. Working with the startup incubation team at the University of Arizona Center for Innovation has helped NOAH identify new markets and prove how AI can be used in a variety of ways to provide meaningful predictions and optimization solutions for the water problems that nations like Malta are facing. NOAH's system is highly flexible and can be used in combination with pre-existing models and methods developed by a utility to augment their management objectives.