China's Inland Water Quality Improves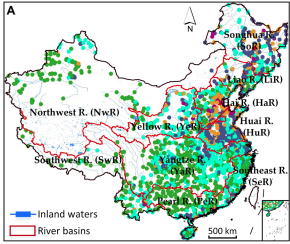 Study Finds Regulations to curb water pollution have resulted in an improvement in water quality in China, say Chinese scientists.
Researchers in China report that China's inland surface water quality has improved significantly since pollution regulations came into force in 2001.
The findings are published in Science Advances, see the full report attached and introduction below).
As China pursued rapid economic development, water pollution became a major problem, resulting in negative consequences to citizens and wildlife alike. In an effort to curb water pollution, the Chinese government, beginning in 2001, put in place strict measures requiring the treatment of wastewater before discharge and raised initiatives to promote eco-environment restoration. In the present study, researchers led by Professors Ma Ting and Zhou Chenghu at the Institute of Geographic Sciences and Natural Resources Research of the Chinese Academy of Sciences found that the environmental regulations have borne fruit. The researchers analyzed the nationwide variability of inland surface water quality across China during a 15-year period between 2003 and 2007, also assessing anthropogenic pollution. They found that annual mean concentrations of two important water quality parameters—chemical oxygen demand and ammonium nitrogen—declined at the national level by 63 percent and 78 percent, respectively, during the period. At the regional level, northern river basins showed relatively fast rates of decline in both of these parameters, while water quality in most southern river basins maintained favorable levels. Improved inland surface water quality across the country is mainly attributable to reduced pollution emissions in the industrial, rural and urban residential sectors. A cross-regional comparison conducted as part of this investigation showed conspicuous interregional variations in water pollution. In general, northern regions showed relatively poor water quality due to intense human pressure on local environments. In contrast, most southern river basins showed better water quality due to relatively low levels of human disturbance. The study confirms the effectiveness of massive environmental protection efforts aimed at controlling pollution discharge and improving water quality in China over the past nearly two decades, notwithstanding growing pressure from human activity.
Introduction:
Increased human activity threatens inland water quality in China. Major efforts have been made to alleviate water pollution since 2001. Understanding how water quality responds to these forces can help to guide future efforts to maintain water security and sustainability. We here analyzed the nationwide variability of inland water quality across China from 2003 to 2017 and its responses to anthropogenic discharges. We show that water quality has been improved markedly or was maintained at favorable levels over the country because of reduced discharges in the industrial, rural, and urban residential sectors. However, growing discharges from the agricultural sector threaten these gains. Moreover, the present status of water pollution is relatively severe in north and northeast China. Our findings suggest that China's water quality would further benefit from more flexible strategies for mitigation measures, which respond to regional differences in the factors that influence water pollution levels in specific regions.
SOURCE Asian Scientist Magazine