CIO Nigel Watson is creating the most digital water company in the sector

Part of Hong Kong listed CK Infrastructure Holdings, NWG is one of the 10 main water businesses in the UK.
Like all CIOs, Watson's reasons for a digital ambition is business centric, but a bigger picture is streaming towards the business headquartered near Durham - climate change.
Dry summers and weather events like the Beast from the East, as well as slower creeping changes from climate change like algae blooms in December necessitate the need to be a digital water company. The more digital signals that we can capture and use will enable us to react and find the best way to adapt and change.
Speaking from home due to the Coronavirus pandemic, Watson should have been in the throes of planning the fourth summer Innovation Festival, but the ever positive CIO has plans for an autumn event and told diginomica the importance and value of innovation events to bring fresh clean thinking into the organisation.
In many ways we are a classic water business. In the North East we provide clean water and sewage services, in our Essex and Suffolk businesses we provide clean water only.

But we also do some other things, NWG creates energy from waste and puts that back into the National Grid and in Kielder we operate a holiday business. Once you get under the skin it is a fascinating business.
All vertical markets are investigating digital methods. The hope is that digital methods enable organisations to change direction rapidly and Watson says rapid movements in business flow is vital for a water company.
Festival feeling
Since 2015 NWG has had an open door event every year where suppliers, regulators and tech firms sit side by side with NWG and in effect hack ideas that can improve water quality, customer service, the environment and business operations. Those events became festivals from 2017 onwards when Watson became CIO, stepping up from his previous role as Programme Director. For 2020 NWG have completely moved the event to an on-line format.
We were initially sad not to be able to build on the momentum we've got with our festival, but we think going on-line brings some great possibilities, so we're feeling very excited about what we can achieve".

People are at the centre of it, mixing people up is really important, so now we are looking at how we do that virtually so that we can keep the momentum, because there has been a great pipeline of ideas that have come from these events.
That momentum has seen 81 active ideas currently in the pipeline. The progress of these ideas is reviewed by the Executive Leadership Team every month. Watson says the expectation is that three to four out of 10 ideas succeed, which the CIO says is down to a focus by NWG to see ideas through.
This year we are looking to further strengthen the transition of the ideas into the business. You can get your sprints down to four days and then the fifth day is a handover to the business.

We will bring in all of the senior leadership team so they can pick an idea and take it back to their business units. We are often procuring in the tent at the festival and these can be to the value of up to £50,000.
NWG has openly invited regulators to be a part of the festivals.
Last year Ofwat spent a lot of time with us at the event and we are having active discussions with Ofgem for 2020. There is strong nexus between the water and energy sectors and both sectors are working to reduce poverty and the amount of carbon that goes into the atmosphere.
Collaborating across industry sectors is important to Watson. In 2019 NWG untapped the demand for innovation in the water sector outside of the North East for the first time and partnered on a similar innovation festival, this time in East Anglia, where it operates two water companies. Innovate East is a partnership between the Essex and Suffolk Water company which is part of the NWG group and Anglian Water. Watson says critics of the sector claim water companies cannot work together and he believes Innovate East is a sign of a change in the industry.
Innovate East benefited all parties because it brought new external parties into the picture, broadening the innovation ecosystem of the sector.
Complex engineering
Despite the digital ambitions of NWG and its CIO, there is no escaping that water utilities are large, complex organisations with a reliance on heavy engineering. As a result a water company cannot work at the pace of change as a pure digital business. But becoming a digital business is about a cultural approach and that flows through the business. Watson speaks passionately about the water sector and its' been his home for over five years, so he is well aware of the challenges of adding digital to utility engineering. The CIO goes on to describe how NWG, in partnership with BT, is working on smart meter methods as well as data capture across all parts of the organisation.
Field experiments take a long time, it takes time to set up the infrastructure and you may find when you get on site there are birds nesting. If you are putting technology into the clean water system you are working in a very highly regulated environment. So that means it can take two to three years to see if an innovation was a success, because as a water company you need to go through a couple of winters and summers.
Innovations in areas such as the Internet of Things (IoT) are taking place, NWG is pulling SCADA data from across the water network and flowing straight into the cloud with Microsoft Azure.
The focus is not just on newer technologies such as IoT, but improving existing business processes can move a business as far forward as a new technology. NWG was told to improve its customer service in September 2019 by the sector's watchdog following a rise in complaints.
Watson doesn't duck the issue and explains that in the last five year period (water companies work on five year commissions from the regulator) NWG went through a £80 million IT transformation programme, with the customer facing technologies being a key part of that transformation programme. A new CRM and Billing system was implemented, the first one for NWG in 24 years.
Imagine that I moved you from Lotus Notes to Outlook 365, it would take you quite some time to adjust. That's what it was like for our Customer Service employees. It took time for them to learn the new system and that meant that our average handling time of a customer issue went up by 30%. Customers found it hard to get through during that time.
Watson says that in a business with a high average tenure time for its staff, the scale of the change was more significant than he had planned for.
The people who have only been with us for two to three years quickly got used to the new system, but for our longer term team members it took longer, but we are back to the normal level now.
Data and technology lakes
Despite the challenges of adapting to a new billing and CRM system, Watson says NWG has improved its customer data set and the organisation now has a data science team supporting both the customer facing teams, but also the engineers and operators in the below the ground and above the ground water resources.
We have 10 data scientists and they are having a massive impact on the business. We have had some good success with our leakage and pollution targets as a result and we are at the top of the league tables for this. That is down to data and the people we have in those fields.
As I saw a couple of years back when attending a NWG innovation event, they bring together major vendors and challenger technology businesses. As a result Watson has a mix of suppliers, with IBM, Microsoft and Oracle providing transformation, cloud and billing technology services respectively. Also in his pool are specialist data companies like Aiimi and Jumping Rivers, a start-up out of Newcastle University. They also work with local providers like Shout to develop Apps for employees and customers to deliver a great experience on top of the architecture that has been delivered in transformation.
When you go into a big transformation it makes sense to work with a big partner, but I also see lots of opportunity to work with smaller businesses to find new insight.
NWG has 190 people in IT and the CIO plans to reduce the number of contractors in use and Watson says the IT budget has been benchmarked and is average for the industry.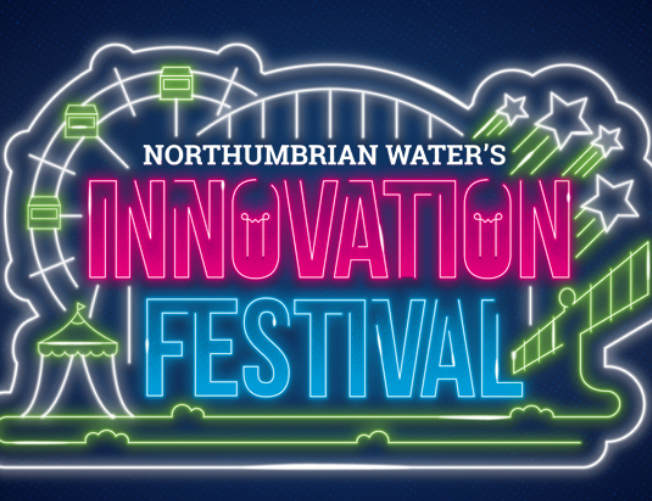 NORTHUMBRIAN WATER INNOVATION FESTIVAL SET FOR DIGITAL RETURN
May 19, 2020 @ 10:18 by Alison Cowie
In response to the challenges faced by the coronavirus pandemic, Northumbrian Water will host its entire Innovation Festival online.
Social distancing restrictions meant that it would no longer be possible to hold this year's event at Newcastle Racecourse and so the festival – which had been planned for July and was due to see more than 3000 people from all across the world gather – was forced to be postponed.
The Northumbrian Water innovation team has since drawn up plans to hold the four-day event online and in a digital capacity, which will take place September 14 to 17.
Festival attendees will still be able to take part in design sprints, data hacks and daily dashes and work together to solve real-world issues.
They'll also be able to experience lightning talks, networking events, Q&A sessions and tech demos through live streams and catch-ups.
Organisers maintain the feel-good festival spirit will still be present and created virtually with wellbeing sessions, group exercise classes, pub quizzes, bingo, comedy, live music, celebrity appearances all taking place at the touch of a button.
Festival organiser and Northumbrian Water's IS director, Nigel Watson, said: "COVID-19 has completely changed peoples' lives and caused businesses and organisations across the globe to rethink how they do things. And that's what we've done here.
"This is us adapting, flexing and being innovative with our innovation festival. We've changed it, improved it and we're making it work for people, right now.
"Our partners, sponsors and our customers all told us that they wanted it to go ahead and so, taking inspiration from concerts and other large events, we've made the choice to switch the whole event to digital.
"It means that people from all across the globe can get involved in the festival in a safe and accessible way. It opens up lots of brand new opportunities for us both in terms of the way we work and what we can look to achieve.
"The whole world is facing huge challenges right now and it's more important than ever that we come together to find new ways of working, new solutions, to solve these problems and build back better. Hopefully Innovation Festival 2020 can help with this and I'm really excited to see what happens".