Clean Water Franchise Jibu Grows to Eight Countries in Africa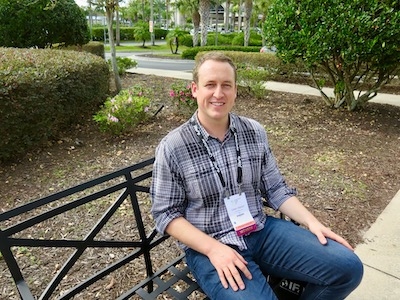 Galen Welsch sits outside of the International Franchise Association convention in Orlando.
CALLIE EVERGREEN / FRANCHISE TIMES
I caught up with Galen Welsch at the International Franchise Association convention in Orlando to get an update on the status of Jibu, a social franchise providing clean drinking water in Africa.
Welsch was one of the top three finalists for IFA's NextGen All-Star competition this year, where winners from the past five years pitched their concepts to the audience, who then voted for the winner. STEM franchise MakerKids, created by CEO Jennifer Turliuk, and exterior home-painting franchise Spray-Net, led by founder Carmelo Marsala, tied for first place.
Welsch founded Jibu as a for-profit company with his father in 2012, then won the NextGen in Franchising Grand Prize in 2015. At the time, Jibu had only seven franchises, with top-performing local owners making around $85,000 USD per year.
Now, Jibu has grown to 125 franchises in eight countries including Uganda, Rwanda, Kenya, Tanzania, D.R. Congo, Zambia, South Sudan and Burundi. Top franchisees make about $160,000 annually. Welsch's team of local entrepreneurs have collectively provided more than 125 million liters of clean drinking water to people who previously did not have safe drinking water in Africa.
Jibu places drinking water franchises approximately one mile apart, drawing water from any neighborhood source. Welsch partnered with water treatment NGOs early on, who then adapted their water filtration technology to each water source that Jibu serves. They utilize an ultra-filtration, reverse-osmosis system that retains the natural minerals in the water while removing any viruses and bacteria. The technology requires about one-fourth of the energy of a toaster, Welsch said.
"The lower the energy consumption, the lower the operating cost," Welsch said. "It's a win for the environment and for the business owner."
Clean drinking water is a basic human necessity, so the utility of the enterprise is clearly seen by prospective franchisees, many of whom wish to bring safe drinking water to their own communities while earning an income.
"On our sleeve, we have a bigger mission that gives us a cheat code for being able to find high-caliber people and talent," Welsch said. "I wouldn't know what to do if I was trying to run a brand that had less of a vision."
One unique aspect of Jibu is that all corporate managers are also owners in Jibu Global.
"We don't want to have a gap of people who aren't impassioned in the same way at our franchise support level," Welsch said. "At every level, there has to be that ability to actually empower people to do their jobs well. If that's not there, a brand will quickly deteriorate."
Jibu raised its Series A and B rounds of financing and is on to Series C. Around 60 percent of its revenue is invested in growth. If it cut that percentage, it could be profitable today, but Welsch believes it makes more sense to continue investing in growth at this point.
BY CALLIE EVERGREEN