Cyanobacteria Assessment Network (CyAN)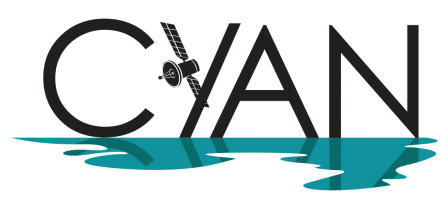 An EPA, NASA, NOAA, and USGS Project
CyAN is a multi-agency project among EPA, the National Aeronautics and Space Administration (NASA), the National Oceanic and Atmospheric Administration (NOAA), and the United States Geological Survey (USGS) to develop an early warning indicator system to detect algal blooms in U.S. freshwater systems. This research supports federal, state, tribal, and local partners in their monitoring efforts to assess water quality to protect aquatic and human health.
Project Overview
The mission of the CyAN's project is to support the environmental management and public use of U.S. lakes and estuaries by providing a capability of detecting and quantifying algal blooms and related water quality using satellite data records.
Goals
Develop a uniform and systematic approach for identifying cyanobacteria blooms across the contiguous U.S. using ocean satellites.
Create a strategy for evaluation and refinement of algorithms across satellite platforms.
Identify landscape linkage postulated causes of chlorophyll a and cyanobacterial blooms in freshwater systems.
Characterize exposure and human health effects using ocean color satellites in drinking water sources and recreational waters.
Characterize responses and economic value of an early warning system using ocean satellites and a mobile dissemination platform.
Disseminate satellite data through a mobile application and EnviroAtlas.
Planned Outcomes
Create a standard and uniform approach for early identification of algal blooms that is useful and accessible to stakeholders of freshwater systems using the new set of satellites: Ocean Land Colour Instrument (OLCI) on Sentinel-3, Sentinel-2, Landsat and future NASA missions.
Develop an information dissemination system for expedient public health advisory postings.
Better understand connections between health, economic, and environmental conditions to cyanobacteria and phytoplankton blooms.
Project Timeline
The CyAN project officially started October 1, 2015. It provided continental U.S. coverage using the MERIS archive from 2002-2012 in Fiscal Year 2017. Weekly composites of the European Space Agency Copernicus Sentinel-3 OLCI sensor data are now available to collaborators for initial review and validation. Landsat surface water temperature product is now publicly available through USGS EROS.
Project Components and Fiscal Year Updates
Validation
In situ validation data will primarily come from our federal and state collaborators. Sources of data will include, but are not limited to, federal, state, and local government agencies, universities, private research groups, and published peer-reviewed journals. Minimum data reporting requirements include sample station identification, cyanobacteria counts, abundance, or phycocyanin pigment concentration, latitude, longitude, depth, and date. Additional information that are not required but are considered beneficial include chlorophyll a concentration (especially), temperature, secchi depth, turbidity, and other available water quality measures. Data sets will undergo quality review by confirming that all methods used were documented and widely accepted.
Figure 1. CONUS streetmap with site data from CyAN Field Integrated Exploratory Lakes Database. Fiscal Year 2019 Update: A field sampling effort was undertaken in Kansas, Minnesota, North Carolina, and Wisconsin to increase the number of in situ match-ups for validating the Cyanobacteria Index algorithm. The in situ sampling suite included radiometry, phytoplankton species composition, chlorophyll, cyanotoxins, and secchi depth and resulted in at least two dozen match-ups across Sentinel-3A and –3B. The CyAN Field Integrated Exploratory Database (FIELD) is going through internal review for public release and data for the Great Lakes is now being collated. The code for the CyAN FIELD tool has been provisionally released and the Land Change Monitoring, Assessment, and Projection (LCMAP) product is currently being evaluated for consistency in a watershed in Kansas for annual landcover/land change using Landsat.