Development & distribution plans for Forward Osmosis technology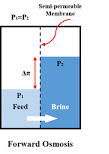 Forward Water Technologies outlines development, distribution plans for its Forward Osmosis technology
The company said it has completed trial-runs on its Forward Osmosis technology solution at a commercially-viable scale that has "met or exceeded all expectations"
Forward Water Technologies said it is collaborating with distribution partners to serve global opportunities in areas such as the UK and Europe
Forward Water Technologies (TSX-V:FWTC) Corp, in a corporate update to shareholders, said it has completed trial-runs on its patented Forward Osmosis technology solution at a commercially-viable scale that has "met or exceeded all expectations".
The company also announced that it is collaborating with distribution partners to serve global opportunities in areas such as the UK and Europe, which it says will represent new emerging markets and opportunities for its Forward Osmosis technology.
"Forward Water has been focused on the roll-out of our Forward Osmosis technology platform with a mission to enhance sustainability and potentially alleviate the global demand for fresh water and reduce wastewater treatment and disposal," Forward Water Technologies (TSX-V:FWTC) CEO Howie Honeyman said in statement.
"We are eager and motivated to bring a low energy membrane based technology to treat challenging waste streams that haven't had any other options other than traditional disposal methods until now. We believe we can help save the planet and help our clients significantly save money," Honeyman added.
Forward Water noted that included in the collaborations with its distribution partners are multiple ongoing trials pending with various European-based operations.
The company is also currently working with its partner in India, Goldfinch Engineering, which is presently operating on-site with their clients and positive results to date as well as further development is on-going.
In addition, Forward Water said it is accelerating the roll-out of its Forward Osmosis technology platform in multiple business verticals, actively engaging with clients with a concentrated business development initiative in the leachate space (municipal wastewater), oil and gas support services and lithium extraction verticals.
The Forward Osmosis solution has the potential to reduce water usage in many industrial use applications by as much as 90% while its customers also realize large reductions in their operating expenses associated with legacy water solutions, according to the company.
Forward Water Technologies (TSX-V:FWTC) is a Toronto-based company dedicated to the commercialization of its proprietary forward osmosis technology. The company's mandate is to focus on the large-scale implementation of its technology in industrial wastewater, oil and gas, mining, agriculture, and ultimately municipal water supply and re-use market sectors.
Contact Sean at sean@proactiveinvestors.com