eMWRE Free and Open-Source Software for Water Resources Engineering Webinar Series - SWAT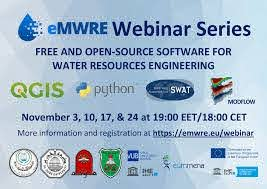 FREE AND OPEN-SOURCE SOFTWARE FOR WATER RESOURCES ENGINEERING: SWAT The Soil & Water Assessment Tool (SWAT) is a river basin scale model designed to understand the impacts of land management practices on the hydrological cycle. In this webinar, the SWAT model will be introduced along with examples of how it can be used to understand global water problems, with a case study in the Zarqa River Basin in Jordan.
Dr. Ann van Griensven, Professor of Hydrology and Hydraulic Engineering, Vrije Universiteit Brussel, Belgium "Simulating impacts and solutions for global water problems using SWAT+" Dr. Michel Rahbeh, Associate Professor, University of Jordan, Jordan "Experiences of using SWAT model for predicting percolation and evaluating sustainable land and water management practices in Zarqa River Basin" The webinar series is free to attend and open to the public. Current and prospective students, researchers, and practitioners in the MENA region are encouraged to join.
For more information and registration, go to emwre.eu/webinar. Attendees can also earn a certificate for every webinar attended. eMWRE, an Erasmus+ Project, will implement an online Master program using innovative technology and advanced tools to provide more sustainable solutions to the water scarcity problems in the MENA region.
More information on the program can be found at emwre.eu.
We also encourage you to subscribe to the eMWRE Project YouTube channel to watch any webinars you missed or view other videos from the project.