Fluence's MABR at the Codiga Resource Recovery Center Stanford University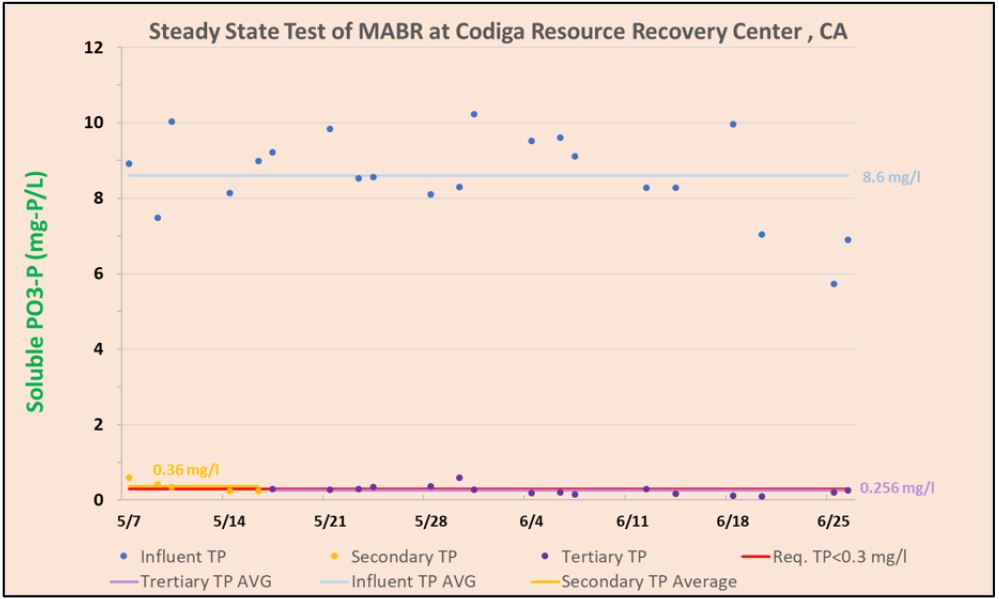 A Membrane Aerated Biofilm Reactor (MABR) manufactured by Fluence Corporation (Fluence) was installed at Stanford's Codiga Resource Recovery Center (CR2C) in January 2018. The system was tested with domestic wastewater diverted from Stanford's sanitary sewer. Treatment performance was evaluated according to two benchmarks: California Title 22 standards for non-potable water reuse (T22) and a Total Nitrogen limit of 10 mg-N/L. T22 Standards are set forth by the state government. TN10 is a benchmark set by Fluence, to evaluate the Nitrogen removal performance of their MABR system. T22 does not regulate Nitrogen species for wastewater reuse.

During the two steady state periods of operation, the system achieved the objectives of mean Total Nitrogen concentrations below 10mg/L and met T22 requirements as measured by Turbidity and Total Coliform in the Tertiary Effluent. This was achieved with a maximum flowrate of 1.3 GPM and an overall TN loading rate of 0.97 g TNN/m2/L. Treatment capabilities of this unit may be increased by optimizing clarifier operation, optimizing carbon dosage to the system and improving the mixing system of the unit. The final testing phase will dilute CR2C wastewater to achieve influent characteristics more representative of US medium strength wastewater and explore the system's performance under hydraulic loadings more aligned with the unit's design specifications.
Download the report in its entirety at https://cr2c.stanford.edu/sites/g/files/sbiybj6816/f/interimreport2018121final_0.pdf