Former state Democratic party chair launches crowdfunding platform for water tech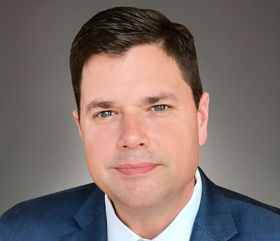 Annalise Frank/Crain's Detroit Business
A new equity crowdfunding group wants to invest in water-focused technology and solutions
Waterworks Fund CEO Lon Johnson
A 2016 change in U.S. securities regulations has cleared the way for a new Detroit-based online investment platform aimed at deploying capital to innovative water-focused startups.
Led by Lon Johnson, a former chair of the Michigan Democratic Party and one-time U.S. congressional candidate for Northern Michigan, Waterworks Fund sees an opportunity to use a relatively new change in law that allows for essentially anyone — not just high-net worth accredited investors — to invest in water-focused technology and startups.
In short, big money and big government won't alone solve the myriad water struggles around the world, according to Johnson.
"Water problems cannot always be solved solely by centralized big money and the few," Johnson told Crain's. "A venture capitalist, private equity fund (or) philanthropic financiers just aren't always built to source, finance and manage hundreds or thousands of small investments. In part, we believe it's a distribution-of-capital problem that's slowing both development and adoption of needed technology in the water sector. We believe that new technology and new solutions can revolutionize how water can be protected and used."
A 2016 amendment to the U.S. Jumpstart Our Business Startups (JOBS) Act legalized the world of equity crowdfunding, essentially democratizing the investment world.
That's a world that Johnson now believes there's ample opportunity to tap into.
"We think by democratizing both water investment opportunities for the investor and access to capital for the potential solution provider, we're building an ever-expanding community of innovators and investors that can help drive (potential) water solutions at scale," Johnson said.
WWF Holdings Inc., the parent organization of Waterworks, last year raised a total of $600,000, according to federal securities filings. That number has since grown to more than $800,000, Johnson told Crain's.
The fund, which is able to do both equity and debt deals, plans to have more than a dozen investment offerings going at once it's up and running, according to Johnson.
Waterworks has also formed partnerships with a variety of water-focused nonprofit advocacy groups around the country, primarily as a way of sourcing potential deals. But Johnson said it's only natural that the organization be headquartered in the Great Lakes state.
Michigan, with it's abundance of water, should "become a global leader in the preservation of water," said Johnson.
Total crowdfunding offerings trended down 6 percent from 2018 to 2019, but amounts raised have been edging upward, according to a recent analysis by crowdfunding analyst Sherwood Neiss, published in trade publication Crowdfund Insider.
In 2019 companies raised $106.5 million using crowdfunding, an increase of 37 percent from the previous year, according to Neiss' analysis.
Neiss concluded that the increase in raises shows that crowdfunding "is a viable funding alternative for startups and small businesses that are facing the valley of death," or between $25,0000 and $250,000 in capital they're unable to raise on their own.
Crowdfunding, however, does create challenges, as Crain's Detroit has previously reported. Those soliciting the funds are extremely limited in how they can market their offering, and social media advertising is considered verboten.
Indeed, Johnson was limited in his ability to directly discuss the investment opportunities the new fund offers. But in general, he believes that companies working on everything from water treatment to lead line replacements to remote water monitoring by use of satellite or drone have the potential to be investment candidates.
"In short, if it's a company or project that helps the world use water more efficiently, we're interested in talking to them about helping them raise capital," Johnson said.