Green Practices involved in the Stabilisation of Arsenic-Laden Sludge from Arsenic Filters of India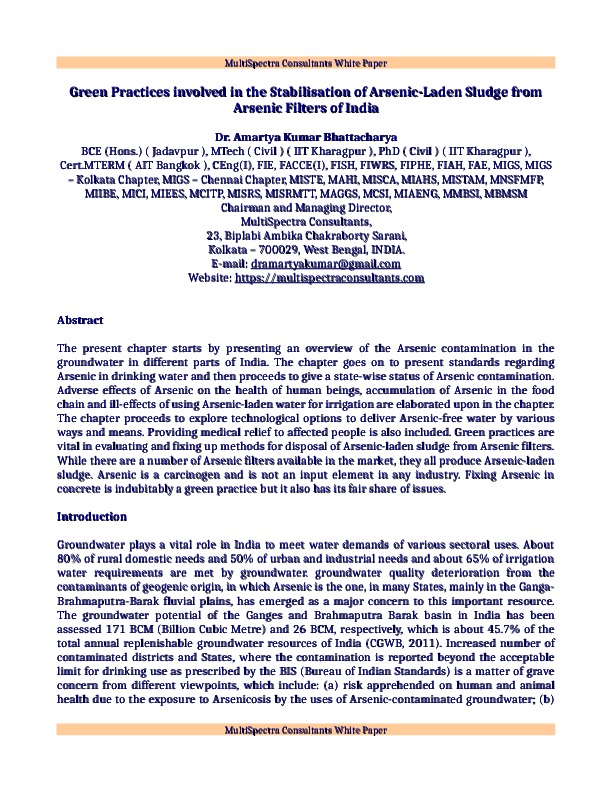 Green Practices involved in the Stabilisation of Arsenic-Laden Sludge from Arsenic Filters of India
Dr. Amartya Kumar Bhattacharya
BCE (Hons.) ( Jadavpur ), MTech ( Civil ) ( IIT Kharagpur ), PhD ( Civil ) ( IIT Kharagpur ), Cert.MTERM ( AIT Bangkok ), CEng(I), FIE, FACCE(I), FISH, FIWRS, FIPHE, FIAH, FAE, MIGS, MIGS – Kolkata Chapter, MIGS – Chennai Chapter, MISTE, MAHI, MISCA, MIAHS, MISTAM, MNSFMFP, MIIBE, MICI, MIEES, MCITP, MISRS, MISRMTT, MAGGS, MCSI, MIAENG, MMBSI, MBMSM
Chairman and Managing Director,
MultiSpectra Consultants,
23, Biplabi Ambika Chakraborty Sarani,
Kolkata – 700029, West Bengal, INDIA.
E-mail: dramartyakumar@gmail.com
Website: https://multispectraconsultants.com
Abstract
The present chapter starts by presenting an overview of the Arsenic contamination in the groundwater in different parts of India. The chapter goes on to present standards regarding Arsenic in drinking water and then proceeds to give a state-wise status of Arsenic contamination. Adverse effects of Arsenic on the health of human beings, accumulation of Arsenic in the food chain and ill-effects of using Arsenic-laden water for irrigation are elaborated upon in the chapter. The chapter proceeds to explore technological options to deliver Arsenic-free water by various ways and means. Providing medical relief to affected people is also included. Green practices are vital in evaluating and fixing up methods for disposal of Arsenic-laden sludge from Arsenic filters. While there are a number of Arsenic filters available in the market, they all produce Arsenic-laden sludge. Arsenic is a carcinogen and is not an input element in any industry. Fixing Arsenic in concrete is indubitably a green practice but it also has its fair share of issues.