India Water Foundation Annual Report 2014-15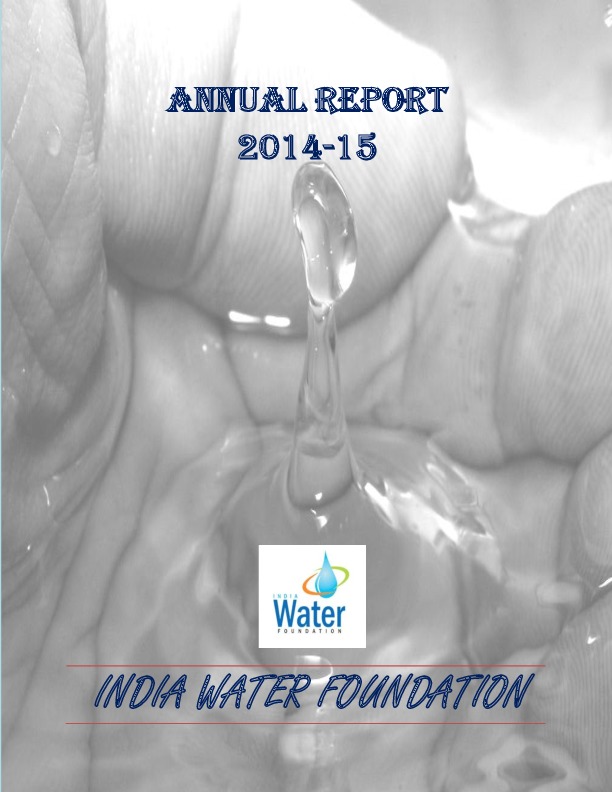 The Activities Carried Out By India Water Foundation (IWF) During 2014-2015 were partially influenced by international developments in water and environment sectors and partially by domestic developments in the wake of new initiatives launched by the NDA government led by Prime Minister Narendra Modi.
The international developments, inter alia, included World Water Day 2014 along with its theme on Water-Energy Nexus and the theme of World Water Day 2015 on Water and Sustainable Development. Interestingly, we at IWF have already been emphasizing on these themes for more than past couple of years and even then we continue to accord priority to these themes.
Other two notable international developments having relevance for the IWF were the release of two theme papers; one by the Beyond2015, an international civil society campaign, in March 2013 and the other by UN-Water in January 2014, and the convening of COP 20 at Lima (Peru) in early December 2014.
The subject matter of both theme papers dealt with global role of water in the post-2015 development agenda. The emphasis on management of water resources and reuse of wastewater, as pioneered by these two theme papers is already being practiced by the IWF; nevertheless, we are determine to ensure compliance of these and other related suggestions in water sector.
The deliberations at the COP 20 were more procedural in nature and no discussion on water took place. However, we are waiting for the outcome of the COP 21 scheduled to be held at Paris in December this year. Of the various new missions launched by the NDA Government under the leadership of Prime Minister Narendra Modi in 2014, three missions viz., Clean India Mission, Clean Ganga Mission and Smart Cities Mission had direct relevance for us and we have been evincing keen interest in playing important role in these missions. Water and sanitation are significant factors in maintain cleanliness.
We at IWF have been emphasizing on the theme; "Water is life and sanitation is lifestyle." We have consistently opposed the prevalent practice of open defecation in India and emphasized on building toilets as well as building capacity of the people, especially in the rural areas to make aware of the ill-effects of open defecation. We have offered cooperation and services to the government in making this mission of Clean India a success. We have welcomed the revival of Clean Ganga Mission by the government. Simultaneously, the IWF has been in communication with the authorities looking after this mission with a view to cooperate with them in effective implementation of this mission, especially by building the capacities of the people and making them aware of the urgency of keeping Ganga River free from pollution and help restore its pristine glory.
It is noteworthy that the IWF is already associated with clean Ganga Mission as a Civil Society Organization (CSO) to provide its services to carry out social development and Public Awareness and Public Participation (PAPP) F India Water Foundation Page 4 activities under the JICA- assisted Ganga Action Plan project for the past couple of years in Varanasi. While welcoming the government"s initiative on building 100 Smart Cities in India, the IWF has cautioned the concerned authorities that foreign models of smart cities can neither be imported nor transplanted and these have to be indigenously developed.
While articulating its expression of interest to cooperate with the Ministry of Urban Development in Smart Cities Mission, the IWF in its communication has identified the areas where it can cooperate effectively, especially in water sector and capacity building.
The other activities carried out by IWF have been enumerated in this report. We feel immense pleasure in presenting this annual report to our patrons, well-wishers, colleagues and the general public.
We wish to convey our gratitude to all those who stood with us in accomplishing our tasks despite all odds.
Dr Arvind Kumar
President, India water Foundation