India Water Foundation Annual Report 2018-19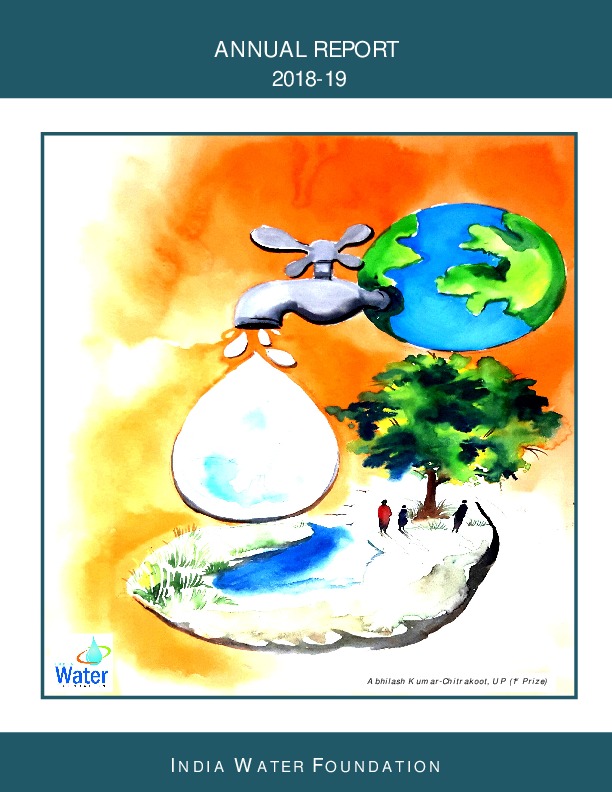 With the changing times, priorities also undergo change. Nevertheless, when targets are delineated with the objective of realizing those targets within a stipulated period, priorities are bound to veer round those targets owing to their universal application. In the aftermath of the adoption of Paris Agreement on Climate Change (PACC) in 2015 along with 2030 Agenda of 17 Sustainable Development Goals (SDGs) and their related targets, also adopted in 2015, the priorities at global, regional and local levels have been veering around the SDGs with climate change and water at the core. It goes with saying that momentous developments taking place at global, regional and national levels in the fields of environment, water and sustainable development are prone to wield their impact on the activities of India Water Foundation, directly or indirectly.
During the period under review in this report, global warming, a prime driver of climate change, remained the focal point of global attention, especially in the aftermath of the release of IPCC's release of Special Report on Global Warming in early October 2018 along with equal emphasis on pledges made by the countries in PACC. India Water Foundation could not afford to remain aloof from it as well.
World community is running out of time to stop climate change and more than half of a year has passed since the Intergovernmental Panel on Climate Change (IPCC) issued a warning signal that limiting global warming to the 1.5-degree Celsius (2.6 degrees Fahrenheit) mark by the close of the present century — a target set to stave off the worst impacts of climate change — "would require rapid, farreaching and unprecedented changes in all aspects of society." Even prior to the IPCC's warning, 184 countries had made carbon emission reduction pledges under the Paris Agreement on Climate Change (PACC) in 2015 to keep global warming well below 2 degrees Celsius; and unfortunately majority of the countries have not done enough in that direction and the Trump Administration in the United States has been threatening to withdraw from the PACC, a very unfortunate development. Given the fact that some of the countries won't be able to achieve their pledges; lamentably some of the world's largest emitters continue to increase their emissions in violation of the Paris Agreement. Failure to reduce emissions by 2030 will cost humankind enormous economic losses, affecting human health, livelihood, food, water, biodiversity and infrastructure. Countries signatories to the PACC are called upon to double or even triple their 2030 reduction commitments to be synchronized with the PACC targets. Many experts and eminent scientists are worried about the slow pace of progress towards emission reduction which is currently on a pathway to between 3 and 4 degrees Celsius by the end of the present century, especially when the world is well-equipped with the technology and knowledge to make emission cuts; nevertheless, according to them what's missing are strong enough policies and regulations to help achieve the PACC targets. Occurrences like massive thawing of permafrost and rampant forest die-offs could trigger additional uncontrollable warming, which the scientists call the Hothouse Earth scenario, could lead sea levels to rise 30 to 300 feet or 10 to 60 meters, thereby rendering bulk parts of the planet uninhabitable. Thus, averting such a catastrophic change in the future, it is imperative to Act now for reaching the PACC target of well below 2 degrees Celsius. One scientist has opined that global emissions need to be halved by F 4 India Water Foundation next decade and net-zero by mid-century. However, the slow pace of progress towards PACC pledges by a large number of countries is worrisome at a time when these countries are already witnessing and experiencing big impacts from climate change waiting to act entails the likelihood of just locking them into higher temperatures and drastic impacts. IPCC's Special Report on Global Warming provides ample scientific evidence to justify call by the citizens for more effective action by governments and businesses. This is the right time for all the countries to step up, accept that global emissions must reach net-zero by 2050 and undertake concrete steps to make it happen. Climate change is everybody's problem and there is need to take everyone on board to tackle it. The significant developments that greatly influenced us at India Water Foundation and in a similar way the activities conducted by India Water Foundation (IWF) during 2018-2019 were greatly affected and influenced by important developments like the identical themes of the 2018 World Water Day as well as 2018 World Water Development Report, which emphasized on improvements in water management and access to water supply and sanitation services, release of 2018 Global Outlook of the Water Industry by a private company in May 2018,Release of SDG 6 Synthesis Report 2018 on Water and Sanitation in early July 2018, release of IPCC Report on Global Warming of 1.50C in early October 2018, release of the report on Global Material Resources Outlook to 2060 by the closing part of November 2018, Convening of CoP-24 in December 2018 and release of the report on Global Environment Outlook 2019 or GEO-6. At the domestic national level, major development that influenced the perspective and activities of India Water Foundation, inter alia included: Release of report on India's Composite Water Management Index (CWMI) 2018 by NITI Aayog in June 2018, conferment of Champions of Earth award for Prime Minister of India, Shri Narendra Modi on 3 October 2018 in recognition of his leadership in the fight against plastic pollution in India, and his unwavering commitment to tackling climate change around the world; and release of the report on Strategy for New India @ 75 by the NITI Aayog in November 2018 containing specific emphasis on water and environment. Major activities undertaken by India Water Foundation during 2018-2019 veered round major themes of water, climate change and SDGs, which inter alia, included: submission of abstract for the SIWI 2018, IWF's membership of World Water Council (WWC), IWF initiatives in Wetlands, participation in UNEA-4, focus on SDGs and generating awareness among school children etc., along with other activities.
I feel immense pleasure in presenting this annual report to our patrons, well-wishers, colleagues and the general public. We, at India Water Foundation, wish to convey our gratitude to all those who stood with us in accomplishing our tasks despite all odds and hope to continue to enjoy their trust and affection. I avail this occasion to reaffirm steadfast commitment of IWF to continue to render its yeoman services in the fields of water, climate change and sustainable development with renewed enthusiasm.
Dr Arvind Kumar
President India Water Foundation