Indigenous Farmers Harvest Water with Small Dams in Peru's Andes Highlands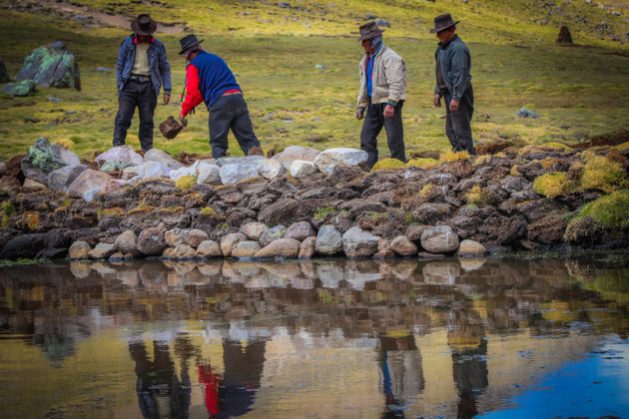 Local residents of Churia, a village of some 25 families at more than 3,100 meters above sea level in the highlands of the Peruvian department of Ayacucho, are building simple dikes to fill ponds with water to irrigate their crops, water their animals and consume at home. CREDIT: Courtesy of Huñuc Mayu
AYACUCHO, Peru, Jun 29 2020 (IPS) - A communally built small dam at almost 3,500 meters above sea level supplies water to small-scale farmer Cristina Azpur and her two young daughters in Peru's Andes highlands, where they face water shortages exacerbated by climate change.
"We built the walls of the reservoir with stone and earth and planted 'queñua' trees last year in February, to absorb water," she tells IPS by phone from her hometown of Chungui, population 4,500, located in La Mar, one of the provinces hardest hit by the violence of the Maoist group Shining Path, which triggered a 20-year civil war in the country between 1980 and 2000.
The queñua (Polylepis racemosa) is a tree native to the Andean highlands with a thick trunk that protects it from low temperatures. It is highly absorbent of rainwater and is considered sacred by the Quechua indigenous people.
In Chungui and other Andes highlands municipalities populated by Quechua Indians in the southwestern department of Ayacucho, the native tree species has been the main input for the recovery and preservation of water sources.
Eutropia Medina, president of the board of directors of Huñuc Mayu (which means "meeting of rivers" in Quechua), an NGO that has been working for 15 years to promote the rights of people living in rural communities in the region, one of the country's poorest, explains how the trees are used.
Women from several Andean highlands communities in Ayacucho, Peru, have played a very active role in harvesting water, including protecting the headwaters of streams. In the picture, a group of women and girls are involved in a community activity in Oronccoy, a village about 3,200 meters above sea level. CREDIT: Courtesy of Huñuc Mayu
"The women and men have planted more than 10,000 queñua trees in the different communities as part of their plan to harvest water," she tells IPS in Ayacucho, the regional capital. "These are techniques handed down from their ancestors that we have helped revive to boost their agricultural and animal husbandry activities, which are their main livelihood."
Medina, previously director of the NGO, explains that the acceleration of climate change in recent years, due to the unregulated exploitation of natural resources, has generated an imbalance in highland ecosystems, increasing greenhouse gases and fuelling deglaciation and desertification.