Indra Water: Treating wastewater efficiently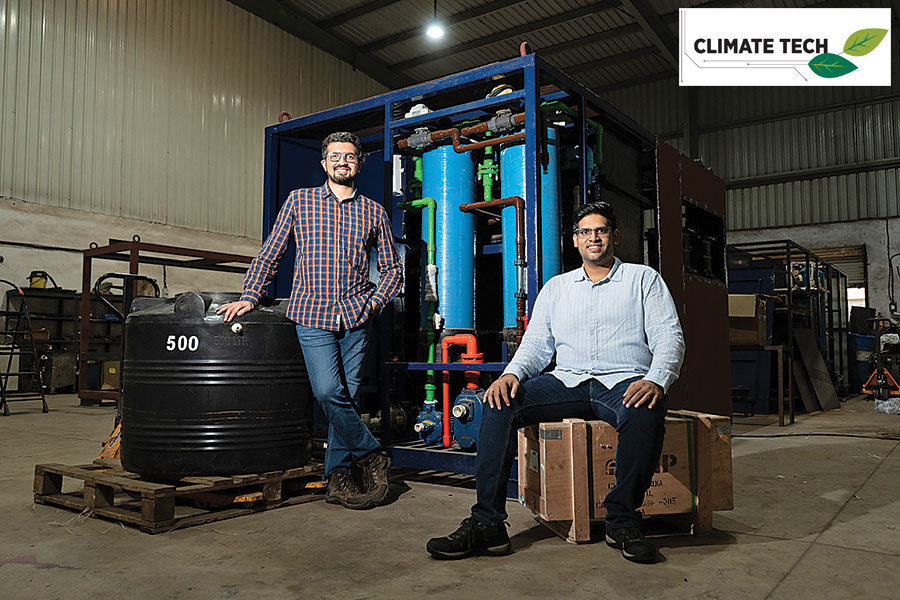 Compared to conventional solutions, Indra's technology requires 25 percent less energy to operate, saves 40 percent operating cost, and requires 85 percent less manpower to recover 99 percent wastewater.
Co-founders and COO Krunal Patel (left) and CEO Amrit Om Nayak at the Bhiwandi manufacturing unit Image: Neha Mithbawkar for Forbes India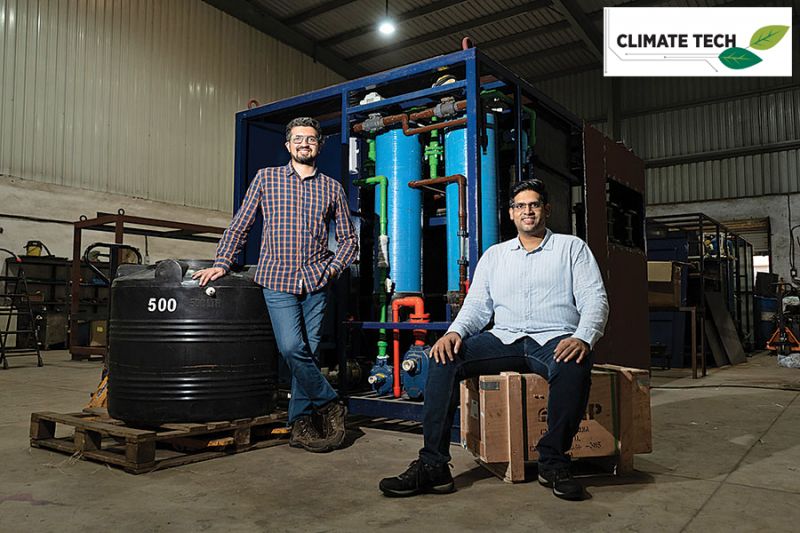 Multiple startups are applying innovation to address various aspects of sustainability and pollution, and creating new-age products with multiple use cases. Read about some key companies here.
Globally, most wastewater goes untreated and less than 1 percent is reused. In India alone, there are zero-discharge regulations, and 74 percent of wastewater goes untreated; 600 million people face high to extreme water stress, and water demand is likely to double by 2030. Identifying these as problems that need addressing, Amrit Om Nayak and Krunal Patel launched Indra Water in 2018.

Indra is pioneering decentralised treatment of wastewater with its patented electrically-driven modular systems at the point of source. "Our solution recovers up to 99 percent of the water for reuse applications. We are the only broad-spectrum pollution removal process and can handle complex and difficult oxygen demanding pollutants, suspended and dissolved pollutants, oil and grease, pathogens, and heavy metals, among others," says Nayak, co-founder and CEO.
Compared to conventional solutions, Indra's solution requires 25 percent less energy to operate, saves 40 percent operating cost, occupies 80 percent less space, generates 70 percent less sludge and requires 85 percent less manpower.
With a factory in Bhiwandi, on the outskirts of Mumbai, Indra's physio-electrical treatment technology is based on an industry-first approach to mass production of water plants with their novel structural reactor design. "This allows us to build systems and deploy them 4x faster. Indra has treated over 750 million litres of water and thousands of tonnes of CO2, while positively impacting the lives of 500,000 people," says Nayak.
The company won the urban water challenge at World Water Week 2019 in Stockholm, from among 236 companies across 38 countries, and also won the Millenium Alliance award. Indra has signed an MoU with Aditya Birla Group to provide technology to solve wastewater challenges across all its verticals. Tata Steel, Orient Fashion, Gadre Marine Exports, Gelnova Laboratories, Delicia Foods (Monginis) and Godavari Biorefineries are some of its other clients.
Indra has about 6 million litres per day capacity engagements with major industries and corporates across India, and is backed by Imagine H2O (International Water Accelerator) for expanding to Southeast Asian markets.
SOURCE FORBES