Industrial Line of Chemical-Free Water Treatment Technology Systems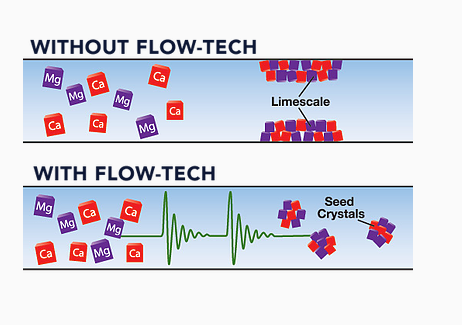 Flow-Tech Systems announced the official launch of Flow-Tech Industrial, an offshoot of the company's chemical-free water treatment systems specifically suited for heavy industrial applications. Customers throughout the country have implemented Flow-Tech Industrial for mineral, bacteria, and corrosion management across a wide variety of facilities including power plants, mineral extraction processes, pulp and paper mills, and largescale breweries. Flow-Tech is helping these facilities conserve water and energy and safely adjust their discharge.
Building from Flow-Tech's existing commercial rep network, Flow-Tech Industrial has already amassed strong representation across the United States as well as internationally. The company will continue to build its representation and industry partnerships across the country and abroad as end users turn to the chemical-free alternative for effective water treatment.
Flow-Tech's portfolio of success stories includes a nearly two-year long study with a 248MW power plant in the Pacific Northwest. The combined-cycle generation plant was challenged by reluctant silica scale and biological growth. Looking for a responsible solution to treat its cooling water while mitigating potential impact on the surrounding environment, the operators turned to Flow-Tech and installed equipment on the cooling system's 42" circulation pumps. Since installation, Flow-Tech has outperformed chemicals in managing both the silica scale and bacteria fouling, allowing the plant to significantly reduce its chemical regimen, thereby minimizing the amount of chemicals being discharged into the neighboring river, while improving operational efficiencies system-wide. With Flow-Tech as the primary means of treatment, the plant has unlocked hundreds of thousands of dollars in chemical savings and is taking steps to further reduce its dependence on chemicals.
With over 50 years combined experience, the team at Flow-Tech Systems has designed a system which increases operational efficiencies by reducing microbial contamination, scale deposition, corrosion, and potential health and safety problems.
Flow-Tech's water conditioning system uses state-of-the-art technology. It couples time-tested, proven science with an innovative proprietary induction method that allows facilities to eliminate the need for ion exchange water softeners and other chemical treatment programs, making it the ultimate green choice for water treatment. The Flow-Tech system conditions, not softens, water. It temporarily alters the ionic makeup of the water, which disallows the formation of encrusted limescale when supersaturation occurs.
Unlike other chemical and physical water treatment systems on the market, Flow-Tech Systems has invented a proprietary method of treating all of the water throughout your plumbing system, whether the water is moving or not. The system generates a weak AC current – this electrical field is conducted into the water loop header and throughout the piping network to form homogeneous calcium seed crystals that simply remain in suspension. These suspended seed crystals will eventually settle out or pass through the system without adhering to the heated surfaces.
Flow-Tech is the only system on the market that maintains measurable signal strength throughout your entire plumbing system, regardless of flow.