Innovation award for graphene-based water decontamination technology oil clean-up by Grafysorber®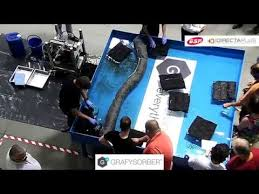 Directa Plus lands innovation award for graphene-based water decontamination technology
"We now provide a full decontamination service in the very large oil and gas sector," the group's chief executive Giulio Cesareo noted
Directa Plus PLC's (LON:DCTA) revealed that its graphene-based water treatment technology, Grafysorber, has won a notable industry award.
Grafysorber received a Technology Innovation Award 2020 from global consultants Frost & Sullivan.
Frost & Sullivan, in an accompanying report, described Grafysorber as a "remarkable step toward attaining sustainable and cost-effective environmental remediation."
The product treats water and sludges that are contaminated with hydrocarbons. It is sustainably produced, non-flammable and reusable and, notably, the adsorbed hydrocarbons can be recoverable afterwards.
"Frost & Sullivan research indicates that Directa Plus's Grafysorber is an environmentally friendly solution that addresses issues related to contaminants and organic pollutants and provides a quality answer for onshore and offshore emergency situations," the consultant said in a statement.
"In addition, Grafysorber's technological features, such as reusability and recyclability of the adsorbed oil, will make it a viable and sustainable solution for mass adoption in the next years."
Directa Plus, meanwhile, pointed out that the technology can be applied in a wide range of industrial processes, from mechanical industry to condensate water produced from air compressors to the treatment water used for storage tank cleaning both onshore and offshore.
Through its subsidiary Setcar SA, the company is presently providing the Grafysorber decontamination service to a number of European based oil and gas companies.
Directa Plus chief executive and founder Giulio Cesareo said: "Following on from the grant of an EU patent for Grafysorber, this award from a worldwide organisation is another welcome endorsement of the significant potential of our G+ technology.
"We now provide a full decontamination service in the very large oil and gas sector through our acquisition last year of a majority interest in Setcar S.A.
"This offer, together with the potential to license the technology, means we are generating more and more traction for our environmental remediation services."