Innovation in Action: Utilities on the Frontline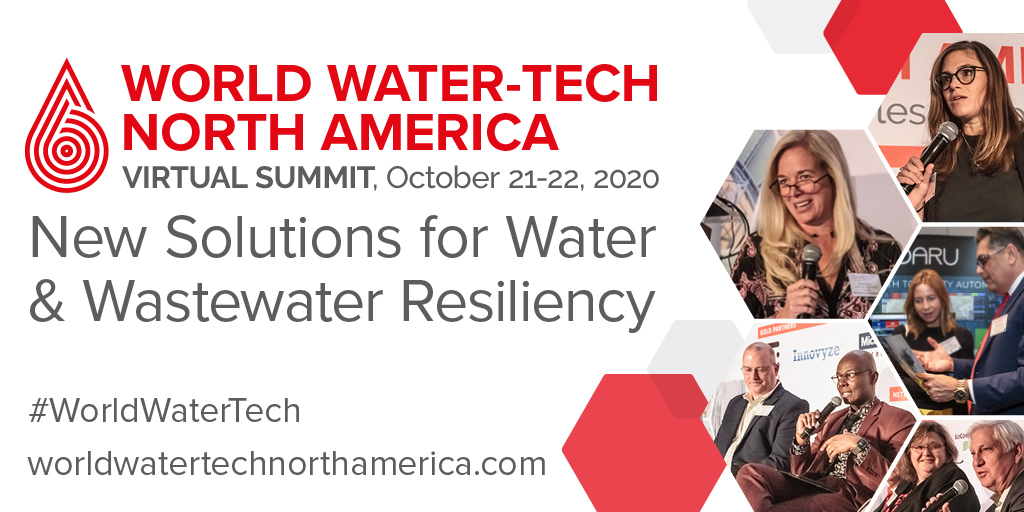 Innovation in Action: Utilities on the Frontline
2020 has tested the resiliency of the water sector. Faced with not only the pandemic, for many utilities across North America, drought, forest fires and flooding have added additional pressure on infrastructure and resources. The ability to adapt quickly and react fast to their networks and operations under stress has been vital in their efforts to supply water to the communities.
Signs of a recovery are showing, with investment into their assets restarting and the implementation of digital solutions being fast-tracked across their networks.
The virtual World Water-Tech North America Summit on October 21-22 will explore these trends. How has the resiliency shown by utilities throughout 2020 been achieved, and can it be sustained? How will rising unemployment and the economic fallout of the pandemic impact the water and wastewater sectors?
Facilitating these conversations to support collaboration and drive sector-wide innovation, the summit will hear first-hand from General Managers and Directors from over 20 utilities across North America as they detail the challenges that they face, how they are adapting to new working environments, and what solutions are still needed.
Tony Parrott, Executive Director, Louisville MSD
Resiliency in a Pandemic
Utilities have been forced to pivot their operations, taking on new processes to help contain the spread of Covid-19 and reassure customers. Louisville Metropolitan Sewer District's Executive Director Tony Parrott explains, "We are involved with two COVID-19 surveillance testing projects, the Biobot Covid-19 Surveillance Testing Project and the University of Louisville Co-Immunity Project. The wastewater at our five wastewater treatment centers is tested to detect COVID-19 outbreaks and to estimate virus prevalence in the population."
Economic Uncertainty
The biggest challenges for utilities may yet lie ahead, as Parrott goes on to explain: "Currently, our greatest challenge is overcoming the fiscal and economic burden from the pandemic. MSD will continue to be involved in national conversations to reiterate the vitality of investments in wastewater infrastructure."
Wil Pickering, Executive Director, Pittsburgh Water and Sewer
A sentiment echoed by Will Pickering, Executive Director at Pittsburgh Water and Sewer, who says, "One of our biggest challenges is balancing investment in our infrastructure with efforts to keep rates affordable for the customers we serve".
But is that possible as budgets are tightened? What are the solutions out there enabling utilities to continue to drive down costs? As the world recovers from the pandemic's economic fallout, how can utilities come together to share innovations, solutions, and ideas?
Kathryn Sorensen, Director of Water Service, Phoenix City
Strength in Collaboration
Kathryn Sorensen, Director of Water Service at Phoenix City, has an answer: "Collaboration is the key to innovation and process improvement—there is much we can learn from each other."
Pickering agrees: "The onus is on us to find innovative ways to cost-effectively maintain and rehabilitate our assets while still improving system reliability and ensuring the highest quality water."
Robert Puente, President and CEO San Antonio Water Systems (SAWS)
Robert Puente, President and CEO at San Antonio Water Systems (SAWS) has effectively implemented satellite leak detection technology to "provide significant improvement finding leaks that would have gone undetected using our older leak detection methodologies. Combining these technologies provides SAWS with a more reliable operations, more effective system analysis, and better capital planning.
The World Water-Tech North America summit will provide a platform to share and discuss all these important issues, bringing together utility leaders, engineering firms, regulators, investors, tech firms and industrial water users, into one virtual location for two days of candid insights, 1:1 networking and unrivalled content.
Joone Lopez, General Manager, Moulton Niguel Water District
Joone Lopez, General Manager at Moulton Niguel Water District, is "looking forward to connecting with industry leaders from around the world, further collaborate on ideas and solutions, and develop long-lasting relationships. Conferences such as this are even more important now as we aim to remain connected and resilient."
Future Focused
There is no doubt that utilities are looking to learn, share and collaborate to ensure they are making the right investments into their networks to maintain the level of resilience they have demonstrated throughout 2020, in spite of existing and new challenges.
Richard Harasick, Senior Assistant General Manager LADWP
Richard Harasick, Senior Assistant General Manager at LADWP says: "Looking to the future, the Los Angeles Department of Water and Power is focused on building resilient, sustainable, local water supplies, in large parts through recycling 100% of our wastewater – we call that plan to deliver purified recycled water 'Operation Net'. It will be the biggest transformation of LA's water system. Join me at the World Water-Tech North America Summit to hear me tell you LA's future."
Attending the Summit
General Managers and Directors from 20+ leading utilities are already confirmed to speak at the summit, with many more attending as delegates to connect and collaborate:

Water and wastewater sector professionals are invited to register now for the virtual World Water-Tech North America on October 21-22, to join thought leaders, investors and technology innovators from across the sector. Delegate registration ($395) and full program details are available at worldwatertechnorthamerica.com/register