Innovative Water Purification Technology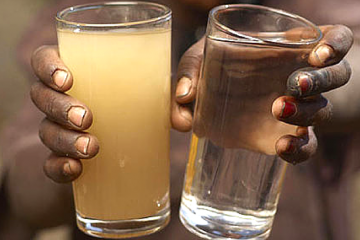 A team of researchers from the Indian Institute of Science (IISc) have won the Google Pitch Fest in Zurich for their innovation of a waste-water filtration technique. This innovative technology can convert contaminated water into clean drinking water using very less power
You never know what can become the next big thing, and this team of researchers from the Indian Institute of Science (IISc) has proved this by winning the Google Pitch Fest in Zurich for their innovation of a waste-water filtration technique.
The innovative technology can convert highly contaminated water into clean water without any wastage.
This membrane-less and chemical-free technology is developed by Dr Sanjiv Sambandan of the Flexible Electronics Lab, Department of Instrumentation and Applied Physics, and his team.
The interesting part is that its use can be scaled from a small bottle to a large community-based system.
The innovation requires an electric field to polarise minute impurities and bring them together as larger chunks that can then be removed by low cost meshes.
The innovation is not just easy to use but also consumes very less power. It requires just 100 mW of power to purify 1 litre of highly contaminated water. A small purifier can be easily powered by a battery or solar cell, making it easier to operate.
The technology can be revolutionary in remote locations where there is very limited access to clean water. It will be highly efficient for those stuck in disaster hit areas.
The idea behind the project was to provide access to clean drinking water in remote areas at low cost and without a need of high maintenance.
Source: The Better India
Read More Related Content On This Topic - Click Here