INTERNET OF WATER - HOW DROOPLE IS WORKING TOWARDS A MORE SUSTAINABLE WORLD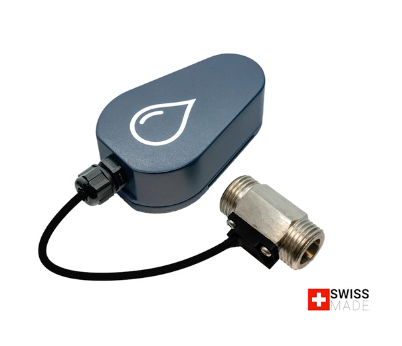 Aug 10, 2021 09:29Silvana Möhr, Switzerland Global Enterprise
Based in western Switzerland, the company Droople offers a unique IoT monitoring solution for the last mile of the water network. This allows maintenance intervals to be predicted and the renewal of consumables to be automated, while at the same time saving water and energy. In an interview, CEO Ramzi Bouzerda explains how Droople is holding its own in international markets and what challenges the company faces.
Ramzi Bouzerda, Co-Founder and CEO at Droople
Ramzi Bouzerda, you also offer your technology abroad. Where do you see opportunities for Droople in international business?
Today, we serve customers in North America, Western Europe and Japan. Our goal is to establish ourselves in three segments: water dispensing systems, facility services for cleaner shopping malls, airports, train stations and the maintenance of filter systems for the light industry and hospitality sector. We aim to offer our solutions primarily in regions where droughts or poor water quality can become a problem or threaten entire industries.
Which markets are particularly interesting for you?
The US and UK are interesting markets for us in terms of water availability and quality, while the EU's growth strategy (the Green Deal) is boosting investment in water infrastructure. We are working with the network of Swiss Business Hubs and Swissnex to perform market validation and expand Droople's presence in international markets. There is also great potential in the Gulf States and Asia Pacific, where there is growing public concern about the quality of water coming out of the tap, which is increasingly governed by very strict compliance regulations.
What challenges do you face in international business?
The question is how to tackle internationalization: through a local subsidiary, through partnerships, or through a distribution network. However, when it comes to IoT (Internet of Things), we need to overcome additional hurdles in terms of hardware compatibility and compliance. For example, country-specific drinking water certifications are required. Other issues include sanitation standards that can vary from one country to the next, as well as logistics, VAT and customs formalities. Switzerland Global Enterprise provided us with advice and support in finding the most efficient way to achieve lean logistics. Furthermore, language barriers should not be underestimated. A marketing and sales message is only efficient if it reaches its target group. Thanks to the Swiss Business Hub network, we are able to rely on people who speak the language of our target markets fluently and can translate our supporting material.
About Droople
Droople is a Swiss cleantech company that develops Internet of Water solutions. It is speeding up the adoption of sustainable practices, promotes the integration of water saving systems and educates about the value of this important resource. The 5-year focus is on the digitization of water filtration systems with a retrofit solution based on smart flow, temperature and hardness sensors. Suppliers and service providers are equipped with an AI-enabled cloud platform that enables monitoring, predictive maintenance, and increases water and energy savings. Droople's customers include service providers, facility managers, schools, or manufacturers of water installations.