Iran's Khuzestan Went from Wetland to Wasteland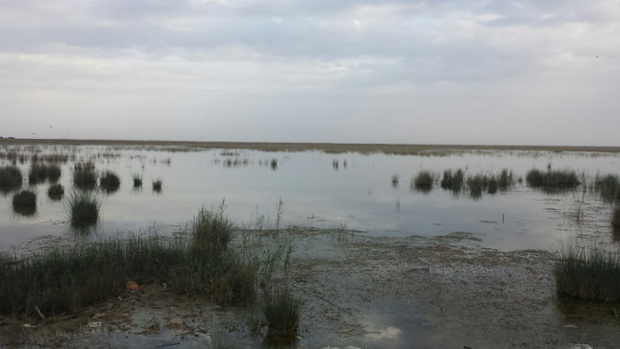 With a loss of water due to oil extraction around the wetland the Khuzestan province two wetlands are in danger
Out on the horizon, the blue sky darkens, turns a misty, golden yellow, and rapidly gives way to a shiny green, looking almost like a lagoon. Just for a moment everyone wonders if it's going to rain, as temperatures drop and winds blow across the city. But the dust storms are about to begin. Soon a grey darkness will appear and no sky or sun will be visible.
In offices, homes and schools, adults begin to shut windows, doors and any vents. There is little panic. They are used to emergency drills from wartime, as the province of Khuzestan, south-westIran, was a front line in the Iran-Iraq war of 1980 to 1988.
The recent dust storms that have overtaken the cities of Ahvaz, Soosangerd and Dezful are not a new phenomenon. They have beenoccurringon a smaller scale for years.
They are connected to overlapping issues, some extending beyond Iran's borders, which are tied together in climate change and global warming.Pollutionof air and water is contributing to long-term changes in weather. Horolazim and Shadegan wetlands, as well as Karun, Karkheh and Jarrahi rivers, the most critical water resources of the province, are depleted and contain unprecedented levels of toxic waste.
The lack of moisture in drying plains allows dust to rise before winds carry it away. While Khuzestan is best known as Iran's oil-rich province, it also lies in the fertile crescent, on some of the earth's best water and land. More than 1m hectares of its land areagricultural, and it provides the country with crucial crops during the cold seasons. But this is changing as the rivers die out.
Once, ships ran up the Karun as far as Ahvaz and Shushtar, including those that in the early 20th century supplied the Anglo-Persian Oil Company or collected Iranian pilgrims beginning a journey to the holy Shia Muslim sites in Iraq. Now, looking at Karun from the top of Naderi bridge in Ahvaz, all you see is an almost green glow. Industrial waste and sewage from growing cities - Ahvaz, Mollasani, Shushtar and Gotvand - has taken its toll.
Further depleting Karun, water has been channelled to other provinces. During the Shah's era, the first tunnel diverted flow to Isfahan's drying Zayandeh-Rud. Since then, pipes and paths have multiplied to include waterways to Qom, Yazd, Kerman and new routes to Isfahan.
Khuzestan province is home to two wetlands, also in a critical state. "To the mid 1990s, the depth of water in Horolazim wetland reached ten metres and the natural bushes that grew all around it were as high as 13 metres," Ahmad Savari, a professor at Khorramshahr's Science University told Karun newspaper in February. "But hectare after hectare of the wetland was given away for oil extraction. The destruction of these environments is unquestionably linked to the dust storms."
For the past decade, Iran's government had insisted dust storms originated outside the country. This year, however, the Department of the Environment announced that most of the dust came from Iran. A former departmental official, Delavar Najafi, told local media that the drying of Horolazim wasone reasonfor the storms, with a loss of water due to oil extraction around the wetland beginning just after the war with Iraq.
The drying out of rivers and wetlands in Khuzestan has changed the regional landscape in a way war never did. To drive out to Shadegan wetland 100km south of Ahvaz is to see Khuzestan change from farmlands and orchards, to barren desert, and suddenly to a marsh. Shadegan, one of the first international wetlands registered at the Ramsar Convention of February 1971, covers 300,000 hectares.
All across Shadegan lie green palm trees bearing the sweetest dates. Sheep, cows and water buffalo fill the plain. Birds, in their plenty, fly across the horizon and one may land on the back of a water buffalo, which will casually remain relaxed in the water.
Residents are mainly Arabs who get by through farming, keeping date orchards and livestock. They are not wealthy, especially those without a side business, which has become more and more common in recent years. Their liveliness is still contagious. Young boys play in the marsh with the water buffalo, children run around bare-footed with puppies. Women bake bread - with traditional tattoos on their hands and thin, loose black shawls wrapped around their heads.
But they are experiencing a jarring shift in their ecosystem. Villagers attribute the vast change to neyshekar, the sugarcane agribusiness. In 1962, Haft Tappeh, an area 15km south-east of ancient Susa, was turned into a 10,000-hectare sugarcane production plant. This reflected US influence after its embargo on Cuban sugar, an example of American involvement in Khuzestan going back to Truman's Point Four Programme in the 1950s, when agriculturists lived in the more fertile northern regions.
After the Iran-Iraq war, another 70,000-hectare plant was established in the 1990s, south of Ahvaz. Side industries have included fibreboards, industrial alcohol and livestock feed. "Cane is not a crop native to the region, and the environmental consequences have been catastrophic," says Reza Saeedi, an agricultural specialist who has worked in the area for 20 years.
Khuzestan'sWaterand Electricity Company, a state body operating under the energy ministry, has repeatedly announced that pesticides and pollution from sugar cane production are a major source of water contamination.
The crux of the planning was carried out during the presidency of Akbar Hashemi Rafsanjani between 1989 and 1997. "Build, build, build, develop without thinking of the consequences - that was the hallmark of the Rafsanjani administration," says Saeedi. "It changed the face of this place from a wetland to a wasteland."
In the years prior to the launch of the sugarcane industry, more than a dozen professors in the department of agriculture at the University of Ahvaz wrote letters predicting disastrous consequences, many offering alternatives. Most of those professors eventually left to work abroad, and one was forced into retirement. They objected for two main reasons: thatpollutionwould enter Khuzestan's water streams and that the project would require excessive use of water.
Sugarcane is a crop known for high water consumption, which often results in habitat loss and soil erosion. There was an additional problem: soil salinity was already high in areas planned for the project, and so required additional water to drain out.
Walking in the sugarcane fields today, you notice empty patches of the field, with white powder - salt - rising on the brown earth. These lands have been completely depleted, and are no longer usable.
The electro-conductivity (EC) of water is one indicator of its salinity, estimating the level of dissolved solids through the capacity of water to conduct electrical current. The EC level that sugarcane can withstand is 1.7 mS/cm (mili Siemens per centimetre) whereas the level is above 4 mS/cm in some areas around Shadegan and 17 near the water sources for the sugarcane plants.
Salt entering the marsh has left its mark on villagers' lives: water buffalo must live around fresh water, and Shadegan is increasingly becoming unsuitable for them.
These rapid changes have had monumental affects on wild life. In a survey conducted in 1971, researchers reported that the wetlands were an instrumental ecosystem for the province's "almost 60,000 ducks and 4000 geese". Another survey, in 1978,recorded800,000 anatidae, the family of birds including ducks, geese and swans.
The marsh was existential to the winter migration of the Marbled Teal, the threatened bird of the Mesopotamian marshlands. Over 170 species of birds from 32 distinct families have been recorded by the Department of the Environment and various biologists and researchers: 120 are migratory birds, and 13 are globally threatened. Toxic waste entering the water has killed birds "by the thousands", Iran's Students' News Agency hasreportedwith hunting - long part of the local economy - declared illegal in the area due to the birds spreading diseases.
Wetlands were also once full of fish, with villagers earning an income from fishing across Shadegan. More than 30 species of wetland fish and 40 sea fish have been recorded. "The nearby fishing farms grow tilapia, which has made its way to the wetland and is somehow killing off all other fish," says one fisherman, who is tall, with deep golden brown eyes and long delicate fingers, while carrying across his feet the scars and bruises of a life in the water. He cannot speak Persian, so talks in Arabic as his nephew translates. "Officials from the local Department of the Environment sent a specialist, but he was as dumbfounded as us. The tilapia can hide deep under waters, there's no way to do anything, we're losing fish by the week."
Source: The Guardian
Read More Related Content On This Topic - Click Here